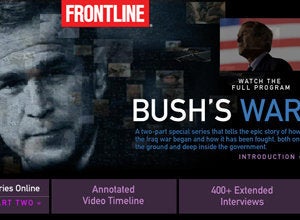 Executives at "Frontline" do not yet know how many people watched their recent four-and-a-half hour documentary, "Bush's War," because of PBS's complicated Nielsen ratings.
Online, however, "Bush's War," which was produced for the fifth anniversary of the United States' invasion of Iraq, has set a record, with more than 1.5 million views of all or part of the program, which was streamed in 26 segments.
"Frontline" has streamed most of its documentaries free since 2002 (www.pbs.org/frontline), part of an effort to reach younger audiences than typically tune in to PBS. The online viewing to date of "Bush's War," which was broadcast in two parts on March 24 and 25, is an estimated "10 times the traffic of a normal show for us," said Sam Bailey, the program's director of new media and technology. Viewers are also sticking around much longer than they usually do on the site, typically for 7 to 10 minutes.
Watch the full series, which bills itself as "a two-part special series that tells the epic story of how the Iraq war began and how it has been fought, both on the ground and deep inside the government," online here.