"I like doing two types of film," David Kennard says. "One in which I try to channel, if you will, the wit and wisdom of some sort of expert. The other in which I am trying to synthesize a lot of people's opinions about something into something that's my own. And I love doing both."
A fine example of the second option is Kennard's newest project, A Year in Burgundy, a documentary in which he visits six vintners in the Burgundy region of France. It is rich, humorous, authoritative and, when the harvest moments come, very suspenseful. The grapes need to be harvested at exactly the right moment, and the compelling question is, are we correct in the moment we have chosen?
Twenty-seven years ago, Kennard co-founded InCA Productions, and since then this California company has made some fifty documentary films, many for broadcast on PBS. A random selection of InCA films includes The Final Hours, a study of Amelia Earhart's last flight; 2001: Hal's Legacy, which explores the development of artificial intelligence, and is narrated by none other than Arthur C. Clarke himself, who wrote the novel 2001; and Wine For The Confused, which features Monty Python's John Cleese as the very amusing guide to the whys and wherefores of appreciating fine wines.
Kennard has just finished writing, producing and directing a remarkable series of films for PBS titled Keeping Score. Each film features a single major piece by a particular composer (i.e. Beethoven, Tchaikovsky, Mahler, Stravinsky, Copland, Berlioz, Shostakovich and Ives.) Prior to a performance of the piece in question by The San Francisco Symphony, each film presents a finely made mini-biography of the composer, shot on location in places where major events in the composer's life occurred. The entire package is narrated by the engaging Michael Tilson Thomas, who, as Music Director and Principal Conductor of The San Francisco Symphony, knows whereof he speaks.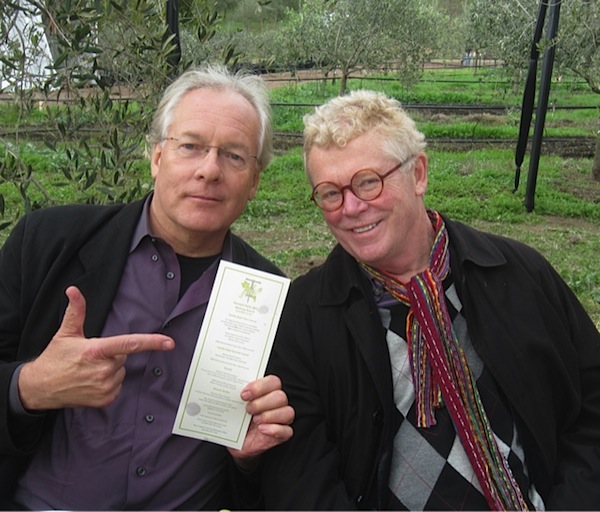 David Kennard (l.) and Terence Clarke. Photo by Beatrice Bowles. Used courtesy of the photographer.
Prior to his work with InCA Productions, Kennard's filmography as a producer and director for the BBC and others included these famous multi-part series: Cosmos with Carl Sagan, The Ascent of Man with Jacob Bronowski, Joseph Campbell: The Hero's Journey and The Promise of Play with Jane Goodall. His work has won Emmys, Peabodys, and any number of other awards.
Kennard was in his twenties when he began making films, and, as he puts it, "it was all a stunning accident." Born in Great Britain, he had studied at Oxford University, receiving a Master's degree in modern languages. "I was one of the first people in my family to receive a university degree, but I had no money. A friend of mine persuaded me to apply for an award to attend university in the United States, for more graduate study. I thought, 'More?' I felt like Oliver Twist. 'More?'" But Kennard did receive such an award, to attend Indiana University, and, always having had a strong interest in marketing, he eventually received an MBA from that institution.
After also receiving a Ford Foundation Grant and a Fulbright Grant for travel, he was hired by the BBC.
To make films? "No, they wanted me to be a salesman," Kennard says. "They had just started up a new venture to sell their programs abroad. And I thought that doing this in America would be a ton of fun and, I have to admit, better than selling concrete or shoes or something."
At the time, Kennard did not know that he was about to benefit from a striking piece of good luck. "They made the grave mistake," he says, "of saying that, in order to know what you're selling, David, you really need three months or so of experience in a production department."
Also, it didn't hurt that Kennard speaks German. "Yes, I joined a program in which they were about to go to Germany. So within a week I was on a plane with a production crew and a director, with the title of Production Assistant. You know, the fellow who parks cars, can speak German and generally be helpful."
Then one of those fortuitous events that come to few of us came to David Kennard. "The director's father got sick, and so the director was called back to England. Our camera man was a very experienced fellow, and he spoke to the director and said, 'It seems a waste of money for all of us to go home now, when we've only got two days to the end. We know what we're doing, don't we? and David here speaks German and we've got some interviews to do...' So after just two weeks in the production department, I came back to England having conducted and directed interviews, with enough material to finish the film."
The experience had given Kennard the confidence he needed to make a pitch to BBC management to let him stay in production and forsake sales. "I loved it," he says, "and to be able to do what you love for a living is an enormous privilege".
Documentary film gives Kennard a vehicle for doing much that he truly cares to do. "I'm a kind of closet teacher," he says. "Early on, I wanted to learn about things, visit places and, later, put all that together and find a way to excite other people about it."
Much of contemporary graphic creativity spends an inordinate amount of time in technical issues. Thus, all those comic book-based dramatic films notable for computer-generated explosions, guts and teenage boy-pleasing gore. Electronic games with dystopian views of the universe, in which everyone is killed.
"No, for me," Kennard says, "it all comes from the heart. What are you trying to do for people? There are so many negative elements in people's lives now... the amount of money spent on deeply corrupting influences... the dreadful drip, drip acid of cynicism. What I try to do is to convey, in a very humanistic way, why it is that we should be stunned by this universe in which we live."
People ask Kennard, "Don't you wish that you had gone into dramatic feature films? Actors and all that?" He says, "in the films we make, I work with a very small team... artists, creators, technicians... and I have the pleasure of keeping complete creative control. There's nothing to compete with knowing in the end that, with these few superb people, we nailed it."
Calling all HuffPost superfans!
Sign up for membership to become a founding member and help shape HuffPost's next chapter