"PBS NewsHour" led the way in coverage of climate change among U.S. nightly news programs in 2014 for the third year in a row, according to a new analysis.
Progressive watchdog group Media Matters found that "NewsHour" covered climate change 45 times last year, up from 35 in 2013. "CBS Evening News" aired only 22 reports on climate in 2014, while "NBC Nightly News" and ABC's "World News Tonight" aired 14 and 11 climate-related stories, respectively.
"The networks' nightly news programs -- and ABC's 'World News Tonight' in particular -- would do well to follow 'PBS NewsHour's' lead by improving the quality and quantity of their climate change coverage," the group wrote.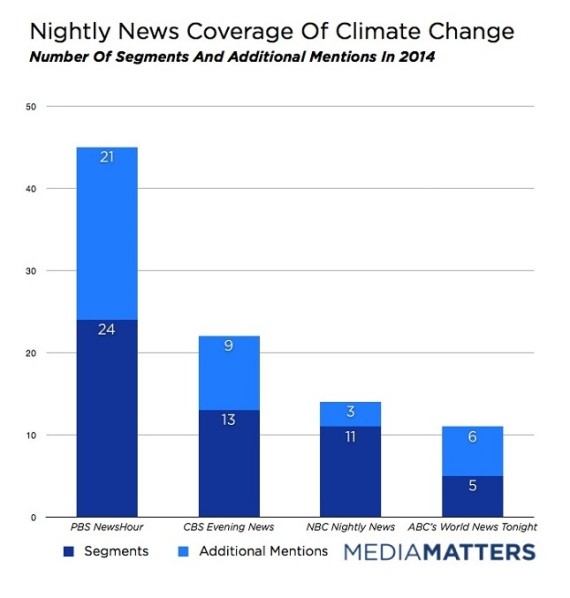 Friday's new report praised "NewsHour" for the quality of its climate coverage. "PBS included scientific perspectives in their climate change reports more often than the other major networks -- and importantly -- didn't provide a platform for climate science deniers," Andrew Seifter, the director of Media Matters' climate and energy program, said in a statement to The Huffington Post.
The program interviewed or quoted 27 scientists in its climate-related reports last year, more than the other three nightly programs combined. CBS interviewed or quoted 11 scientists, NBC featured seven and ABC interviewed or quoted two in 2014.
Media Matters noted that PBS also avoided interviewing any climate-change deniers or presenting a false balance around the scientific issue. ABC's "World News Tonight" and "NBC Nightly News" both aired segments that included a skeptic of man-made global warming or presented the issue as unsettled or controversial.
Environmental advocates criticized "NewsHour" in 2012 for airing a story that featured interviews with two climate-change skeptics whose views ran contrary to the findings of mainstream climate scientists. PBS's segment did acknowledge that climate scientists are nearly unanimous that humans are warming the planet and affecting its climate. But they did not disclose that one of the men interviewed had ties to a conservative think tank that has received contributions from the fossil fuel industry.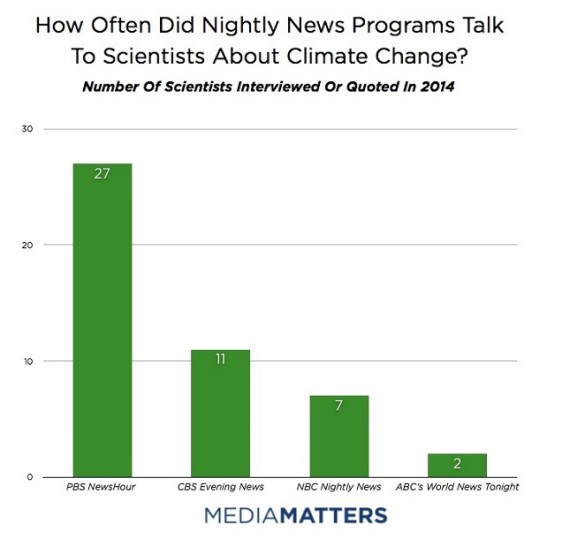 Climate coverage on the Sunday morning news shows was also up last year, following a January 2014 letter from nine senators to the heads of the four networks lamenting the lack of climate change coverage on these shows.
"There has been shockingly little discussion on the Sunday morning news shows about this critically important issue," the senators wrote. "This is disturbing not only because the millions of viewers who watch these shows deserve to hear that discussion, but because the Sunday shows often have an impact on news coverage in other media throughout the week."
Even though the frequency of climate change stories increased in 2014, issues with the quality of the networks' coverage remained. CBS's "Face the Nation" was the only one of four Sunday morning news shows to avoid presenting a false debate around climate change, Media Matters reported.
"The networks continue to provide a platform for climate science deniers -- despite the fact that 97 percent of climate scientists agree human activities are causing global warming," Seifter told Mother Jones.
REAL LIFE. REAL NEWS. REAL VOICES.
Help us tell more of the stories that matter from voices that too often remain unheard.
BEFORE YOU GO
PHOTO GALLERY
15 Ways You Contribute To Climate Change