For as long as the Internet has existed, the vast majority of its traffic has come from people connecting with their laptops and desktops.
In 2018, global Internet traffic will be almost evenly split: People using desktops and laptops will account for about half of all traffic, while a combination of smartphones, tablets, smart TVs and Internet-connected "things" -- cars, dog collars, cameras and thermostats, for example -- will account for the other half.
That's according to Cisco, which on Tuesday released the latest Visual Networking Index, an annual report on the state of the Internet and its predictions for the future.
PC sales have slowed over the last few years as more people use smartphones and tablets to connect to the Internet. Shipments of desktops and laptops declined 10 percent last year from 2012, according to IDC, the technology market research firm.
Last year, PCs accounted for 86.4 percent of all Internet traffic. By 2018, the PC share of Internet traffic will drop to just 50.5 percent, according to Cisco.
Compare that to smartphones and tablets, which last year accounted for a measly 5 percent and 3.1 percent, respectively, of global Internet traffic. In 2018, smartphones will jump to 21 percent of traffic, while tablets will account for 18 percent, according to Cisco.
Traffic from PCs will continue to grow. It just won't grow as quickly as traffic from the billions of other devices that are connected to the Internet.
"There is a transition happening," Shruti Jain, a senior analyst at Cisco, wrote in an email. "With the increase in the number of devices with more computing power and features … we see that there is a real momentum towards increased use of internet time on portable and other non-PC devices in general, away from PCs. "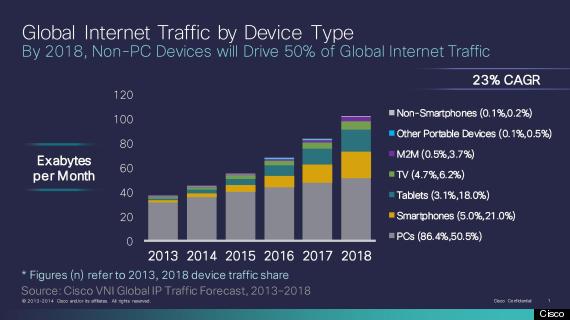 Related
Popular in the Community