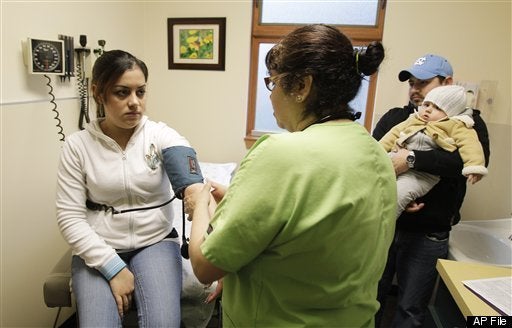 The government's health insurance program for Americans excluded from the private market because of preexisting conditions continued to increase its enrollment last quarter, according to the latest report from the Obama administration.
Enrollment figures for the new high-risk pool program -- formally known as the Pre-Existing Condition Insurance Plan, created by the 2010 health care law -- inched upward to 12,437, the administration reported. Officials with the Department of Health and Human Services estimated last summer that PCIP enrollment could reach 315,000 by 2014.
There are as many as 25 million Americans uninsured because of preexisting conditions, according to one recent estimate.
The $5 billion PCIP program has had a slow start. In November, when HHS announced that 8,011 people had enrolled, officials said it would be difficult to project how many people would eventually be reached, and that it's nearly impossible to guess at how many people might even be eligible.
On Thursday, officials compared the PCIP to the Children's Health Insurance Program, which launched in 1997 and now provides health insurance to more than 9.2 million children.
"This program has helped thousands of people that desperately need coverage and we are excited to see Pre-existing Condition Insurance Plan enrollment is ramping up, in much of the way enrollment in the Children's Health Insurance Program did in the 1990s," Steve Larsen, director of the Center for Consumer Information and Insurance Oversight, said in a statement. "We are working every day to get the word out about this program, to find people who have been abandoned by the health insurance industry to get them the coverage they have been denied for so long."
Administration officials have previously downplayed the importance of the PCIP. It's frequently been described as a mere "bridge" to 2014, when health discrimination will be illegal and people who are uninsurable on the individual market because of preexisting conditions like cancer, heart disease or diabetes are supposed to be able to buy an affordable policy from an "exchange" in their state.
It happens to be a Republican bridge: Expanded high-risk pools are the centerpiece of the GOP's alternate health care plan. Before health care reform, 32 states ran their own high-risk pools, covering roughly 200,000 people. (The new PCIP operates alongside those pools, but with lower premiums and broader coverage.) Republicans would expand state high-risk pools and fund them with $25 billion over 10 years.
It's not exactly clear how the Republican alternative would differ from the PCIP in the short-term, but it is clear enough that the PCIP will barely make a dent in the ranks of the uninsured with preexisting conditions. The Congressional Budget Office estimated last summer that even with unlimited funding, the new program might reach just 700,000 between now and 2014.