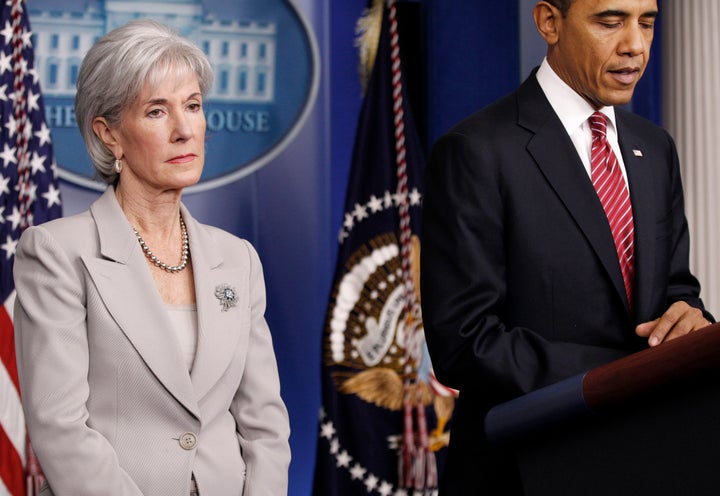 WASHINGTON -- The Obama administration trumpeted a near-milestone Thursday for the Affordable Care Act's fledgling program for people with pre-existing conditions: Enrollment has almost reached 50,000.
"For too long, Americans with pre-existing conditions were locked out of the health care system and their health suffered," Kathleen Sebelius, Secretary of the Department of Health and Human Services, said in a statement. "Thanks to health reform, our most vulnerable Americans across the country have the care they need."
Estimates of how many people would receive coverage from the new Pre-Existing Condition Insurance Plan varied, but the lowest was that the initiative would reach an average of 200,000 people per year. The chief actuary for Medicare predicted the PCIP would pick up 375,000 before 2011.
The $5 billion program launched in the summer of 2010 to provide health insurance to people who were locked out of the individual health insurance market because of pre-existing conditions like heart disease or diabetes. The health department has described the PCIP as a "bridge" to 2014, when it will illegal for insurers to discriminate against the sick and the government will subsidize coverage for people who can't afford it now. Turns out it's a pretty narrow bridge.
The PCIP is modeled after "high-risk pools" already running in 35 states, but the new program is more affordable and offers broader coverage than the pools, which charge above-market rates and often exclude coverage for certain conditions. Republicans made expanding high-risk pools the centerpiece of their health care reform alternative; some policy experts have said the new program's low enrollment suggests the GOP alternative would have been a bust.
Not only has enrollment been low, but the cost of insuring enrollees has been more than double expectations. The program's actuaries figured in 2010 that it would cost $13,026 per enrollee per year, slightly above the cost for enrollees in state pools. In August 2011, the actuaries revised that estimate upward to $28,994, according to an HHS report released Thursday.
The HHS report says the PCIP's enrollees are older, visit the emergency room more often and file much costlier claims than enrollees in federal employee insurance programs or even state high risk pools. Cancer alone accounts for 27 percent of the PCIP's total costs.
The health department emphasized that all that money is helping sick people, and in some cases saving lives. In his 2011 State of the Union address, for instance, President Obama mentioned James Howard of Katy, Texas. Howard suffered a rare form of brain cancer and couldn't get insured until he found the PCIP. "Without the insurance plan I'm on, I wouldn't be alive today," Howard said, according to the Houston Chronicle. "I'm living testimony as to how this has helped out in my life. With the treatment and my family, friends and faith, I've been able to get this to work out."
U.S. citizens are eligible for the PCIP if they have a pre-existing condition and have been uninsured for six months or longer, a requirement frequently cited as the main barrier to higher enrollment in the program, along with lack of awareness and costly premiums. Some have elected to drop costly private plans in order to qualify for the PCIP after six months of no insurance.
Calling all HuffPost superfans!
Sign up for membership to become a founding member and help shape HuffPost's next chapter