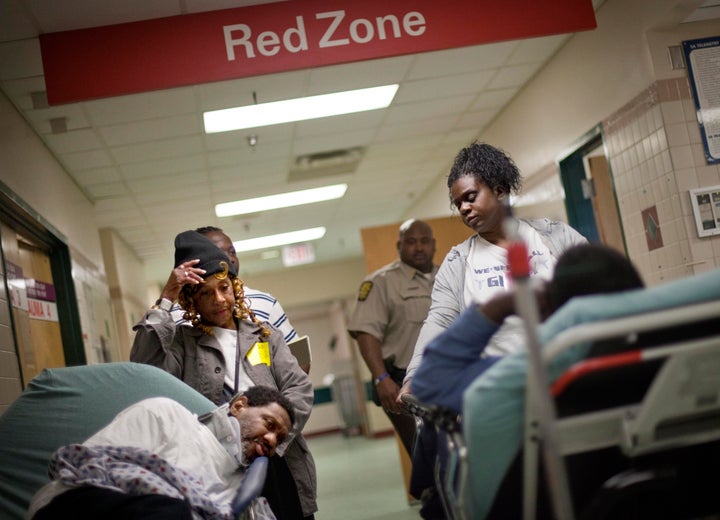 WASHINGTON -- Though as many as 25 million uninsured Americans have pre-existing medical conditions like heart disease and diabetes, a year-old program to insure them has only 21,000 enrollees, according to an audit released Friday by congressional investigators.
The PCIP offers market-rate monthly premiums and caps out-of-pocket costs for any U.S. citizen who has a pre-existing condition and has been without "creditable" health insurance for at least six months. The GAO found that the six-month requirement is the biggest obstacle to higher enrollment in the program.
Officials previously worried that the $5 billion allocation would not last until the program is phased out at the end of 2013, but concern has now shifted to persuading more people to sign up. Earlier this year, the U.S. Department of Health and Human Services lowered premiums and said applicants could provide a doctor's note instead of an insurance company's rejection letter to prove a pre-existing condition. An official said at the time that the agency could do nothing about the six-month requirement because it was written into the law.
Elizabeth Ingram of Little River, S.C., told HuffPost on Monday that she may drop her health insurance, which she said costs $1,663 a month and has a $10,000 deductible, so that she can qualify for the PCIP in six months.
Before she makes her decision, Ingram is waiting to hear back from Health Secretary Kathleen Sebelius, to whom she wrote a letter asking why such an expensive policy counts as "creditable." Ingram said Sebelius should consider changing the rules one more time.
"You used to have a letter from the insurance company, and now she's said people can have a letter from their doctor. If she can make those decisions, she could make a rule saying what I'm paying with a high deductible does not count as creditable insurance," Ingram said. "I don't consider it creditable insurance when your premium and deductible are so high."
An official with the Department of Health and Human Services told HuffPost that the law gives no flexibility on the definition of creditable coverage. The GAO report said the legal definition of creditable coverage is "coverage for an individual under: a group health plan, health insurance, Medicare Part A or B, Medicaid, the Indian Health Service, a state health benefits high-risk pool, the Federal Employees Health Benefits Program, the Peace Corps health benefit plan, or a public health plan as defined in regulations."
Ingram, 63, said that she applied for early Social Security retirement benefits last year and that she receives about $1,000 a month -- all of which goes to insurance, along with a chunk of savings from her former career handling customer service for a resort development company.
She said her pre-existing conditions include high blood pressure, high cholesterol and a stent. Even though she considers herself healthy, she's scared of going six months without insurance.
"It seems like when you do something like that, that's when something out-of-the-blue happens," Ingram said. She resents that she either has to burn through her savings or take such a big risk. "I just find it so contrary to why we're supposed to have this insurance reform."
Other enrollment obstacles cited by the GAO include a lack of awareness about the program and the cost of premiums, which can be steep in some places. A 50-year-old in Alaska, for instance, has to shell out $1,048 a month.
Jason Frankovitz, a 40-year-old web programmer who lives in Los Angeles, would pay $269 a month. Frankovitz, a survivor of testicular cancer, said he dropped his HIPAA health insurance in July after his premiums jumped from $370 to $839 in three years. He's no longer increasing his credit card debt, but he's getting less help with his co-payments.
"I'm anxious, but what can I do," he said. "I've been unemployed for a number of months."
Frankovitz said his increasing insurance costs under the HIPAA plan were unsustainable, but he said he would not have dropped that policy when he did if it hadn't been for the PCIP.
The PCIP will be phased out in 2014, when health care reform kicks in with a ban on the insurance industry's discrimination against the sick. In the meantime, the GAO notes that the Department of Health and Human Services is boosting its outreach efforts so more people know about the program.
The initiative could be threatened by the automatic "triggers" that would enact painful spending cuts if a super congressional committee created by this summer's debt ceiling negotiations is unable to crack a deal on deficit reduction by the end of the year -- although it's totally unclear what exactly will wind up on that chopping block, and the Department of Health and Human Services has declined to speculate.
The program's early demise would be a crushing disappointment to people relying on it, including Michele Rappaport and Alan Sorkowitz, an Arizona couple who already risked six months without insurance so they could qualify.

Popular in the Community