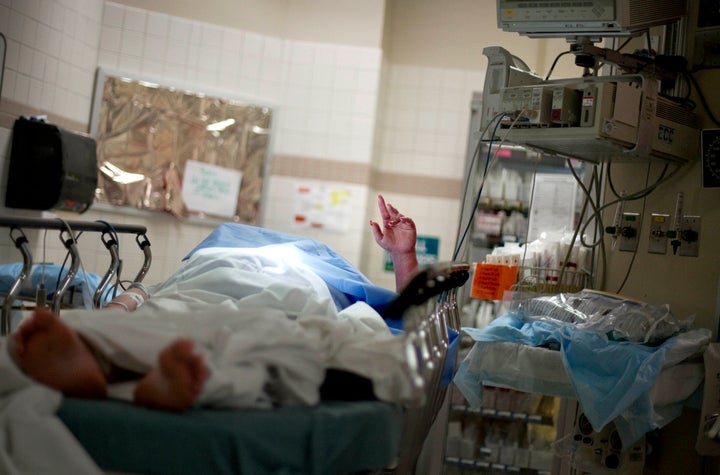 The authors of the health care reform bill signed into law last year did not mean to create an incentive for people with private insurance to abandon their coverage, but that's what some people are doing.
On June 28, Irene Schmoller sent an email to her health insurance company, Health Net of Arizona, letting them know she wanted to drop her policy.
"I just can not afford paying over $1200 a month!!" wrote Schmoller, 63. "I've been a member for over 20 years, but you have outpriced yourself. I am a very healthy person who eats healthy, exercises and does not smoke or am I overweight. Just because I have pre-existing conditions which no longer apply you charge me a fortune! Goodbye!"
Schmoller, who lives in Safford, Ariz., is dropping Health Net in favor of a new $5 billion government program created by the Affordable Care Act to provide affordable coverage to people with pre-existing health conditions like diabetes or heart disease. The catch is that she'll have to wait six months without insurance before she can apply.
The program is called the Pre-Existing Condition Insurance Plan, or PCIP, and so far, just 18,313 people have enrolled across the country, far fewer than the administration expected would sign up. There are as many as 25 million Americans who are uninsured and half have pre-existing conditions, according to the Department of Health and Human Services.
More than a dozen people trapped in expensive health plans have told HuffPost they'd sign up for the PCIP if only they didn't have to spend six months without insurance ("I cannot afford to be without insurance for six months," goes a typical email. "It would be like playing Russian roulette").
Schmoller is one of a handful people willing to gamble they can make it through that time without a catastrophic, financially ruinous injury or illness.
HuffPost first reported on this phenomenon in February, when an Arizona couple canceled their expensive health insurance policy so they could wait six months for the government's more affordable deal. They said their monthly premiums had jumped from $1,700 to nearly $2,500 in just one year and that they couldn't keep up.
The couple, Michele Rappaport and Alan Sorkowitz of Tucson, said they avoided hiking, dancing and bicycling to minimize their risk of injuries during their six month wait. The strategy paid off: This week, they said they'd received word they'd finally been admitted to the program and that their coverage will start next Monday on Aug. 1.
"We're just delighted to finally be in a position we have health insurance," Sorkowitz said. "We just held our breath and said a little prayer and fortunately it worked out for us."
Here's how Rappaport put it: "There's nothing like not having health insurance to make you feel like you're a second class citizen."
The program's costs can vary by enrollees' age and location. For Arizonans older than 55 -- folks like Rappaport and Sorkowitz, both 57 -- the PCIP offers a standard plan with $334 monthly premiums and a $5,950 cap on annual out-of-pocket costs.
HuffPost readers: Dropping your insurance to qualify for the PCIP in six months? Tell us about it -- email arthur@huffingtonpost.com. Please include your phone number if you're willing to do a phone interview.
Tom and Terri Rowland, who live near West Glacier, Mont., told HuffPost they dropped their health insurance three months ago because it was too expensive and that they are now waiting to be eligible for the PCIP.
"I'd grown up all my life with my conservative parents saying, 'You have to have insurance,' " said Tom Rowland, 40. "It was just pretty much a waste of money."
The Rowlands said their $450 monthly premiums did not cover any of Tom Rowland's health issues. He said he's had 10 knee operations and a shoulder surgery and has been treated for irritable bowel syndrome, fibromyalgia, insomnia and depression. They said the out-of-pocket cost for treatment for the conditions excluded by their insurance policy is roughly $500 a month. PCIP premiums in Montana, meanwhile, range from $210 to $681. The program doesn't exclude coverage for any conditions.
Terri Rowland, 38, waits tables and works as a landscaper, while Tom said he's spent the past year working on their house. Terri Rowland said she doesn't like living without insurance. "You're afraid to get sick and I think that's something that's super wrong with insurance these days."
The Obama administration has tried to boost PCIP enrollment by lowering premiums and relaxing its requirements (it used to require a rejection letter from an insurance company, but now a doctor's note is good enough). The administration describes the program as a "bridge" to 2014, when it will be illegal for the insurance industry to discriminate against the sick.
Schmoller, who runs a small mail order business selling cotton yarns, has had multiple corrective surgeries stemming from when she had polio as child, making her virtually uninsurable on the private market. She is optimistic she can make it six months without getting sick, thanks in part to a healthy diet filled with fruits and veggies. (She wrote on her business blog that she considers herself a picture of health.)
"I'm not going to live in fear," she said. "I'm just going to be careful. When I got on a ladder the other day I was like, 'Okay, be careful.' "
Health Net of Arizona did not comment on Schmoller's decision to dump them, but said in a statement: "The Affordable Care Act provides new coverage options and protections for health care consumers. Becoming fully educated about the benefits and potential risks of each coverage option as it applies to their personal situations will assist individuals to make the best decision for them."
Calling all HuffPost superfans!
Sign up for membership to become a founding member and help shape HuffPost's next chapter