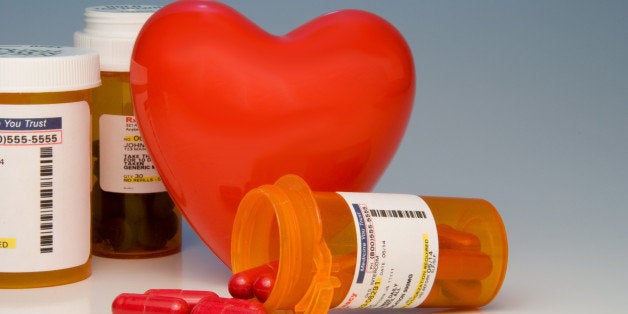 Nov 13 (Reuters) - New U.S. guidelines on heart health that favor potent statins may threaten use or even approval of a hot new class of experimental cholesterol drugs that have been billed as revolutionary new treatments with blockbuster sales potential, analysts said on Wednesday.
Pfizer Inc, Amgen Inc and a partnership of Regeneron Inc and French drugmaker Sanofi SA are racing to develop the new family of medicines called PCSK9 inhibitors.
The injectable drugs in mid-stage trials have slashed levels of "bad" LDL cholesterol 60 percent beyond reductions seen with statins alone. The new medicines work by blocking a protein called PCSK9, whose natural function is to maintain the presence of LDL in the bloodstream.
"I read the new guidelines as a negative for any drugs that aren't statins, including PCSK9 inhibitors," said Jon LeCroy, an analyst with MKM Partners.
The guidelines issued by two leading U.S. medical organizations on Tuesday recommend strong measures for patients at particularly high risk of heart attack or stroke, including more aggressive therapy with statins that lower cholesterol. In fact, statins are the only class of cholesterol-lowering medicines that the guidelines recommend for patients who can tolerate them.
The guidelines dropped an emphasis on specific targets for lowering LDL levels. Instead, they suggest that individual patient risk of developing heart disease rather than an LDL number should be used to determine the need for more intensive treatment.
The drugmakers are hoping the U.S. Food and Drug Administration will approve their PCSK9 inhibitors on the basis of their ability to lower LDL. In the meantime, they are conducting costly ongoing trials, called "outcomes studies," to eventually prove to regulators that their medicines actually lower the risk of heart attack and stroke.
Mark Schoenebaum, an analyst with ISI Group, said the new heart-protection guidelines "appear to raise the bar for cholesterol-lowering drugs" that are not statins. He said use of Amgen's PCSK9 inhibitor, called AMG 145, if it is approved, could be slowed until data from the drug's outcomes trial arrive in late 2017 or early 2018.
Moreover, Schoenebaum said it remains to be seen whether the new guidelines, formulated by the American Heart Association and the American College of Cardiology, will affect the willingness of U.S. and European regulators to approve the new class of cholesterol fighters.

LITTLE DAMAGE SEEN FOR ZETIA, VYTORIN
Schoenebaum said Wall Street has been expecting the Amgen drug to generate sales of $1.1 billion in 2018. For now, he said he was sticking to his own sales forecast of $500 million that year, growing to more than $1.4 billion in 2020.
"Given the (heart) guidelines, we remain comfortable with our estimates for now, but will monitor how the guidelines are perceived by the wider medical community," Schoenebaum said in a research note.
Leading statins include generic forms of Pfizer Inc's Lipitor, whose chemical name is atorvastatin, and AstraZeneca's branded Crestor.
Other analysts said the new guidelines should not greatly hurt sales of Zetia and Vytorin, two blockbuster cholesterol fighters sold by Merck & Co that are not statins. Instead of cutting the body's production of LDL, as statins do, they prevent the intestines from absorbing LDL.
The analysts said most doctors already prescribing the two Merck drugs will probably continue to do so for the next year, until the medical community gets better acquainted with the new heart guidelines.
Moreover, they said data from Zetia's own outcomes trial is expected in the third quarter of 2014, and will definitively show whether it prevents heart attack and stroke.
"I don't think sales of Zetia and Vytorin will fall away rapidly," said Atlantic Equities analyst Richard Purkiss. He said most doctors will wait for the Zetia trial results before abandoning the drug and Vytorin, which pairs Zetia with Merck's generic simvastatin.
Analysts said sales of AstraZeneca's Crestor were unlikely to get a big boost from the new guidelines because most doctors would reach instead for generic atorvastatin, which is far cheaper than Crestor and has similar potency.
Shares of Regeneron fell 3.6 percent, while Amgen slipped 0.6 percent, both in morning trading on the Nasdaq. Pfizer rose 0.5 percent and Merck dropped 1 percent on the New York Stock Exchange, while Sanofi fell 0.5 percent in Paris. AstraZeneca shares slipped 0.4 percent in London.