UPDATE: Destination Maternity, the parent company of Pea in the Pod, has issued an announcement in response to the now removed shirt:

"At Destination Maternity, our customers are our top priority and we always value their feedback. We have taken immediate action to remove a T-shirt from our stores and website that was perceived as offensive. We apologize to anyone we may have unintentionally disappointed. We strive to offer products that celebrate pregnancy and are committed to supporting the health and wellness of moms-to-be and their families."
Maternity wear has come a long way over the years. In fact, there are so many stylish options, we have often found ourselves contemplating wearing it even when we're not pregnant.
But we can't say that's true about this new t-shirt from A Pea in the Pod. If the price tag for the jersey knit top (a whopping $48,) doesn't turn you off from buying it, perhaps the "wake me up when I'm skinny" message emblazoned across the chest will.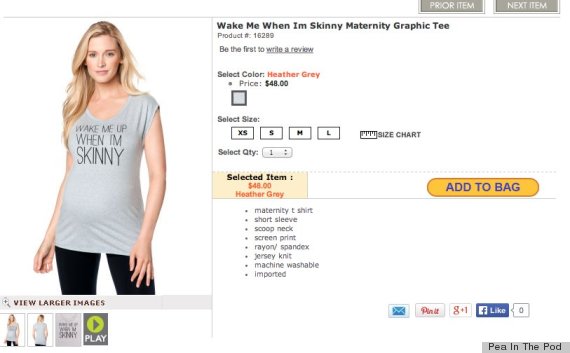 We can think of a number of things wrong with this image, but we're just going to let it speak for itself. Wake us up when it gets discontinued.