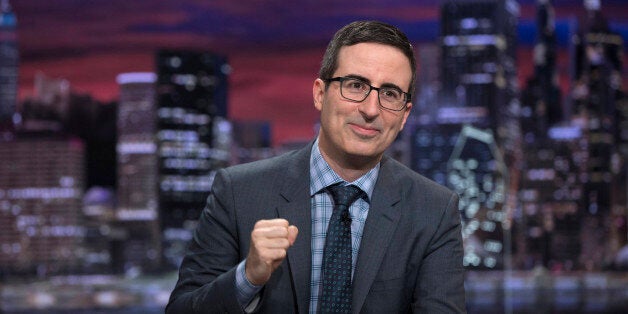 The Peabody Awards are one of the oldest media awards in the United States, and recognize scripted entertainment, documentaries, radio programs, podcasts, individuals, websites, institutions and all kinds of news programming. On Tuesday, the Peabody Awards announced that David Attenborough, the creator of countless acclaimed nature documentaries, received an individual award for his extensive body of work, and the long-running radio program Afropop Worldwide got an institutional Peabody. Awards in news, documentaries, educational programming and children's shows will be announced next week.
The 74th annual Peabody Awards ceremony will be held in New York on May 31, and Fred Armisen of "Portlandia" will be the evening's emcee.
The entertainment programs awarded Peabodys this year are an eclectic lot, but the Peabody Awards have always rewarded a wide array of "stories that matter." The good news is, these winning programs are available via various streaming services.
Of programs broadcast in 2014, the following entertainment shows were recognized:
"The Americans": In this spy show set in the '80s, two Soviet agents infiltrate suburbia and pull off a series of exciting missions -- but along the way, they come to realize that their undercover task is much more difficult than they thought it would be. The two agents, assigned to the roles of unexceptional married suburbanites, unexpectedly fell in love, and they also care deeply about their children. What would they do if they had to choose between their own hearts and minds and the demands of Mother Russia? The complicated answers to that question have resulted in a captivating drama that mines personal and ideological loyalties for all they're worth.
Availability: The Season 3 finale of "The Americans" airs April 22 on FX; previous seasons are available via FX Now and Amazon Prime.
"Black Mirror": A series of dystopian tales about technology and morality that energetically revive the anthology tradition of "The Twilight Zone," "Black Mirror" explores what technology does for us -- and what it takes away.
Availability: The six episodes that make up the first two seasons of "Black Mirror" are on Netflix.
"Fargo": They said it couldn't be done, but they were wrong. Somehow this television expansion of the world created in the Coen brothers' film managed the tricky feat of feeling both fresh and necessary, and it riffed off the film in intelligent and dryly comic ways. In doing so, "Fargo" provided actors like Martin Freeman, Allison Tolman and Billy Bob Thornton with a wealth of terrific material.
Availability: The first season is available via FX Now and Amazon Prime.
"The Honorable Woman": This is another show with an astonishingly high bar to clear: It had to work as both the story of two intertwined families -- one Jewish and one Palestinian -- and work as a meditation on the politics and history of one of the most fraught regions in the world. This slow-burn drama worked on every level, in part due to a phenomenal cast led by Maggie Gyllenhaal, and thanks to creator Hugo Blick's disciplined, compassionate approach to telling a series of smartly constructed interlocking sagas.
Availability: "The Honorable Woman" is on Netflix.
"Inside Amy Schumer": This show deserves many awards for its "Foodroom" sketch alone. That spot-on Sorkin parody aside, this consistently incisive comedy manages to be side-splittingly funny while taking on a wide array of subjects, from sexism to dating to the pitfalls of social media. Like previous Peabody winner "Key & Peele," "Inside Amy Schumer" displays a game, lively intelligence and a ferociously wicked wit.
Availability: The third season begins April 21. Various sketches are on the Comedy Central site and full episodes are on Amazon Prime.
"Jane the Virgin": This CW drama is so many things: It's a romantic soap, a surreal telenovela, a well-crafted coming-of-age story, a crime show, a showcase for Gina Rodriguez and a long-overdue family drama focused on a Hispanic clan. One of the major accomplishments of the consistently entertaining first season is that it made balancing so many varied elements look easy and even fun.
Availability: The first season of "Jane the Virgin" arrives in the U.K. on E4 on April 22, and in the U.S., Season 1 will arrive in its entirety on Netflix this fall. At the moment, selected episodes are on the CW site and Hulu.
"The Knick": A bloody marvel, Steven Soderbergh's chronicle of a turn-of-the-century hospital literally pulsed with life as it depicted the triumphs and the terrors of bold and often arrogant doctors trying to heal people with little more than knives, ingenuity and a spirit of adventure. Like "Deadwood," "The Knick" is a period piece that ignores the conventions of the genre: Nothing about this show is polite, restrained or well-mannered. "The Knick" is like a shot of adrenaline to the heart, and Clive Owen's subtle, vanity-free performance brilliantly anchored a thrilling and melancholy series of events at New York's Knickerbocker Hospital.
Availability: The first season of "The Knick" is available to Cinemax subscribers on Max Go and on demand.
"Last Week Tonight with John Oliver": Oliver's mighty screed about net neutrality justifiably blew up on social media, which shows that even the driest subjects can go viral when infused with an equal mix of fervor, educated analysis and cutting humor. Oliver's show has become a must-watch, wickedly funny deep dive into the events of each week, and anyone who wondered whether he would be able to find his groove beyond "The Daily Show" quickly got the message: Hell, yes.
Availability: "Last Week Tonight" is available on the show's YouTube channel and to HBO subscribers on HBO Go.
"Rectify": This is from my non-spoilery write-up of the show's brilliant second season, which tells the meditative story of Daniel Holden, a man who is released from Death Row after being convicted of murder as a teen: "'Rectify' wants to know everything about its finely drawn characters. It wants to examine, rigorously yet gently, all the things that bring them both joy and despair. It's deeply interested in what makes Holden and his family members tick, and each one of them is realistically messy and complicated. As the second season progressed and filled out each person's psychological backstory, Holden and his friends, family and enemies grew into some of the most fascinating characters on television." The rare drama that depicts Southerners and people of faith as complicated, compelling human beings, "Rectify" is a subtle and ultimately moving meditation on morality, death and spiritual rebirth. It's both quiet and stunning, and if you haven't heard of it, now's the time to catch up.
Availability: Both seasons of "Rectify" are on Netflix.
The remaining Peabody winners will be announced on April 20 and April 23. It has been my honor to serve as a Peabody juror again this year, and I'm banned from telling you what additional programs won before the official announcements, but I can guarantee you that the news shows, podcasts, documentaries, educational shows and children's fare that will get Peabodys next week are truly exceptional.
'LADY CHATTERLEY'S LOVER'