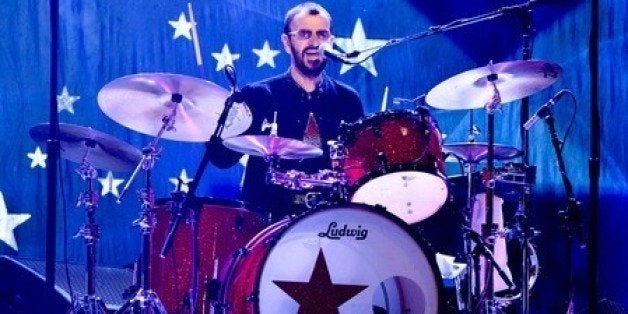 A Conversation with Ringo Starr
Mike Ragogna: Ringo, with your All Starr Band, it's clear you're loving getting by with a little help from your friends. How did it all start?
Ringo Starr: Well, it started because I was invited to put a band together and go on tour, and I'd never done it before so I just opened the phone book and called all my friends and they all said yes, so the first tour sounded like an orchestra. It worked so well I just sort of kept it up and kept it going and I've gone two years now with this band. You know the dynamics, Todd Rundgren we'd had in a couple of bands before and Richard Page was in the last band, so I just put all the others in, Gregg Rolie and Steve Lukather and them to give it a different feel. We just all got on so well, it's nothing you can plan--it's not that I didn't get on with the other band, but it wasn't as close as this band. This has been incredible. Everybody supports each other, we're all good friends, everybody's out to dinner with each other, hanging out. It's functioning like a real band that's been together forever.
MR: In the band's latest lineup, Mark Rivera has been replaced by multi-instrumentalist and vocalist, Warren Ham. How does the new guy fit in with the group?
RS: We just met Warren and he's done great. He really worked a lot before we got together and we've been in Casino Rama now for the three days rehearsing because that's all the rest of us need. But he's got to get to know it all and he's right on top of it! He's so great. He's a great musician. He's a multi-tasking incredible musician and he has a personality that fits in with the All Starrs because he's well known by Steve Lukather, Richard Page and Gregg Bissonette. They all knew him; I'd never met the man before. He's been a real find, he's so good.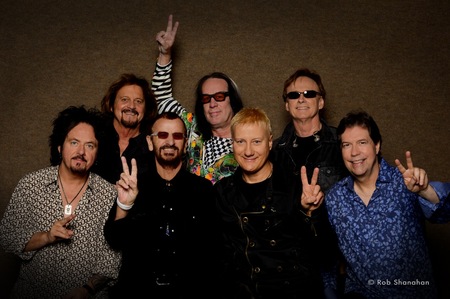 Left To Right: Steve Lukather, Gregg Rolie, Ringo Starr, Todd Rundgren, Gregg Bisonette, Richard Page, Warren Ham // photo credit: Rob Shanahan
MR: Sounds like he's become part of your musical family, nice. Speaking of family, I've interviewed your brother-in-law, Joe Walsh, a few times and he adores you.
RS: What's not to adore? [laughs]
RS: Joe and I have known each other for many, many years. I've always appreciated him, not only as a human being but as a musician. You cannot doubt Joe as a musician, and now he's a family member, so if I do anything I call him and he can't say no! That's how it works. So he's making a couple of records, too, and I've been playing on his and he's played on mine, we hang out, and I love the man. That's the end of my story... I love Joe Walsh.
MR: On July 7--your seventy-fourth birthday--AXS TV will broadcast your tribute concert that was recorded back in January at the El Ray. It's titled Ringo Starr: A Lifetime Of Peace & Love, was created in association with David Lynch, and it features artists such as Joe Walsh, Ben Harper, Ben Folds, The Head & The Heart, Brendan Benson, Don Was, Benmont Tench, Peter Frampton, Steve Lukather, Kenny Arnoff and others. Ringo, has it mostly been a lifetime of peace and love for you?
RS: Well, it's been peace and love since the sixties. I have tried from then, when we were all young men and the peace revolution started thanks to Timothy Leary, in some respects. It's just something I do, I totally believe in it. I have a dream that one day, one minute, everyone will go, "Peace and Love!" I didn't invent it but I'm certainly doing my part to try and achieve that.
MR: Also, you'll be presenting art exhibitions of your self-portraits in New York, Atlantic City and Chicago. (http://www.ringostarrart.com) How do you see Ringo Starr at seventy-four?
RS: I promise you, it's going to be a bit like him at seventy-three, you know what I mean? I'm doing what I do! I love to play, I'm on the road, I love to do the artwork... We sell it for a good cause, it's all for charity. The art started in '05 when I was on the road with the old band and I had nothing better to do in the hotel room, so I started doing computer art. I've been doing that ever since.
MR: Has the artwork served as yet another creative outlet for you?
RS: I don't look at it separately, it's just something else that I'm doing.
MR: What advice do you have for new artists?
RS: Keep playing and enjoy it...peace and love.
MR: Beautiful. Thanks so much for the interview, Ringo.
RS: Peace and Love, Mike.
Transcribed by Galen Hawthorne
RINGO STARR AND HIS ALL STARR BAND ON TOUR:

June:
June 6- Rama, ON - Casino Rama
June 7- Canandaigua, NY- CMAC
June 8- Williamsport, PA- Community Arts Theatre
June 10- Albany, NY- Palace Theater
June 11- Westbury, NY - Theatre at Westbury
June 12- Vienna, VA - Wolf Trap Filene Center
June 14- Wallingford, CT - Toyota Present Oakdale Theatre
June 15- Providence, RI - Performing Arts Center
June 17- New York, NY- Beacon Theatre
June 18- New York, NY- Beacon Theatre
June 20- Red Bank, NJ - Count Basie Theatre
June 21- Atlantic City, NJ - Caesars
June 22- Durham, NC - Durham Performing Arts Center
June 24- Buffalo (Lewiston), NY - ArtPark
June 25 Verona NY - Turning Stone Casino
June 27- Detroit, MI - DTE Energy Music Theatre
June 28- Chicago, IL- Chicago Theatre
June 29- Cleveland, OH - Jacobs Pavillion

July:
July 1- Toledo, OH - Toledo Zoo
July 2- Kettering OH - Fraze Pavilion
July 3- Robinsonville, MS - Horseshoe Casino Tunica
July 5- Thatcherville, OK (Dallas, TX) - Winstar World Casino
July 9- Albuquerque, NM - Sandia Amphitheatre
July 11- San Diego, CA- Humphreys
July 12- Santa Barbara, CA - Santa Barbara Bowl
July 13- San Jose CA - City National Civic of San Jose
July 15- Vancouver BC - Hard Rock Casino
July 16- Woodenvile, WA (Seattle) - Chateau Ste Michelle
July 17- Bend, OR - Les Schwab Amphitheater
July 19- Los Angeles, CA- Greek Theatre

October:
Oct 2- Tulsa, OK- Hard Rock Café
Oct 3- St. Louis, MO- Fabulous Fox Theatre
Oct 4- Kansas City, KS- Starlight Theatre
Oct 5- Omaha, NE- CenturyLink Center
Oct 7- San Antonio, TX- Tobin Center for the Performing Arts
Oct 8- Austin, TX- Moody Theater
Oct 10- Houston, TX- Cynthia Woods Mitchell Pavilion
Oct 15- Charleston- North Charleston Performing Arts Center
Oct 17- Biloxi- Hard Rock Café Biloxi
Oct 18- Jacksonville, FL- Moran Theatre
Oct 19- Ft. Myers, FL- Barbara B. Mann Performing Arts Hall
Oct 21- Ft. Lauderdale- Broward Center for the Performing Arts
Oct 22- Melbourne, FL- Maxwell C. King Center for the Performing Arts
Oct 23- Clearwater, FL- Ruth Eckerd Hall