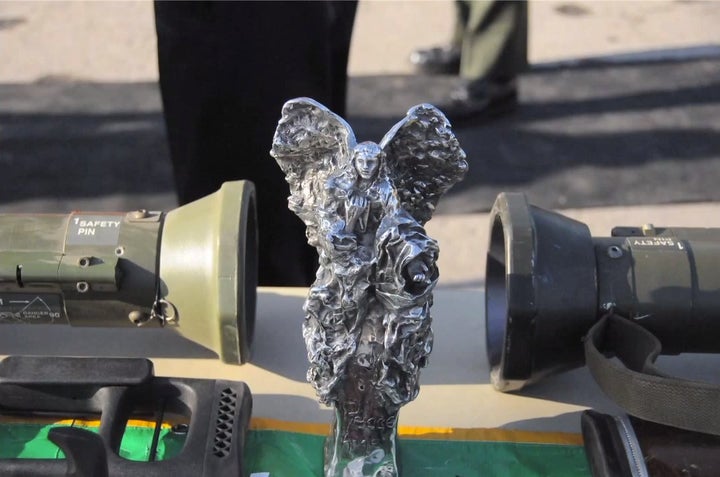 Today, June 13, 2012, ushers in the 100 Days of Peace and a Global Call to Disarm as we build toward the International Day of Peace on Sept. 21, 2012.
I am an artist with a vision to achieve a sustainable approach to weapons reduction through the arts. I founded the Peace Angels Project and the Art of Peace Charitable Trust (AOPCT) with the intention to reduce the levels of violence in our world by melting down weapons from our neighborhoods and our countries worldwide. Art overcomes the constraints of the word, and my intention is to create inspirational, thought-provoking, potentially life-changing works of art.
Peace Angel sculptures are created out of decommissioned nuclear stainless steel and destroyed land mines and street guns. Our sculptures forged from weapons of war are placed around the world, where they can make the greatest impact by using the power of beauty to ignite a passion for peace. My intention is to use my talent to instill in the people who see my art a desire to create a better world -- to manifest peace in our time.
Artists have a choice to take the world in which we live and create symbols that provoke change or to mirror what is occurring now. As a conceptual artist, I use concept as the art itself. In this case the main element of the art is action. Through the sculptures I ask the viewer to take action and to choose to live.
The pendulum swings precariously between war and peace. Each year 800,000 weapons are destroyed and 8 million are produced globally. It is my hope that when you look at the Peace Angels, you will be inspired to put down your weapons and develop a network of solidarity and communication to build a world of peaceful coexistence.
In launching the 100 Days to Peace, I have the privilege to humbly ask for weapons reduction globally. In California Sheriff Leroy Baca of the Los Angeles Sheriff's Department joins me in initiating a movement that requests weapons throughout California to be donated through local law enforcement for the creation of the 30-foot California Peace Angel monument, which is planned to be placed in downtown Los Angeles. The goal is to collect 100,000 weapons statewide to melt down into the California Peace Angel monument. A 5-foot rendition will be permanently placed at the Boyle Heights Tech Center. This Peace Angel specifically celebrates youth completing high school, furthering their education, and prospering in life as opposed to engaging in a gang life replete with death and loss.
In New York weapons donations go through the New York City Police Department. With Commissioner Kelly's support, the New York Peace Angel will be placed at One Police Plaza at the entry to the Joint Operations Unit (Counter Terrorism). The NYPD has already received 1,000 weapons. Now we are asking for more to be donated, collected, and destroyed for the larger New York Peace Angel monument to come. This Peace Angel represents protection from terrorism.
In the United States, our weapons metal recycling teams, SA Recycling and Sims Metal Management, have destroyed over 10,000 weapons for the New York and California Peace Angels in the last two years.
AOPCT has a mandate to dismantle and destroy stockpiles globally. The International Action Network on Small Arms supports our global requests for destroyed weapons for the creation of the International Peace Angels and Living Peace Buildings. With your help and our team, we hope to reduce more and more of the weapons that tragically change the fate of street fights into loss of life.
There is a lot of talk about peace. My goal is to put peace on a pedestal as a permanent reminder that something needs to be done about street weapons and weapons of mass destruction. The very physical nature of seeing the Peace Angels provokes action. The energy that transforms from weapons to sculpture is indescribable and weighs on one's conscience.
I personally thank you for opening your hearts and thoughts to the possibility of a world at peace. The world that we leave our descendants is in our hands. I ask you to join us in manifesting change, transformation, even transcendence in this issue -- step by step.
Peace Angels serve as a reminder that we must all work for peace, and our goal is to get as many Peace Angels up in public spaces across the world as possible.
Next month I will be attending the 2012 Conference to Review Progress Made in the Implementation of the Programme of Action to Prevent, Combat and Eradicate the Illicit Trade in Small Arms and Light Weapons in All Its Aspects (PoARevCon). This is a month-long, closed meeting at the United Nations where every country in the world will speak about the illicit small arms issue globally.
In the video below, Lin Evola, founder of the the Art of Peace Charitable Trust and the Peace Angels Project, initiates a global call to disarm through the arts beginning on June 13, 2012, as part of the 100-Day Countdown to the International Day of Peace on Sept. 21, 2012. Honoring this launch on the wings of music is the voice of soprano Elisa Brown, accompanied by classical guitarist Virginia Luque, from Music for Life NYC. For more information, please contact www.AOPCT.org.