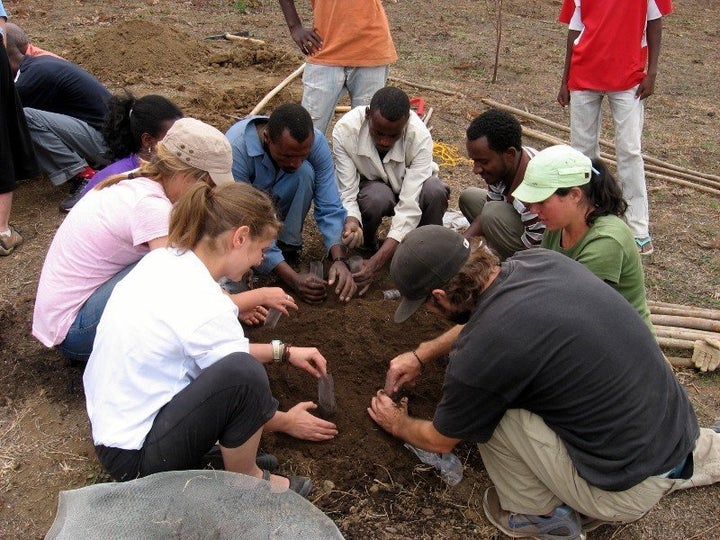 The 27 months of Peace Corps service flies by. Some volunteers start thinking about what comes next early in their service and others don't worry about it until they are back in the U.S. All of us hope to utilize new skills we gained in foreign countries. Returned Peace Corps Volunteers (RPCVs) offer possible employers an endless array of attractive attributes including resourcefulness and adaptability. Here's a list of the most common decisions RPCVs make.
1. Extend Peace Corps Service
A lot of volunteers decide that they want more time in the Peace Corps. They choose to add another year or more in the country they served in or a different country where they can specialize in an issue they care about.
Alexis Kanter shared why she decided to extend for another year:
For me, serving as a third-year volunteer is empowering. We've accomplished the two-year hurdle, and now we're encouraged to take what we've learned from that service and grow from it in a new, but similar context. One of the benefits of serving a third-year is that we have more control over where we are and what we do. That enabled me to hone in on my interests and refine my experiences.
Joel Doucette feels more time in the Peace Corps benefits professional development. He said,
I get to gain experience in international development work. I get to work with the key players in public health on a daily basis such as heads and officials of CDC (Center for Disease Control), USAID, the Embassy, Ministers of Health, and many other prominent stakeholders. It can be difficult to gain international employment thus having significant experience is extremely beneficial to my future employment.
2. Grad School
Serving in the Peace Corps makes you a more attractive grad school candidate. Deciding to go for an advanced degree during service requires a lot of effort. One benefit is that there is a lot of time to study for the GRE. However, volunteers need to find a place to take the GRE in a foreign country, apply to colleges, receive responses and make the final decision. They do this while sometimes living in areas with no electricity, no internet or a lack of other modern luxuries. Studying for the GRE is hard enough when all comforts can be met, but studying for months then having to take a 14-hour bus ride just to take the test is rough to say the least.
RPCVs enter into a variety of graduate programs including international development, public health, social work, environmental fields and other valuable degrees. The Paul D. Coverdell Fellows Program works with more than 50 universities to offer financial assistance to RPCVs. Also a lot of people join Peace Corps with advanced degrees or utilize service as part of their university programs.
3. Peace Corps Response
The Peace Corps Response program was started to offer shorter-term assignments in a multitude of programs around the world. Volunteers go to foreign countries to teach, assist in disaster response, conduct trainings on microfinance/business or other kinds of health related work. A person usually serves 6 months and receives a stipend for the time they serve. The host country determines what projects are needed. The program is open to both RPCVs and professionals who didn't serve in the Peace Corps.
RPCVs like Ryan Mannion applied to Peace Corps Response for personal and professional development. He said,
I joined for two reasons. First after being back in the States for a couple months I found the majority of jobs I was applying for were based somewhere in Africa. Second, the positions I was looking at were mostly entry-level office based jobs. A Peace Corps Response position offered the chance to be in the field for most of the week. I also had a chance to work closely with high-ranking government officials and have meetings at the US Embassy. All of these options made it an easy decision.
4. Work/Volunteer Abroad
Peace Corps service opens doors to international jobs and other volunteer opportunities. A lot of volunteers who get a chance to experience a different part of the world don't want to stop. It's common for RPCVs to come home after Peace Corps service, spend some time with family and friends and then look for the next international opportunity. Whether it's taking a job teaching English in Asia, volunteering in South America or finding a job in Africa, RPCvs continue to expand ways to work/volunteer and see different cultures.
5. Employment in the U.S. and Non-Competitive Eligibility Status
RPCVs come home with a unique set of skills, proof that they have overcome challenges and enhanced professional abilities that can set them apart from other job applicants. There's no standard for what types of jobs RPCVs apply to, but most look for openings to continue helping others. And after volunteering for 27 months we need an income quickly!
A huge benefit for RPCVs is having Non-Competitive Eligibility (NCE) status for one year for federal government jobs. It allows (but does not require) federal agencies to hire RPCVs with NCE who meet the minimum qualifications of a job quickly and easily (i.e., without posting announcements and screening/interviewing candidate via the traditional, competitive process). It's a nice advantage to have after serving our country.
Erica Burman, Director of Communications for the National Peace Corps Association, had this to say about the status,
In a tough job market, non-competitive eligibility for federal hiring is a valuable benefit for RPCVs looking to launch or re-launch their careers back in the U.S. Equally important, our country benefits by attracting a very talented group of people into public service. RPCVs are problem solvers with a proven ability to learn quickly and navigate complex environments. In addition to valuable language and cross-cultural skills, they bring a positive attitude and 'glass half full' view of the world into the workplace.
Check out these reasons to hire an RPCV!
Support HuffPost
The Stakes Have Never Been Higher
Related
Popular in the Community