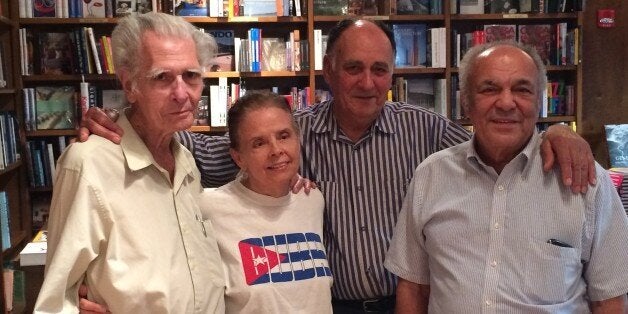 The Peace Corps in Cuba seems like an oxymoron. Yet, after the new rapprochement between Washington and Havana, it's an idea that deserves serious future consideration. The Peace Corps already serves in former Soviet bloc countries and also sends volunteers to China, hardly a bastion of democracy. Volunteers stay strictly out of local politics, focusing only on tasks at hand. They may offer English or computer classes, or technical advice on remedying immediate practical problems, such as trash disposal, water conservation or pest control. To counter rumors that volunteers are spies, anyone who has ever worked in intelligence is barred.
Nor are volunteers necessarily all recent college graduates: An increasing number are either seasoned professionals taking a humanitarian service break or retirees with a wealth of experience to offer. For those with specific language and other skills, the usual 27-month term is not required; instead, they may serve for only six months to a year. And the time in Peace Corps service usually counts toward federal retirement.
Before anyone starts bombarding Peace Corps headquarters with inquiries about Cuba service, it's only an embryonic idea right now, but one that I've been advocating for a while. I myself joined the Peace Corps in Honduras -- at age 62 -- as a health volunteer, after working 16 years in a health-related field. In Honduras, I often served side-by-side with volunteer Cuban doctors and other health providers. Since then, I've returned to Honduras 10 times to volunteer with medical brigades, including last February. The public-health doctor serving one rural region of Honduras had been sent 10 years earlier by the Cuban government and had stayed on. So there and elsewhere, Peace Corps volunteers already have experience working cooperatively with Cubans.
Much of Cuba's local health infrastructure has deteriorated, and while medical services in show-place facilities for the elite and paying tourists are excellent, ordinary patients often have to bring their own sheets and medicines to the hospital, as well as mops for cleaning up. Peace Corps volunteers could offer assistance on improving basic medical care and also help in the prevention of dengue and cholera, which have affected Cubans in the countryside, but have not been publicized.
Peace Corps agriculture volunteers could especially help bring food production back to Cuba's fertile soil. Before the revolution, the island produced most of its own food, but now imports 70-80%, the bulk of it from the United States, even before the recent accords. Food rations almost never last until the end of the month and many people go hungry.
I've discussed my Peace Corps dream for Cuba with two Cubans who recently visited Washington, D.C.: independent Human Rights Commissioner Elizardo Sánchez and blind activist-attorney Juan Carlos González Leiva. Both warmed to the idea as a practical, non-political way to bring Americans and Cubans together to help the country recover from years of economic stagnation and hopelessness. The biggest hurdle will be overcoming the Cuban leadership's reluctance to accept assistance from a former adversary and to admit deficiencies in the current system, but presidents Obama and Raúl Castro have already taken the first step toward overcoming that obstacle. I hope to live to see the day when Peace Corps in Cuba becomes a reality.
This post is part of a Huffington Post blog series called "90 Miles: Rethinking the Future of U.S.-Cuba Relations." The series puts the spotlight on the emerging relations between two long-standing Western Hemisphere foes and will feature pre-eminent thought leaders from the public and private sectors, academia, the NGO community, and prominent observers from both countries. Read all the other posts in the series here.
If you'd like to contribute your own blog on this topic, send a 500-850-word post to impactblogs@huffingtonpost.com (subject line: "90 Miles").
Calling all HuffPost superfans!
Sign up for membership to become a founding member and help shape HuffPost's next chapter