The American people are often told that our public officials do not care about real people, and our government is broken. My experience has taught me just the opposite. America works.
On March 12, 2009, Kate Puzey's body was found outside her home in the West African nation of Benin. She was brutally murdered after exposing a Peace Corps contractor who sexually abused girls in her school. The leaking of her statement is believed to have directly led to her murder. She was 24 years old.
After more than a year of being rebuffed by the Peace Corps in their requests for answers about their daughter's death, the Puzey family told Kate's story to the news media. Their courage in pursuing answers proved to be a tipping point that revealed a longstanding Peace Corps culture of denial and victim-blaming.
I experienced the negative effects of this culture first hand. I was raped while serving as a Peace Corps volunteer in Niger in 1991. The rape occurred in broad daylight, at the home of another volunteer. My perpetrator was a Nigerian man who sought to sell me jewelry. I was a virgin. When I sought justice from Peace Corps, I was told the rape was my fault. I had 'asked for it.' Devastated, I left the Peace Corps, my dreams of a career in economic development in tatters.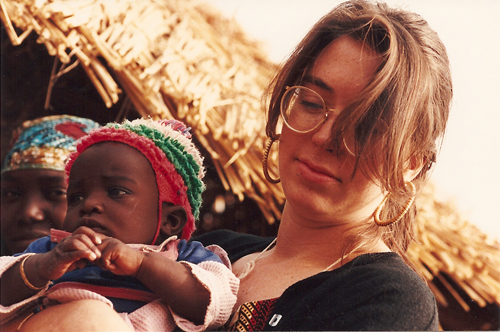 20 years later, I was shocked to discover my experience was not unique. A new generation of women who had been victims of the Peace Corps' callous and indifferent treatment of rape victims were inspired by the Puzey family to come forward and publicly share their stories.
Motivated by the news coverage, a bi-partisan congressional alliance formed to investigate and solve the problem. The House Foreign Affairs Committee held a hearing to investigate the Peace Corps' sexual assault prevention and response policies.
I was one of three rape victims who testified at the House hearing on May 11, 2011. The testimony and affidavits collected for the hearings documented 50 years of victim-blaming by the Peace Corps. Most shocking were the similarities in our temporally and geographically disparate experiences. The hearing revealed that by blaming survivors, discrediting our experiences, and failing to provide adequate recovery services, the Peace Corps exacerbated our suffering. We asked Congress to take action. Congress heard us. They drafted and unanimously passed the Kate Puzey Peace Corps Volunteer Protection Act of 2011, which President Obama will sign into law today.
Kate died protecting victims of sexual assault. Kate's bill will continue her legacy. It will ensure that the Peace Corps institutes much needed sexual assault training and response protocols. An Office of Victims Advocacy in D.C. and Sexual Assault Response Liaisons in each country will ensure sexual assault victims receive the proper support and the medical, legal, and counseling resources they need to recover. Whistle-blowers, like Kate, will be protected by new confidentiality protocols. A Sexual Assault Working Group will review the Peace Corps' policies to ensure they conform to best practices. Congressional oversight will be rigorous and ongoing.
The passage of this bill shows that America works. The news media reported the stories of four ordinary women -- a mom, a school teacher, a student, and a college professor. The government listened and acted. True public servants -- like Senators Boxer and Isakson and Representatives Poe and Berman -- championed the issue ferociously and tirelessly. My own congressional representatives, Congressman Capuano and Senators Kerry and Brown, not only advocated for the bill but provided personal support and advice as the other women and I navigated Congress. Peace Corps Director Aaron Williams, and Anita Botti and Lynn Rosenthal of the Obama Administration, reached out to us to better understand the problem. And a new law was passed to protect Americans and to fix long-standing problems with a government agency.
To pass Kate's law, men and women from all ends of the spectrum united, despite their differences, to conquer a challenge and do the right thing. Like Kate Puzey, the passage of her bill shows the best of what America has to offer. Nothing can bring Kate Puzey back or make up for the lost potential of her promising life. But, even after death, she continues to make this world a better place.
Calling all HuffPost superfans!
Sign up for membership to become a founding member and help shape HuffPost's next chapter