Why is it when I mention striving for "peace" to friends and family, I sense internal eye rolls and receive polite, patronizing smiles?
To be honest, I never thought hard about the word until I came to work for Search for Common Ground, an international conflict resolution and peace-building NGO. I was blown away by the extraordinary achievements of my colleagues, and as the communications person, I'm charged with awareness-raising and messaging for the organization.
"Peace" turned out to be the least effective way to promote our work, especially to an American audience. It got me thinking. When did peace loose its punch?
Who is guilty for diluting the meaning of this once powerful word? Is it beauty pageant contestants quoting world peace? Flower-yielding hippies from the sixties? Or is each of us to blame for using the word so loosely, making peace such a vague and intangible ideal?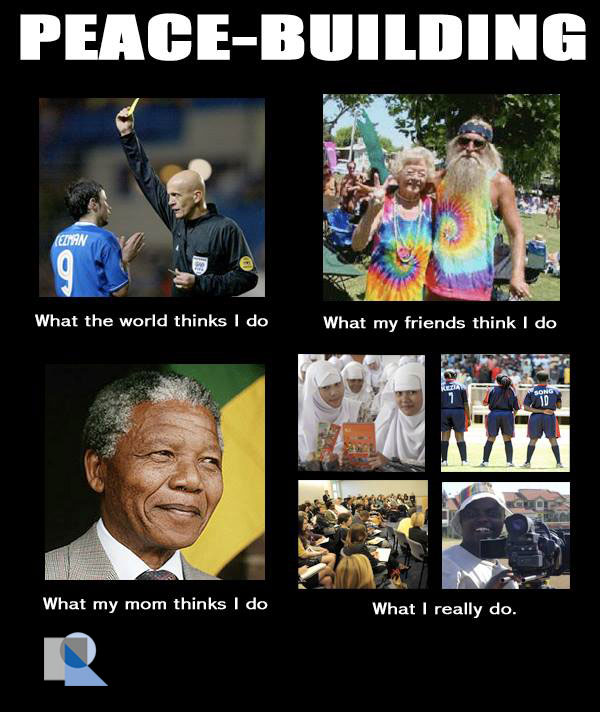 The Webster's dictionary has ten definitions of peace, ranging from "a state in which there is no war or fighting" to "a state of tranquility or quiet." None hit home.
So I turned to the father of peace studies, Johan Galtung. He defines positive peace as restoring relationships between hostile groups through positive content in society, such as the absence of exploitation, economic growth and development, freedom from fear and justice (Galtung 1967).
It's managing conflict through constructive solutions.
Peace is serious. Peace is practical. It involves finding constructive solutions to difficult problems, and it's what is needed today.
My organization is called Search for Common Ground, not because we ask people to compromise, but because we ask people to focus on the goals they both want to achieve instead of their differences. They might have different ideology and backgrounds, but they all need a good education system for their children, for example. They can only achieve that if they learn to work together.
It doesn't get more practical than that.
Peace is attainable. I hope that peace breaks free of its fairytale reputation and becomes a term that excites people to action, encourages them to find constructive solutions.
REAL LIFE. REAL NEWS. REAL VOICES.
Help us tell more of the stories that matter from voices that too often remain unheard.