I recently sat down with Mike Wurster, Marvin Fourte, Jack Hicks and Brian Lopez, the team behind Peace Hostel International (PHI), a hostel that is much more than just a place to stay. The project is currently in its fundraising stage, with plans to open doors by Spring 2018.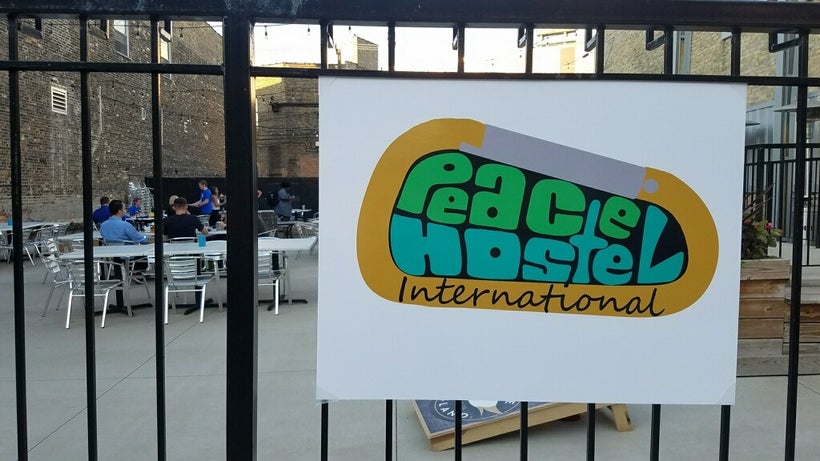 Leanna: So guys, why "Peace Hostel International"? Where does that name come from?
Mike: Yeah, it's the first name I came up with and I'm like, "Hey, guys, can we vote on this?"
Marvin: "Yeah, should we keep 'International' on, should we take it off?"
Jack: "We'll keep it on then take it off."
Leanna: Give me a basic timeline of the project.
Mike: We'll have a building closed on by December, build-out should be finished [between] January and mid-February. We'll invite bloggers, VIP's, special supporters to come view the hostel and christen it early March. Doors open mid-March [or] early April 2018.
Leanna: Tell me about the hostel itself. What's it going to look like?
Mike: We'll have about 14 rooms with office furnishings on the first floor and 22 beds or more on the second floor, complete with kitchen, bathrooms, showers, washing units and one dedicated female-only dorm. There will be a mural painting of donor names done by a local artist. Imagine the giant tree in Bugs Life.
Marvin: The hostel is going to be a very open space for people to be social, [but also have] private rooms available for additional fee...It'll be a creative combination of a small hotel, a home and working space for business-class travelers.
Leanna: What are some of the programs you'll be offering at PHI? Are you personally excited about any of them?
Mike: YES, I'm super stoked about them all. We have educational programs like study-abroad presentations to universities. Then we have local-led tours, and what I'm most proud of, is our ability to generate scholarships out of marketing expenses to send Chicagoans out as ambassadors to other regions in the US and across the world.
Marvin: [And] programs such as our Cultural Kitchen, in which we will be having guests explore a new dish from some realm of the world.
The PHI team had known each other for some years: Mike met Marvin and Jack at college where he was a resident assistant (RA), and Brian at a mutual friend's party. The four friends reconnected before Mike's wedding in 2016, where they were all groomsmen.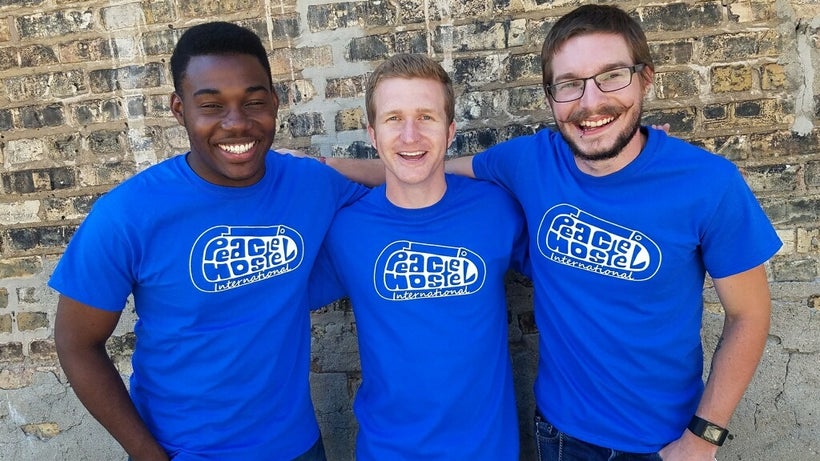 (From left: partners Marvin Fourte, Michael Wurster and Jack Hicks)
Leanna: [laughter] Nice, how did you transition from friends at a wedding to an idea?
Mike: I started out in necessity because I could not pay for rent, and so I had to 'hustle' on the side, but really all that means is I started up AirBnB. Being an RA has taught me how to actually bring people together, to create events, to drive people in positive directions and mediate. But this entire idea, this conception, this project has been about a decade in the making.
Leanna: So you had this idea. How did the process work then?
Mike: Yeah, I went to different hostels in Japan and I spent a lot of time videotaping where I was. How they locked stuff away, how they cleaned, did they have a checklist? So I know what to look for. And really and truly lucky for me, these gentlemen here, believe in me and are just willing to go with it even though none of them have had visited a hostel themselves.
Brian: I've stayed in a hostel.
Leanna: So only two [of you] have stayed in a hostel. When you came back from Japan, Mike, is that when you gathered the group together?
Mike: [to the group] Did I talk to you guys about it before we left to Japan?
Marvin: He said, "I've been thinking about you, but I've got to go" and then he disappeared.
Mike: [Laughter] So, how did it start? Just me throwing around a whole bunch of numbers?
Marvin: Ok, so how it started was I got a phone call saying "Ok, so I'm about to register [the business], are you in or are you out?" And so I said, "You're about to do this now?" He's like "Yeah." I'm like "All right."
Since we now had an idea about how the group came together to form this fascinating new project, I wanted to get to know each of the members individually. I started with Mike Wurster, the founder of PHI. Mike, a retail and health foods salesman, also runs his own sales training company, SpiritVie Consulting.
Mike: I love showing people that they can mediate through a problem. A lot of times when you're selling something, you're really just solving a problem for somebody else.
Leanna: And how do you [besides creating the idea] contribute to this project that you are part of now?
Marvin: A voice of reason.
Mike: [laughter] If you want to lift me up that far, but no, I'm a smile, I'm a wave, I'm a handshake. That's my contribution really and truly. I really do see myself as a bringer of people. And if I could ever do anything, that's what I want to do. I want to bring people together. I'm [also] overseeing the marketing campaign and general business management.
Next, I chatted with Marvin Fourte. With a Bachelor's in English and a Master's in Business, he's bringing a formidable set of skills to the table. Marvin is also a very busy guy: by day, a restorer of woodwind and brass instruments, and by night the founder of his own writing and editing business (Writingpress.com). In his free time, he has a hobby that I am quite jealous of!
Marvin: ...The more interesting part I think people like to hear about is that I'm a jazz musician. I play the jazz guitar and the alto saxophone and the harmonica. You'll find me at restaurants and clubs all throughout Illinois.
Leanna: Are you planning to use that musical background [for] the hostel?
Marvin: As a musician, you have to learn how to get people psyched about what you're offering and make them comfortable. So what Mike and I will really be able to concentrate on is getting people to enjoy all the different elements of the program.
Mike: I'll get him to play jazz guitar [laughter].
Leanna: And what is your role going to be in this project?
Marvin: Well as the senior partner, my role will be looking at national affairs. Mike likes to travel and we want to keep him active and so we want him a part of our international move and I'll be overseeing our operations here in the States, as well as keeping an eye [on] operations and logistics. Currently, I fulfill all the roles: looking at the language for the website, looking at our partners and what they are specializing in and what they can help us with.
Mike: I think Marvin touched on a good point: As an entrepreneur, you don't have one job. You do everything. I plan on scrubbing toilets when the doors open. At least one… [laughter].
The next member of the team, Jack Hicks a professional student with degrees in Biochemistry and Mathematics, described himself as the "Resident Nerd". Aside from a few science projects, Jack is in the middle of coding his own video game and also DJs on the side.
Johnny: My business card is just very tiny print. He does it all! I will get to Stanford eventually. I'm really interested in nano-technology, nuclear physics, whatever. All the nerd stuff.
Leanna: What's your particular part in this [project]?
Jack: I'm doing most of the behind the scenes stuff with the website. I have to build a database for when people want to book stuff. Hopefully moving forward, we plan to have little reward things, like RFID, NEC chips, like a rewards program. That and at the end of the day, we can cost-effectively switch to solar energy, reduce how much water we're using and make this cheaper for everyone, a little bit more green.
Leanna: And how does DJing fit in?
Jack: It's me doing my part...almost like a weird form of mass hypnosis where I turn this button and everyone starts dancing. I love it. It gives me this warm fuzzy feeling inside. But yeah, that's where the music comes from, just putting stuff out there so that everyone can enjoy.
Brian Lopez, the fourth member of the PHI team, contributes a formidable range of experience and know-how. Brian has run multiple businesses over the past decade and currently owns a successful banquet hall in the Chicagoland area. He is passionate about volunteerism and combining nonprofit missions with entrepreneurship.
Brian: I went to community college for a time and hated it. I was frustrated because I wasn't learning anything. Ended up giving a couple of lectures in physics because my professor couldn't get it through to our students. So my mother told me, "Well, why don't you finish up the semester, drop out and just Steve Jobs it?". And I remember that moment very clearly because this is the woman who's supposed to be like, "No, push through school, you can do it."
So, I've always loved the idea of entrepreneurship because entrepreneurship is a lifestyle. As Mike was saying, you wear many hats. So for a time, I was a chef [and] a bartender. I was a bar-back, a server, I also cleaned toilets, no longer thankfully [laughter].
Leanna: So, as far as this project, what's your role here?
Brian: So, specifically, I'm working hand-in-hand getting this venture off the ground in terms of funding. I'm also working with real estate to secure the building in terms of the logistics of acquiring it, paying for it, the structure for it, all that.
Leanna: It seems like Mike just pipes a tune and you all just kind of… [laughter]
Brian: You're definitely right about Mike having this kind of energy where people are naturally drawn to it. There's something to that drive that makes people want to be a part of something bigger than themselves. Where Mike and I really get along is we refuse to be a part of a lifestyle that will only give you its leftovers. Now, if that means we have to have a hard work ethic, if that means we have to lead and motivate people, set goals, get up early in the morning, or scrub toilets, that is what it's going to take.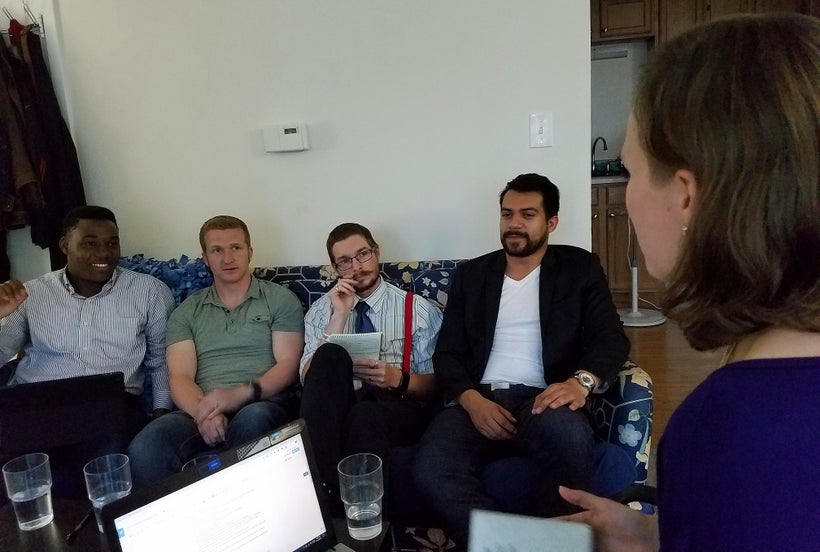 (Above: PHI Team being interviewed with consultant Brian Lopez)
Finally, I wanted to get a better feel for the vision the PHI team had for the hostel and its overall mission. So I asked them what made the project unique and how people who wanted to learn more or participate could get involved.
Mike: When people get together, when people start talking, it doesn't take that long to start connecting. If I know Junichi in Japan, then it's going to be a lot harder to say we should mess with those guys. No, you're going to want to talk to them first. What makes Peace Hostel a little bit different is we're taking from our own funds, we're calling it a marketing expense, we're sending people out into the world to have these conversations.
Marvin: If you're coming to Peace Hostel International for a room, for a place to lay your head somewhere, a spot for your own personal explorations, and that's it, then you're probably wasting your time. Because although you might be paying for a bed, what we're selling is an experience. What we're helping you do is provide an intimate setting for getting to know other travelers, explore Chicago with locals, the type of experience someone from Paris would have to have to say, "Oh my God, I want to live here!".
Brian: I think it was Maya Angelou who said: "Never doubt that a small group of individuals have the power to change the world". Essentially what we have here is a small group of individuals that are not so much interested in profits and bottom line, but other people's hearts. There may be thousands of people we never met yet, but we feel compelled to make an impact in their lives. All of that change begins with wanting a conversation with a shared room in our example. And we firmly believe in the exchanges of these perspectives, of having a place to facilitate open ideas and having people be exposed to what the norm is like outside of their bubble.
Leanna: What about the logistics of the launch? How is that going to work?
Marvin: So right now, we're in a fundraising campaign. The launch will be on July 8th, which is a Saturday and it will be 12PM-12AM. It's going to be celebrated with a party and then that launch will be the main campaign for forty days.
Jack: We're raffling stuff off on Facebook. We're offering early bird access on rooms and vouchers to rent a room a year or two from the opening date. Different swag opportunities, shirts, travel gear, and water bottles.
Mike: Everything from postcards to sitting atop the John Hancock and experiencing cocktail night after iO Theatre. The launch party will also have a 50/50, we're going to ask for the other fifty back, but if you want to keep it, you can [laughter].
Marvin: Peace Hostel International is exploring naming opportunities. There will also be a donor celebration dinner to which they will be invited.
Leanna: Awesome! Any final words about PHI?
Marvin: Our common goal is to make a difference, and whether or not we reach our goals in terms of fundraising, we're exploring every opportunity that there is in order to make this difference or make this change in our community and inspire all those around us. And we invite you to join us on that journey.
REAL LIFE. REAL NEWS. REAL VOICES.
Help us tell more of the stories that matter from voices that too often remain unheard.
This post was published on the now-closed HuffPost Contributor platform. Contributors control their own work and posted freely to our site. If you need to flag this entry as abusive,
send us an email
.