How do we speak of peace this week after the series of brutal attacks witnessed in Lebanon, Egypt, France, Turkey, Israel, and Palestine - not to mention the daily bloodshed in Syria? In the face of these atrocities, an immediate definition comes to mind: peace is more than the absence of war.
Peace is deeply personal. It is not easily defined, nor explained. For some, peace is the freedom of movement, to attend football matches, concerts, and moments of pleasure without fear. For others, it is access to quality education, decent work, and effective justice systems. Or, it can be committing to a sustainable and safe planet for future generations.
Peace comes in many forms, shapes, and meanings, all based on individual perceptions, backgrounds, and experiences. For this reason, building and maintaining peace is complex and multi-faceted, especially as we face new threats - such as terrorism, violent extremism, climate change, epidemics, hunger, prolonged conflict, or finding a response to the world's mounting refugee crisis.
I have close friends and colleagues in Paris and Lebanon. Clearly shaken by the events that transpired last week, they are nevertheless determined to not let violence interrupt daily life. Their reaction to the attacks has been a fierce defense of peace. The major upcoming UN Climate Summit that is scheduled in Paris at the end of November will still take place. Freedom is stronger than fear, and without freedom there will be no peace. People are expressing this through individual action around the world. Peace is personal.
My original blog was to address Geneva Peace Week, which brings together over 50 international organizations through 41 events all dedicated to the discussion and promotion of more peaceful societies. Peace is a big word for all of us in Geneva. It is at the core of the work that we do and at the heart of the United Nations' mandate. We work every day around the globe to translate peace into, food, shelter, water, healthcare, education, decent work, as well as freedom, rights, and equality. In Geneva, organizations contribute to peace in all its different shapes and forms.
In light of the current events, I am convinced that our work to promote peace is more relevant than ever. I feel hope knowing that there are far more people working for peace than the opposite.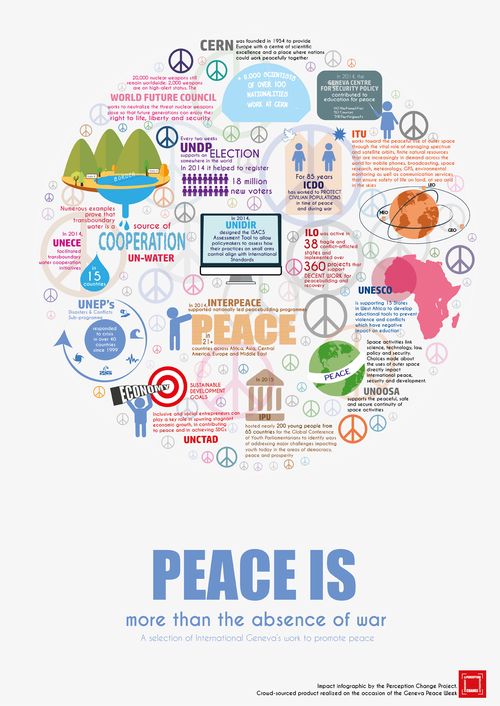 Calling all HuffPost superfans!
Sign up for membership to become a founding member and help shape HuffPost's next chapter