When I was at the Parliament of World Religions last month in Salt Lake City, I had the opportunity to see artist Kelli Bickman's beautiful peace mural and talk with her about her work as well. The mural is filed with beautiful messages, photography, fine art, water colors, poems, and prints of peace. The art comes from children and adults in Afghanistan, England, Iraq, India, Peru, Haiti Vietnam as well as the United States.
Months ago Bickman sent a major email blast asking nearly everyone she knew this question, "What does peace mean to you?" She was overwhelmed with the outpouring of the hundreds of peace images and poems from adults and children. Using many of the pieces that she received she created a beautiful 9' x 36' art canvas.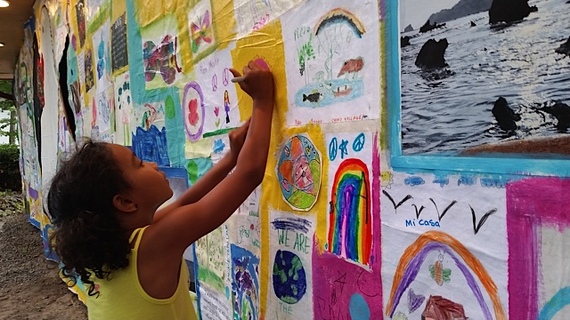 A child writing a message of peace. Photos property of Kelli Bickman; used with permission
Bickman says that the reactions people have when viewing the peace mural are priceless. A gentleman wrote this message on the mural, "Celebrate every breath." He told Bickman that two years ago he was diagnosed with cancer and the day before he wrote those words he was supposed to have died. Instead she says, "He was standing strong in front of me celebrating the fact that he was still alive. That moment brought me to present moment awareness."
Children have offered their heartfelt messages when signing the mural. Bickman recalls a young six year old male grabbing a sharpie and going straight away to the central heart in the middle of the mural and finding an open space on it to draw a robot. The child called it a "peace man".
Bickman plans to donate the mural to the United Nations with over 10,000 signatures from 80 countries and 50 faiths.
Kelli Bickman can be reached at her website. All photos belong to Kelli Bickman.
Calling all HuffPost superfans!
Sign up for membership to become a founding member and help shape HuffPost's next chapter