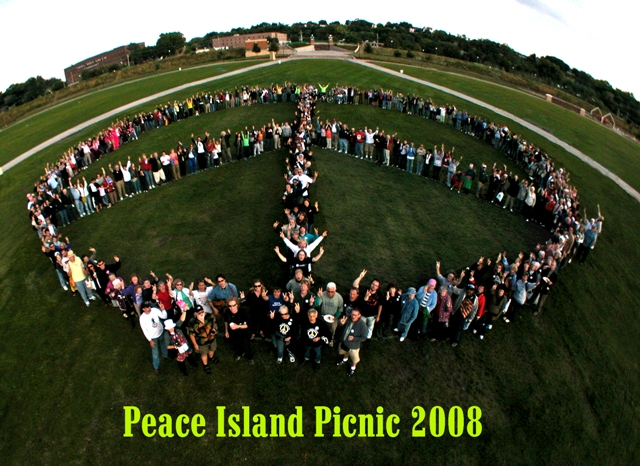 Just across the Mississippi from the RNC-created Police State in St. Paul, some brave picnickers turned out to form a message and enjoy a day of art and music at our Peace Island Picnic. But it wasn't without its surreal moments.
A call to "bring us back to good neighborliness and sanity" is how the mission statement read on our flyer but no one would have imagined how much more difficult this mission would become as the week progressed when the RNC and its police state mentality came to the Twin Cities. Pre-emptive police raids and an excessive display of force had already shocked and awed those of us used to living in "Minnesota Nice". And the subsequent arrests of hundreds of innocent citizens, including many journalists and reporters (and probably also a few trouble-makers bent on disruption), had worked to put a damper on many of the various peace and unconventional events planned for the week.
So it didn't surprise us when our application for one-day picnic insurance was denied and it became a picnic at your own risk.
Anyway, Dick Bernard, former president of the Minnesota Alliance of Peacemakers (comprised of over 70 various peace groups in Minnesota and who took these photos of Monday's March on the RNC, the Peace Island Conference and Picnic), described the scene like this:
Driving my route to get to Harriet Island, I went down Chestnut Street, below the Xcel Center, and there were swarms of police preparing for the afternoon duty. (Today's paper says there were apparently 3700 police in all, marshalled for the Republicans' party in the Twin Cities - obscene overkill in my opinion.) Shepard Road was open, more police, and Jackson Street, and Kellogg to the Wabasha Bridge, and when I got to Harriet (now and forever more Peace) Island at 1 p.m. there was a great plenty of quality parking. There were few people in evidence, plenty of room to park, and a huge plenty of hotdogs, grilled barbeque pork, cake, and on and on and on. It looked like it would be heaven for someone looking for a free picnic (and it was).

Down on the river bank it was a chilly afternoon, overcast, breezy, maybe in the 60s. But it was about perfect for a gathering in many ways.

The Rowleys were there setting up, and, initially, perhaps 100 of us strolling around. Then the music gig began, first with Minnesota troubadour Larry Long, no stranger to folks in these parts, joined by Tao Rodriguez-Seeger, for a medley of songs beginning with "Down by the Riverside" and "This Land is Your Land". The two musicians by themselves were phenomenal. The power for the speakers and instruments was solar (and stellar); it worked impeccably even in the overcast weather.

The afternoon was off to a great start. In my initial planning for participation in the Picnic, I was going to stop by for awhile, go home, and come back later in the afternoon to help be part of the giant peace sign. But it was such a mellow place, this Peace Island, that I decided to stay the day.

I went back to the car to get my outdoor canvas chair, and settled in by the flagpole to the 9-11 victims, just to the musicians' left, and with a clear view of the river. I was ready to settle in for one of the most relaxed afternoons I've ever had.

There could not have been a more peaceful place than Peace Island this day. The crowd grew, but slowly. As it turned out, police had shut down the High Bridge which was one of the main routes to the picnic.

Tuesday's Robot, a really good group, followed Larry and Tao, and they were to be followed by a continuous succession of musicians all afternoon--Sara Thomsen; David Rovics; Emma's Revolution; Palbasha Siddique; Robayat (Persian music), the Batucada do Norte Brazilian drum band, and a guy who blew into a giant Conch shell to make music. This made for some great jam session music going on as the afternoon progressed. I counted up to 15 musicians together at one point in the afternoon.

There were some bizarre twists, to be sure.

Patrolling the river just beyond the musicians was a gun boat - I kid you not - a Coast Guard vessel with mounted machine guns fore and aft. It appeared to be protecting the paddle (tour) boat as it carried passengers, probably delegates to the RNC, up and down the Mighty Mississippi. It was so bizarre as to be funny. Especially when the boat passed by just as we were all singing "This Land is Our Land". (I guess you never know what "tear-wrists" are going to be gunnin' up or down the river to take out whomever...maybe that's why George and Dick didn't show in the Twin Cities.)

At one early point, four SUVs ominously drove down a sidewalk in our area, all full of police, one with the back door open, as if they were preparing to raid our small assemblage, but they just slowly moved on. Of course the sky was dotted with dark helicopters. It often appeared they'd collide with the large "peace kites" people were flying.

To our west, a bunch of the police gathered, apparently for their souvenir photo with, it seemed, the downtown St. Paul Skyline behind them. The gunboat arrived, apparently to be part of this photo op of "what I did on my vacation".

Around 6 pm or so we all assembled into a giant peace sign. It was a very clear shot. (Editor's note: the clear shot was accomplished by expert Photographer and Kiter and Vet for Peace Tim Hansen.) I could even make out myself, on the back portion of the circle, a few folks to the right of the upright portion of the peace sign.

Together, Peace Island Conference and Peace Island Picnic turned out to be phenomenal and totally peaceful events. Together, they merited only the tiniest bit of news coverage - Peace Island Conference with 350 registrants none at all; Peace Island Picnic with about 1000 meriting only some terribly dismissive and inaccurate coverage in the Pioneer Press, so false that they had to print a correction this morning in the print edition of their paper.
The message is "if it bleeds, it leads". The anarchists' taunts, hated as they are by so-called 'civil society', were essential to the police state mentality that became St. Paul and Minneapolis this past week. Those anarchists should get thank you notes from the Republican Party, and the powers-that-be in our town. Without them, there wouldn't have been any news. And while they're writing thank you notes, maybe the likely abundant agents provocateurs should be on the thank you list as well. One of the persons on the march who was doing lots of photography, was quite certain she saw one person who had been egging on the Iraq Vets Against the War during the Labor Day protest march, breaking a window later in the downtown area - if so, he was probably arrested, and quietly released....
Without a media we can trust, it's hard to know the truth of what actually happened and who caused it.

Clearly, the mantra for each of us has to become "I am the Media". It is of absolutely no value to kvetch about what they aren't doing. We have to become, as Gandhi said, 'the change we wish to see in the world'. There is no alternative.
There's no alternative either for a return to good neighborliness and sanity--real peace. Luckily we got a taste of it at the Peace Island Picnic.


REAL LIFE. REAL NEWS. REAL VOICES.
Help us tell more of the stories that matter from voices that too often remain unheard.