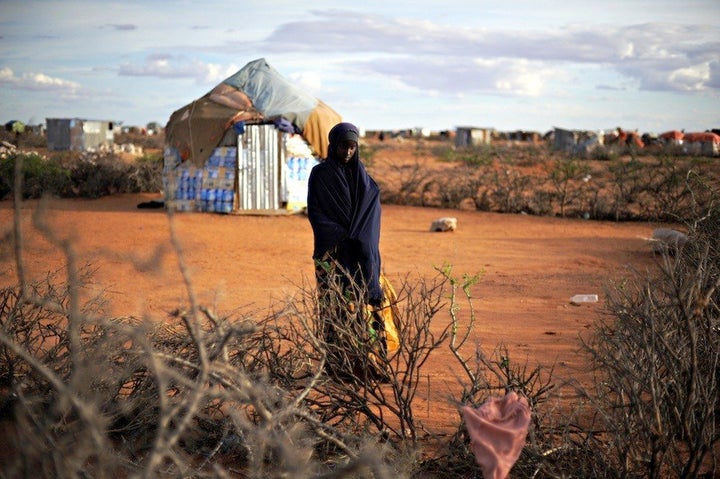 Members of the Nobel Women's Initiative are marshaling their collective wisdom and experience to tackle the challenge of ending rape as a weapon of war.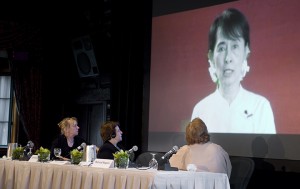 "Violence starts in the mind, so we have to start by changing the minds of men and women all over the world." Nobel Peace Laureate Aung San Suu Kyi, democracy leader in Burma, participated in the conference by video.
Certain topics have always been hard to talk about -- rape and sexual abuse ranking high up on that list. And yet we must speak up more because of the many women affected. According to conservative UN estimates, "worldwide, one in five women will become a victim of rape or attempted rape in her lifetime." It is likely that sexual assault has happened to you, or to your friend, your mother, your daughter, your sister -- the girl next to you on line at the grocery store, to scores of women reading these words right now. In too many cases, the secret lies buried deep within us for the rest of our lives.
But six women who are Nobel peace laureates want to not only break the silence but also to spearhead a global campaign to end rape. Who better to take on this challenge than this group who have individually overcome enormous odds? Nobel Peace Laureates Jody Williams, Shirin Ebadi, Wangari Maathai, Rigoberta Menchu Tum, Betty Williams and Mairead Maguire have already created a global organization to "work together for peace with justice and equality." As part of this effort, the Nobel Women's Initiative just released a report that finds that rape as a weapon of war is a crime occurring "on a massive scale" and is a threat to global peace and security. War on Women: Time for Action to End Sexual Violence in Conflict examines studies of sexual violence in five regions of the world, explores the leading causes of such heinous acts, assesses actions taken by the international community and offers some ways individuals and governments can move forward to end sexual violence.
"Waging war on the bodies of women has got to stop," says Jody Williams, the 1997 recipient of the Nobel Peace Prize for her work to ban landmines. "Like any tactic of war, it can be eliminated."
Rape is only one of many manifestations of the global pandemic of sexual violence -- what some at the UN call a "global scourge" -- that includes sexual slavery, forced prostitution, mutilation, as well as forced pregnancy and sterilization. Women may be targeted as members of a different tribe, to force their families off mineral-rich lands or to silence their voices raised to defend human rights. Whatever the reason, the scale and scope of the problem is growing. In places such as the Democratic Republic of Congo, Darfur, Rwanda, Bosnia and Burma, mass rapes have been used as a deliberate and strategic tactic of war--as an effective way to terrorize civilians and tear the basic fabric of society.
According to a report in May in the American Journal of Public Health, almost two million women and girls have been raped in the Congo, at an alarming rate of approximately 1100 a day, 48 women every hour. In the 1990s, more than 500,000 women were raped in the Rwanda genocide, and some 40,000 during the war in Bosnia and Herzegovina. We should allow that information to go beyond our eyes and our brains and sink into our hearts, to feel the suffering of a girl as young as two months or a woman as old as eighty. These women may have been raped in front of family members, their bodies violated with broken glass bottles or rifles, leaving them permanently mutilated or pregnant or infected with HIV and other diseases. While the perpetrators rarely suffer any repercussions, the women are often sentenced to a lifetime of misery--ostracized by their communities and rarely getting the medical and psychological support they need.
To kick-start its effort to mobilize the world community, the Nobel Women's Initiative organized a three-day international conference last month in Canada of more than 120 activists, academics, security experts and corporate leaders from some 36 countries. Participants at "Women Forging a New Security: Ending Sexual Violence in Conflict" shared ideas and developed strategies to join together as an organized movement, ending with a day of action, in which they called upon the public to pressure their elected officials to "take a stand." (Readers are invited to take action at this link.)
There is no single solution to stopping the use of sexual violence in conflict zones; it is entangled with many other thorny issues that face the world locally and internationally. However the peace laureates can speak with authority of non-violent means to resolve conflicts and to begin to look with an honest, open heart at its roots--at the cracks in the culture and the people in places where violence, and particularly sexual violence, thrives. How is it that human beings have grown so disconnected from each other, from our sense of compassion and empathy for the suffering of another human being, that such savage and brutal crimes can be routinely committed on such a grand scale?
This profoundly disturbing problem nevertheless offers the potential for hope and transformation, for the world community to, as Nobel Laureate Maguire Maguire puts it, "create a civilization with a heart." Says Maguire, who won the peace prize in 1976 for her efforts to end violence in Ireland, "Sexual violence is not just happening in far away places, it is happening in our own homes. We need to recognize that this is not someone else's problem but an issue to be faced by the whole human family. Working together, we can bring these horrific crimes to an end."
Since such an interesting diversity of perspectives from so many different sectors were represented at the NWI conference, I decided to solicit some insights on this issue from some of the amazing women who participated at the event. These follow.

"[Sexual violence] is a way of demonstrating power and control. It inflicts fear on the whole community. And it is unfortunately a very effective, cheap and silent weapon with a long lasting effect on every society."

- Margot Walstrom, Special Representative of the UN Secretary-General on Sexual Violence in Conflict.

"Rape is used in my country as a weapon against those who only want to live in peace, who only want to assert their basic rights... It is used as a weapon by armed forces to intimidate the ethnic nationalities and to divide our country...We must do everything we can to put an end to this. Violence starts in the mind, so we have to start by changing the minds of men and women all over the world."

-Aung San Suu Kyi, Nobel Peace Laureate and democracy leader in Burma.

"We have to be a loud and clear voice for those whose voices cannot be heard. Under international law, rape is a crime against humanity--and it is our duty to work to bring impunity for such crimes to an end."- Shirin Ebadi, Nobel Peace Laureate from Iran.


"We survivors continue to fight against oppression. In Rwanda, women head 35% of the households. They are poor, they have HIV-AIDs, some of them have children born out of rape and most of them have been rejected by society. In Rwanda, there is a feminization of poverty."

- Godelieve Mukasarasi, Coordinator, SEVOTA (an organization helping genocide survivors), Rwanda.

"Rape is one of the most obvious forms of violence against women, but it should also be understood as part of a continuum of violence--one that starts with the violent words that we use against one another."

- Jody Williams, Nobel Peace Laureate and Chair, Nobel Women's Initiative.

"To stop sexual violence, I believe in empowering women. Often [men] have the mindset that they are the stronger ones, and women are weak. Having power physically, mentally and economically is important for women."

- Rockfar Sultana Kahanam, Commander of Bangladesh Female Peacekeeping Unit in Haiti (United Nations Stabilization Mission in Haiti).

"I think if we wait for the international community to start a global movement to end sexual violence, then we will be waiting for the rest of our lives. I think it up to us, women in civil society, to come together and tackle it one continent at a time--in a holistic manner."

- Leymah Gbowee, Executive Director of the Women, Peace and Security Network in Africa. Gbowee played a key role in bringing the end to armed conflict in Liberia.

"In the US context, sexual assault has always taken place. It is really a matter of US society growing up and acknowledging the dirty little secret that sexual violence and domestic violence are pervasive throughout US society, and are specifically concentrated in the US military. We can applaud the service of our service members, especially during a time of war, but we have to acknowledge that crimes are committed by service members against other service members. It is actually the patriotic thing to do and it actually improves the military when you hold perpetrators and you hold negligent commanders accountable for these crimes."

- Anuradha Bhagwati, Executive Director, Service Women's Action Network.

"I want to see more communities put their words into action and allocate their resources to the survivors [of sexual violence]. This means to not just pass a resolution--but also provide practical and concrete support. Sometimes the international community is busy passing resolutions while women on the ground continue to suffer with no access to resources."

- K'nyaw Paw, Board Member, Women's League of Burma.

"Rape in war is a sign of a problem that is systematic and widespread. Until the day that a woman can have a social value that is greater and deeper than merely sexual or procreative, until a woman is more than simple property, until women are fully represented in all the places where power is divvied up, then rape will always be a problem. And rape will always be a problem in more places than just the Democratic Republic of Congo--or Africa, for that matter."

- Abigail Disney, Filmmaker and Producer of the upcoming Women, War and Peace series debuting on PBS.

"If we can travel to the moon and back--then of course we can end sexual violence."

- Charlotte Isaksson, Senior Gender Advisor, Swedish Armed Forces, Sweden.

"I think there is a socialization that goes where violence becomes acceptable. You have to change that and say, 'No, that's not acceptable, rape is not acceptable and neither is any form of violence against women. We must not be ambiguous about violence. The greatest war is fought inside our own hearts, a war of anger and resentment and greed. So we start within ourselves and then with our families and our communities."

- Mairead Maguire, Nobel Peace Laureate.
Related
Popular in the Community