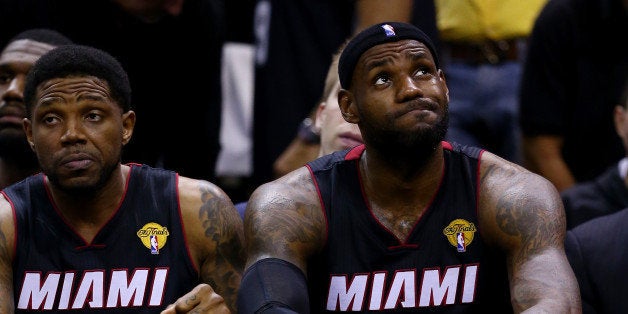 No one's going to have sympathy for the Heat Nation, and neither do we want or need it, but this is obviously a stressful event on the organization and our city. We have to be grateful for the last four years, for two championships, four finals appearances, so many wonderful moments, on and off the court, but of course this is a burn. Thanks for the memories LeBron, sincerely -- and everyone will spin this story as if it's the prodigal son returning, but it doesn't seem smart to go back to an owner who called you "cowardly" and "disloyal" while walking away from a dynasty and throwing Miami under the bus.
We've been nothing but welcoming and loyal and brave and proud, gladly carrying all the hate we received around the country when you chose Miami, and now it's natural to feel jilted. People think Miami is South Beach and all glitz and glamor but we're not. Miami Heat fans live in three counties and occupy cities like Allapattah, Liberty City, Pembroke Pines, not South Beach.
It appears, on the surface, this isn't about a man going home, it's more about an entourage getting what they want, to live in a city they basically own. This player and his entourage, all from Ohio, never quite felt royal enough in Pat Riley's kingdom, and now they want their power back. LeBron's legacy will likely be that he chased championships and basically used us here in Miami while throwing his homeboy DWade (who opted out of a maximum salary) and many others under the bus. This is not a conquering hero returning home. This is a conquering ego. But hey, it was fun while it lasted, ticket prices will go down, we can't win them all, and maybe, just maybe, the national media will stop referring to Miami as South Beach.
Calling all HuffPost superfans!
Sign up for membership to become a founding member and help shape HuffPost's next chapter