Theo is about as lovable as it gets ― he's a little mischievous, knows basic commands and loves playing ball and getting attention from humans.
Did we mention Theo is a 3-year-old steer?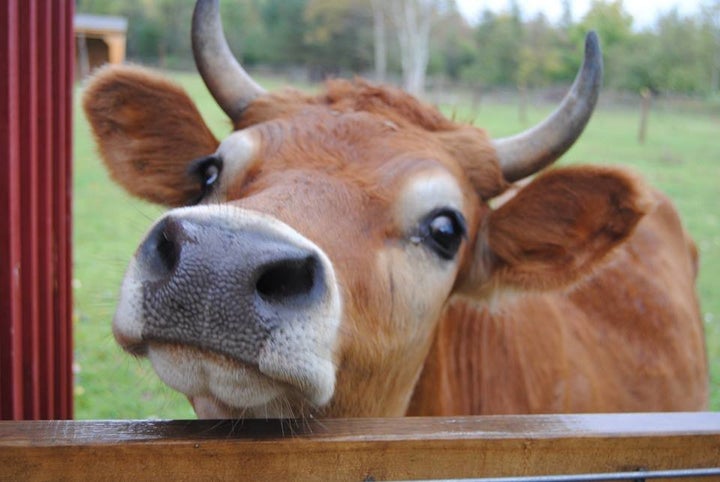 The brown-eyed guy is a resident at Peace Ridge Sanctuary ― a refuge for abused and neglected animals that's in the process of moving from Penobscot, Maine, to a new location in the town of Brooks.
Theo was born on a small Maine dairy farm but, as a male, was of no use producing milk, sanctuary founder Daniella Tessier told The Huffington Post in an email. So Theo was slated for the fate that befalls many male calves in that situation — a short, brutal life as a veal calf.
"He was sold for a few bucks on the side of the road with the other only two-or-so day old boys," Tessier said. But luck was on Theo's side. The person who bought Theo also ran an illegal dog breeding operation, and when state law enforcement raided the property, Theo was seized in the process. After learning about the situation, Peace Ridge stepped up to take him in. While a healthy animal at his age should have weighed 170 pounds, Theo weighed only 75.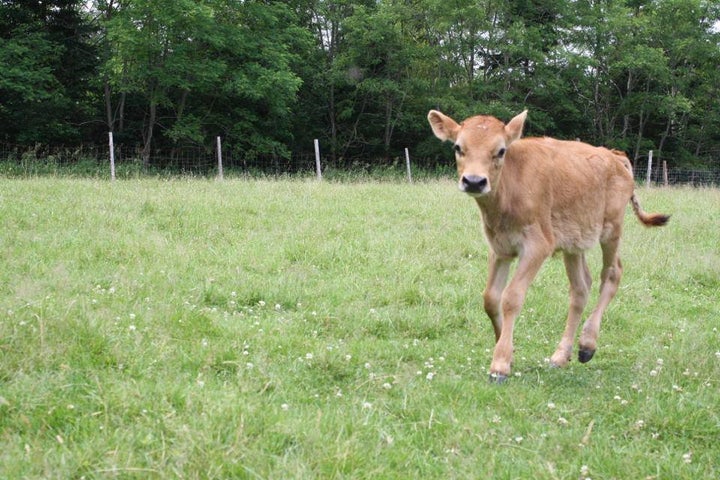 Now, Theo is about the same size as the farm tractor, and his life is pretty sweet. This May was his third anniversary at the sanctuary, and he spends his days playing, grazing and hanging out with his interspecies friends. Theo is neutered — which is what makes him a "steer" rather than a "bull" — which curbs some of the hormones that can contribute to bulls acting aggressively.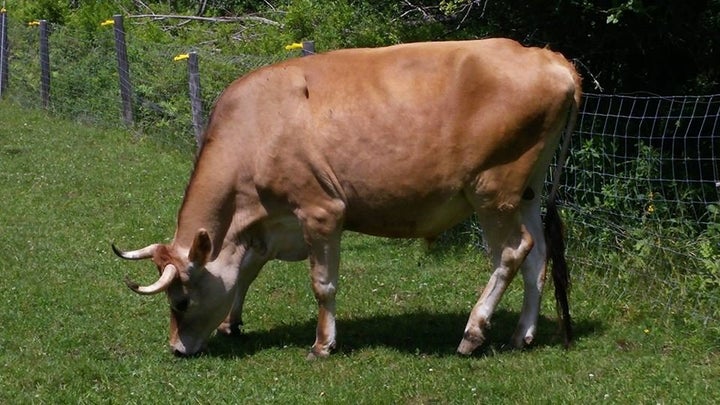 "Theo is deeply bonded to the other adult ruminants here who were living at Peace Ridge upon his arrival as a calf," Tessier said. "He has two favorite goats, Mary and Rhoda, who are big Alpine ladies ― they sort of babied Theo when he first arrived. Theo's best friend is our ex-racehorse Fable. The two of them are always together; they eat together, walk down to the big pasture together, and if Theo is being mischievous, Fable always lets us know with a wild whinny that says 'Theo is at it again!'."
That mischievous side comes out when Theo gets bored. The steer needs lots of playthings to occupy himself, including the tractor, which he treats "like it's his personal Tonka toy."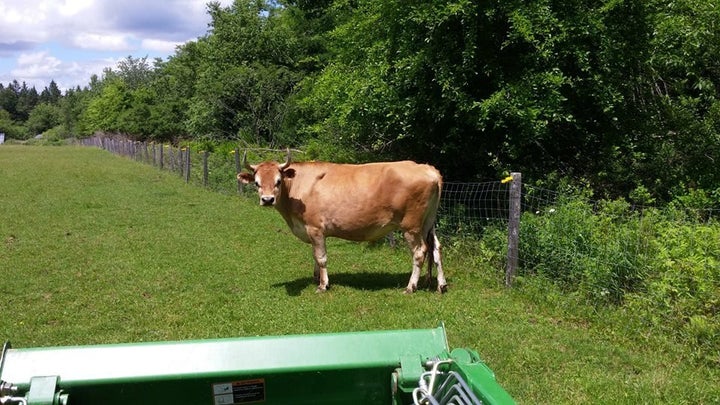 Though the treatment of dairy cows has its own ethical concerns, most people nevertheless see consuming dairy as a vegetarian option. But what many don't realize, Tessier said, is that even on smaller family farms that people perceive as treating their dairy cows well, the male calves must go somewhere. More often than not they wind up sold either as veal calves or to be raised as "dairy beef."
"It's not enough to say that you don't buy veal- if you buy dairy, you are creating veal," Tessier, who grew up on a small farm herself, said. "The markets are connected, they are inseparable."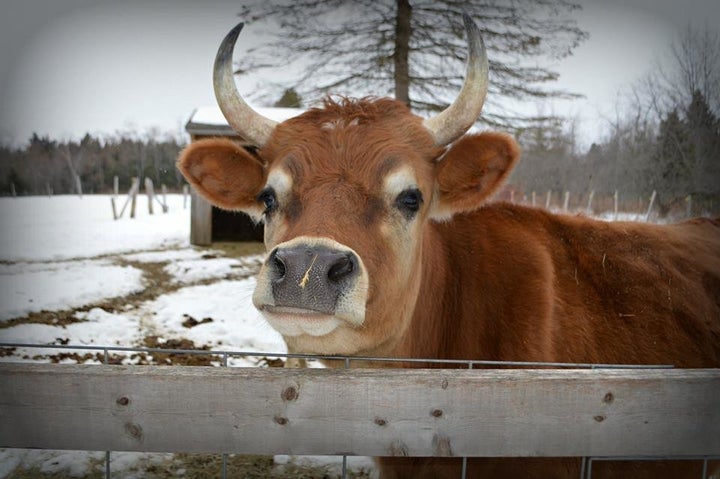 Tessier hopes that learning about ― and meeting ― animals like Theo can help people realize that farm animals are unique individuals that deserve better than the lives they often get.
"We love to try to romanticize animal agriculture here in America; putting a prettier spin on animal business tends to make us feel better about not having to really look at changing our choices in food," she said. "But drastic change is needed."
Follow the adventures of Theo and the other Peace Ridge residents on Facebook.