The Peace Through Moderation (PtM) project of the Alliance for Peacebuilding hosted last week an engaging and exclusive reception recently featuring the work of the U.S. Muslim Engagement Initiative (USMEI), an internationally recognized program committed to catalyzing action, at all levels of society, to improve relations between the U.S. and Muslim countries and communities.
The Hon. Wendy Chamberlin, President of the Middle East Institute, former U.S. Ambassador to Pakistan, and former Deputy High Commissioner on Refugees (UNHCR) was the featured speaker in New York, while Riaz Siddiqi, Managing Partner of Denham Capital, spoke to those assembled via satellite.
Held in the West Room of the Harvard Club in Manhattan, the presentation carried on the theme set last spring at the Harvard Club of Muslim and non-Muslims dealing with the threat of terrorism (story).
Paul Stevers, Founding sponsor of the Peace Through Moderation Project and founder of CharityHelp International (CHI), spends much of his time creatively applying technologies to help solve societal problems and promote sustainable development. He introduced the topic by stating:
Every society seeks to live in peace and security. Tragically, a few extremist elements have become a serious threat to safety, security, and prosperity. The combination of new technology and mobility enable a few extremists to cause massive casualties and inflict catastrophic damage on major financial centers.
Paul, a Canadian entrepreneur and philanthropist living in Bermuda, continued:
The Peace through Moderation project is designed to mobilize the corporate and financial communities in major financial centers around the world to invest in peace. We seek to connect people and organizations with resources to the people and organizations who are working to build peace and oppose the radicalization process. Together, we can create an unprecedented and powerful level of support for proven initiatives to counter extremism - creating a global response to a global problem. With a significant increase in resources, peacebuilders can create a major movement to counter extremism and reduce the risk of further violence.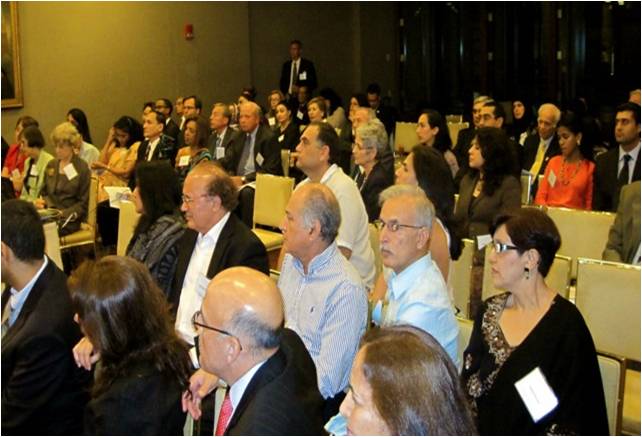 Guests assembled to hear speakers discuss the Peace through Moderation approach.
Speaking from London, Riaz Siddiqi stressed that citizenship of the U.S. bestows rights as well as responsibilities upon American Muslims. He stated American Muslims, of which he is one, enjoy all the rights of citizenship. Now it is time for them, he told those assembled, to become acutely aware of the special obligations and duties they have to "this bountiful land we inhabit now - the United Stated of America." He further stated:
American Muslims -- especially those from Pakistan -- are being called upon at this critical time in our nation's history to play a very pivotal role in advancing the American ethos through full participation and honest introspection, and in improving the image of America in the Islamic world.

American Muslims must boldly and urgently confront the cancer of radicalization in our midst, give back to our adopted land by supporting efforts to improve relations with the Muslim world through the support of initiatives like the American Muslim Engagement initiative, and give Moderates on all sides of ostensibly intransigent issues a bigger and bigger voice through the support of initiatives like the Peace thru Moderation project.

By acquitting ourselves with distinction in the discharge of these duties, we will assist our adopted land as well as advance our own cause and help remove the misimpressions about our community in America, thereby solidifying our rightful place in American Society for the benefit of our children and all children of the world.
Riaz also serves on the Board of Directors of the American Pakistan Foundation and as president, of the local chapter of the Organization of the Pakistani-American Entrepreneurs in his adopted hometown of Houston.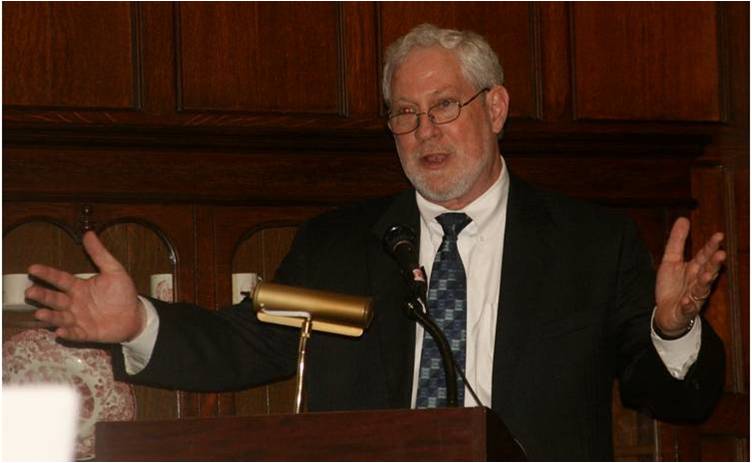 Chic Dambach of the Alliance for Peacebuilding spoke on U.S.-Muslim relations.
Paula Gutlove spoke passionately about the U.S. Muslim Engagement Initiative (USMEI) which she has been involved with since inception. Currently, the USMEI is exploring and developing dialogues in the following three areas:
Strategic Peacebuilding: Currently the governments of Pakistan, the U.S., and Afghanistan are struggling to make progress in conflict resolution in a context of deep mutual distrust. Efforts at bilateral "Track II" dialogue (both U.S.-Pakistan and U.S.-Afghanistan) have had limited success in bringing together the full span of 'influentials' in each society, including those supportive of government and insurgent leadership, secular civil society movements and conservative religious institutions, youth and elders.

Philanthropy and Social Services: There is great potential for collaboration between philanthropic institutions in Muslim societies and the U.S. on a range of social-service needs, including: engaging and empowering women and youth; promoting social and economic entrepreneurship; and expanding access to health and education services. However, there are currently very few forums that bring together philanthropic leaders from the U.S. and Muslim societies, and no sustained dialogues. USMEI has worked with the Brookings Institution and the World Congress of Muslim Philanthropists to develop a series of dialogues that have already occurred.

Education and Awareness: USMEI is exploring the potential for bringing together educational leaders from the U.S. and Muslim-majority countries to identify top priorities for cross-societal education. Channels for improving mutual awareness and understanding include formal education systems, media and pop culture, virtual networking, and international exchange. As USMEI continues to develop these dialogue opportunities, we will assess the potential for dialogue in each of these areas to make a significant positive contribution to improving relations between Muslim societies and the U.S.; identify, interview and recruit dialogue partners and participants; and begin convening dialogues at locations in the U.S. and abroad.
To help address U.S.-Pakistan relationship vacuums currently characterized by mutual mistrust and lack of cross-societal network building, The U.S.-Muslim Engagement Initiative has been working with civil society leaders in Pakistan and the U.S.
In late April 2010, they will launch The United States and Pakistan: Through Each Other's Eyes - the first phase of a sustained bilateral dialogue to widen the circle of thought leaders and decision makers involved in shaping and sustaining the future of this critical relationship.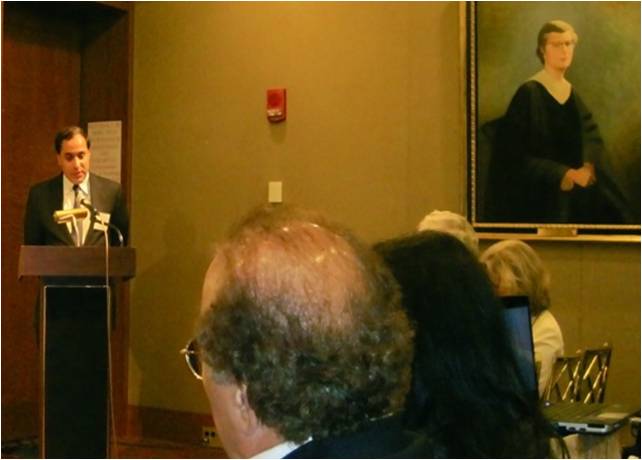 Aakif Ahmad, a member of USMEI's Leadership Team andVice President of Convergence, explained their important activities.
The group is currently identifying and enrolling several dozen highly influential participants from Pakistan and the U.S., seeking diverse leaders who shape opinions and decisions in key sectors of their societies. USMEI plans to convene the first session of the Forum February 14-18, 2011 in Pakistan, in partnership with Lahore University of Management Sciences.
The consortium of organizations presenting at the Harvard Club included:
Peace through Moderation (PtM) is project of the Alliance for Peacebuilding. PtM supports peacebuilding and encourages tolerance of and respect for others, regardless of ethnicity, political philosophy or theology, in order to counter violent extremism.

The Alliance for Peacebuilding (AfP) is comprised of over 60 member organizations, including the Program on Negotiation at Harvard Law School, Consensus Building Institute, Search for Common Ground, International Alert (London) , and the Center for International Conflict Resolution at Columbia University. The U.S.-Muslim Engagement Initiative began as a collaboration among some of these key AfP member organizations. AfP has assembled a group of leading experts in the area of countering extremism to help guide the PtM project.

U.S.-Muslim Engagement Initiative (USMEI) is a collaboration of the Consensus Building Institute, Convergence, the Howard Gilman Foundation, and the Institute for Resource and Security Studies. The organization promotes action-oriented, cross-societal dialogue among thought leaders, opinion leaders and decision-makers from the U.S. and Muslim societies. The initiative has a distinctive focus on leaders in Muslim societies and the U.S. who have yet to engage with, or successfully participate in dialogue with, their counterparts across cultural and national divides.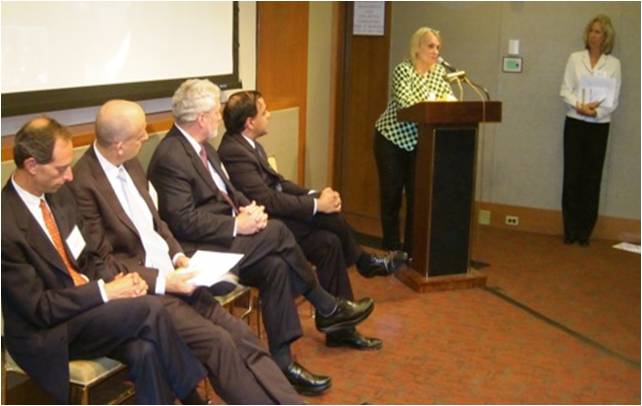 Hon. Wendy Chamberlin is today president of the Middle East Institute.
The Peace through Moderation project seeks to strengthen the voices of moderation and reason so they can help to dissuade vulnerable populations from aligning themselves with and supporting extremist elements. It will build on the remarkable work of the U.S. -Muslim Engagement Project, the Alliance of Civilizations, and other initiatives that are creating effective responses to this challenge. Education programs and media campaigns, as well as employment projects and inter-faith and cross-cultural dialogues can have a powerful impact. An expert leadership team is developing the overall strategy, and the Peace through Moderation project will encourage leaders in the global financial community to invest in programs that will make a difference.

REAL LIFE. REAL NEWS. REAL VOICES.
Help us tell more of the stories that matter from voices that too often remain unheard.