I sit down at my favorite coffee shop to write this story. I take in the beauty and the blessing of another gorgeous day and exhale in gratitude. Next to me in a brown paper box are three delicious homemade muffins loaded with chocolate chips that I've bought for my sons. I imagine their eyes smiling when they get them, and the thought fills me with instant joy.
The story I'm writing is about the tremendous impact one woman has made on me. I met her at a holistic retreat, and subsequently interviewed her for Waking Up in America.
Robin Mizaur is a former Marine, holistic life coach, personal trainer and a certified nutrition consultant. She also works with The Heimerdinger Foundation delivering organic food to cancer patients.
I pause and feel a pang of guilt. I shouldn't have bought those muffins.
Robin brought a green drink to the retreat to share with participants and talked about healthy habits. When we filmed our episode, she came in with two jars of freshly squeezed green juice with "Packed with Love" lids. "Afternoon refreshment," she said. "It will renew your energy and your cells will thank you."
Robin is a petite woman. The Marines had to custom-make her boots; in kids' sizing she wears a 2. "They gave me one pair of boots and they said, they better last you your whole enlistment," she laughed.
My first thought was, sure, it's easy for her to switch from chocolate chip muffins to green juice smoothies! It takes tenacity and discipline just like what you need to complete Marine Corps training.
But Robin doesn't use scare tactics. She is gentle and reassuring.
"There is always something that you can start doing this moment... Whether it's increasing your water intake, whether it's taking three minutes to take three deep breaths and breathe the way we are supposed to breathe. Those are successes..."
It's the deep understanding, love and compassion she radiates with that draws me in. It quiets the old refrain in my head: "It's too hard. I could never do it," and turns up the volume of something different.
"When I [coach] people... I notice that there is lack of love for themselves. Loving yourself makes you a better mom, a better wife, a better companion, a better partner, a better employee... It's not something selfish, because if you are loving yourself you can give more love to others."
I pause and take a sip of the water I ordered for myself with those muffins. I breathe in a deep breath and a surge of tears tickles my nose and blurs my vision.
"Why is that so hard to do?" I asked Robin during our conversation. Is becoming aware of what we feed our bodies, how we nourish them, a good place to start? Treating ourselves like we would treat our children, taking care of them, keeping them healthy? (The muffins in the box start looking more and more like little monsters.)
Robin points out how important it is to be aware of everything that feeds not just our bodies, but also our heart, our mind and our soul.
"... more than nutrition are words and thoughts and feelings... 'cause each one of those have a chemical reaction, hormonal reaction in our body."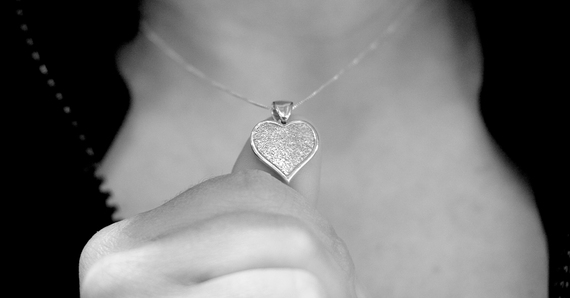 PEACE WITHOUT UNDERSTANDING
Robin lost her son in a tragic accident. He was 23 years old. They had a close, loving relationship. "What did you do?" I asked, imagining pain so deep it's paralyzing.
"Lots of crying... my fiance at the time, now my husband, took me to a counselor... all I remember is she said, don't get stuck in the 'what ifs'... 'what if this, what if that..." I just took that little bit of information with me and it took me days to process. And through it, it's been four years now, I have learned to turn those 'what ifs' to 'what would.' Like, what would Anthony be doing, what would he love to see me doing."
She didn't push the pain away, didn't try to numb it and that helped her to not get stuck in it. Right away she became aware that if she was ever going to heal, she had to turn to love. Family and friends surrounded her with support and she accepted it.
This action of accepting the love that was there for her healed, little by little, the pain of being physically removed from the love that was taken away in the tragedy.
"I just prayed... and asked for peace without understanding... I wake up every day with a broken heart, but I take that pain that I feel and just turn it into love. That is like the most important thing and when no matter where you're at in your life, love is just... it's so important..."
Robin takes each thought, each feeling, each experience of love, healing and peace without understanding and shares them with others. She does the same with her green juice, and she labels it all with the words "Packed with Love." That's what she teaches wholeheartedly as a nutrition consultant and holistic life coach: that making changes in our lives starts with choosing love. Always. Choosing. Love.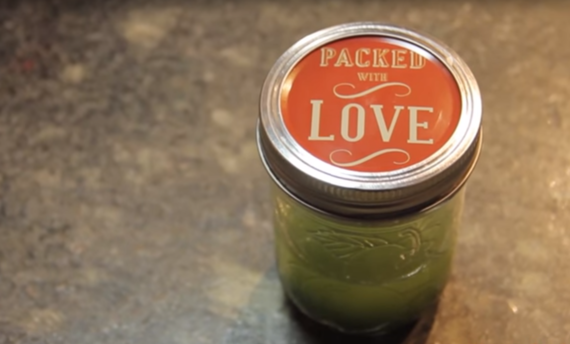 I pick up the muffins and rush home. I can't wait to hug my boys. And I realize, the tiny moment of seeing the joy in their eyes when I give them the chocolate chip-loaded muffins is really just an instant gratification... mostly for me. And that on occasion, it's okay. It's life's little pleasures that we will remember when we grow old.
But what stays forever is love. Love, which reminds me to right now not feel shame or guilt for getting those deliciously made muffins, (because the person who made those muffins 'packed them with love' too) but to take little steps. Like stopping at the store and picking up some organic lettuce and making a big salad to eat first.
Robin Mizaur is a former United States Marine, a certified Personal Trainer, Nutritional Consultant and a Holistic Life Coach specializing in Wellness. Robin is one of the founders of HappyNash.com, a community dedicated to teach and deliver a daily dose of healthy lifestyle habits.


DISCLOSURE: I did not receive any complimentary services or product in the process of writing this blog. Except for the jar of green juice Robin brought as a refreshment.
Calling all HuffPost superfans!
Sign up for membership to become a founding member and help shape HuffPost's next chapter