While you wouldn't know it from the mainstream press which is too busy glorifying the violent, anti-government protests in next-door Venezuela, a city-wide 'civic strike' has shut down the Colombian city of Buenaventura for the last three weeks. The mass protest is the result of the dire conditions in which the city's 400,000 Afro-Colombian residents live, despite huge amounts of wealth generated by the local port, where 60 percent of the county's sea-going commerce is processed. Corruption and a lack of government oversight have left the city with no hospital, crumbling schools, little to no running water, a 64 percent poverty level, and 60 percent unemployment.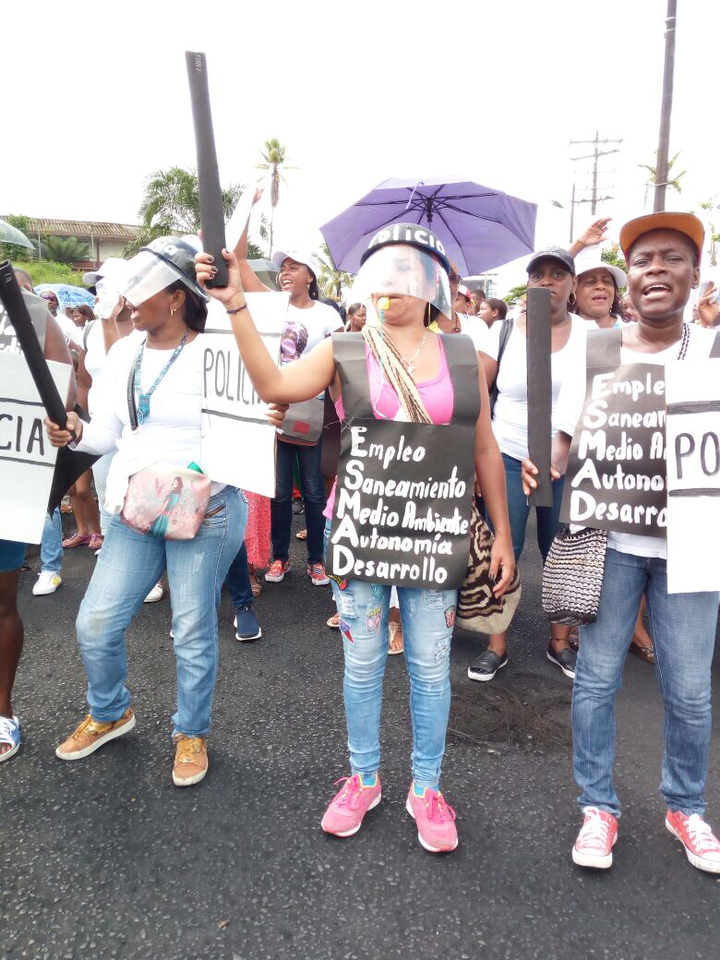 The peaceful protest, that has blocked the flow of traffic in Buenaventura, has been met by violence at the hands of the Colombian police as well as increasing threats by the right-wing paramilitaries in Buenaventura who hold huge sway over the city and have forcibly disappeared hundreds of residents while chopping up hundreds of others alive in a grisly practice well-documented by human rights groups. Buenaventura, a port town which has greatly expanded as a result of the Colombia Free Trade Agreement (FTA), was supposed to be a model city for the FTA, but instead has become a poster child for the violence and misery wrought by such agreements.
A video of social leader Isaias Cifuentes, in which he pleads the Colombian state to respect the people of Buenaventura, has gone viral in Colombia. "Those are kids you are attacking," he explains to Colombia's Minister of the Interior, in reference to the use of teargas in high-density residential areas, two weeks of curfews, and constant confrontations between riot police and protesters. "I have been in the streets witnessing how the people that you command are saying 'we have to kill those black people.'" Despite confrontations, only approximately 200 trucks are currently entering/leaving the port, compared with some 3,000 on a normal business day.
Amnesty International has denounced the government's violent response on its website, saying "The right to peaceful protest must be protected, even more so when demonstrators include children and elderly and disabled people who are legitimately demanding their rights." Meanwhile artists, indigenous communities, students, unions, politicians, and fellow citizens from around the country have shown their sympathy for protesters' demands.
We spoke with Cifuentes, the video's protagonist, who explained the situation in Buenaventura in more detail. Since water utilities were privatized ten years ago, services have deteriorated. Today, only approximately 76 percent of homes have access to running water, which is often limited to a few hours every two or three days. Many of the city's public schools send their children home when it rains due to leaking roofs, meanwhile 17 percent of the city's residents are illiterate. After the public hospital was sold to private interests, it was closed, mostly abandoned, and now houses only a small health clinic. As such, Buenaventurans with serious medical needs have to travel to Cali, some three hours away.
Since Colombia's ports were privatized in the 1990's, labor rights and formal jobs have been brushed aside in the city's primary industry. Today employees are hired through a complex chain of outsourcing outfits, often for days or hours at a time, frequently robbed of their pensions, and receive death threats for joining or attempting to form unions. An astonishing 90 percent of Buenaventura's workers are employed informally.
All of this has unfolded despite countless commitments over the years on behalf of the national government, accompanied by huge sums of money ostensibly allocated to remedy Buenaventura's desperate situation. So where is the disconnect? Many point to rampant corruption on the regional level, where port royalties, the municipal budget, the drug trade, and control of 'criminal gangs' are all economic opportunities for dark interests. Catholic Bishop Hector Epalza observed several years ago that 16 mayors had passed through Buenaventura's city hall during the 10 years he had lived in the city.
The strike's organizers, elected in a Strike Committee, point to the need for emergency funds accompanied by oversight from the national government to overcome the crisis that has unfolded in Buenaventura. Currently, 22 days into the protest, negotiations are revolving around a proposed autonomous fund, which could be monitored by civil society in collaboration with government agencies.
Meanwhile, reports of confrontations between protesters and police continue to pour in. However, both the government and the Strike Committee have voiced their commitment to the use of social dialogue to come to a solution to this volatile situation, as well as deeper structural challenges that have left 91 percent of Buenaventura's rural residents living below the poverty line, 36 percent with basic needs unmet, and 14 percent in conditions that amount to 'misery.'
Coverage of the plight of the largely Afro-Colombian Buenaventuran community is greatly lacking, and it is allowing the grave injustices against that community to continue with impunity. Americans concerned about this situation should call upon the U.S. government to demand that Colombia, its closest ally in the Hemisphere, end the police violence against the civic strikers; meet the strikers' just demands for improved infrastructure and a decent standard of living; and end the security forces' collaboration, both tacit and overt, with the violent right-wing paramilitaries who have been allowed to terrorize that city.
Neil Martin, Executive Director of PASO Internacional, who is on the ground in Colombia, contributed greatly to this piece.
Calling all HuffPost superfans!
Sign up for membership to become a founding member and help shape HuffPost's next chapter