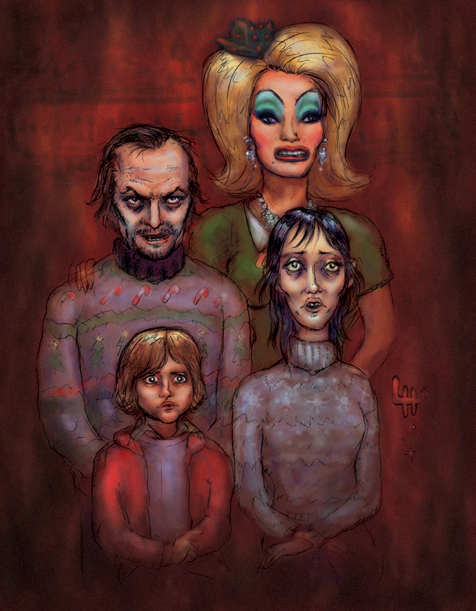 "The people who get it, really get it," Peaches Christ says.
"That's because they're warped," laughs the drag legend, who has amassed a sizeable following over the last decade-plus through her on-going Midnight Mass cult movie series. "They're fucked in the head."
For those people, it makes perfect sense Peaches Christ Productions Presents Heeeeeeeere's Christmas, a brand new holiday event and screening of ... The Shining. With her merry band of miscreants, Christ showcases the Jack Nicholson horror classic -- complete with highly-scripted and entirely-original pre-show dragstravaganza -- Sat., Dec. 17, at The Castro Theatre.
Based on a Stephen King novel, the 1980 Stanley Kubrick film traces the mental unraveling of author and family man Jack Torrance (Nicholson) as he's snowbound in an isolated New England hotel with his wife (Shelley Duvall) and young son. Though initially panned, decades later many rank the film one of the all-time scariest, and the role remains among two-time Oscar-winner Nicholson's most chilling.
In other words, ideal for this time of year, says Christ.
"This deals with part of the holidays people -- especially from the Bay Area -- can really relate to," she explains, perhaps for the less twisted, "Being stuck somewhere, isolated with your family, can really drive you crazy!"
While there are countless films "meant to be 'Christmas movies'" she could have chosen, "flawed sidekick" Martiny and Christ have enjoyed The Shining as "a sick family tradition for years." Now, they open that tradition to the public -- in a very big way.
With more than 1,400 seats, Christ considers The Castro Theatre a "stadium" version of her productions, which started more than a dozen years ago at the Geary Street Bridge Theatre. Presenting cult films and stars from Elvira to director John Waters each summer since 1998, Midnight Mass became equally well-known for highly-interactive pre-show spectacles written by and featuring Christ and company.
Recently, while repeating the most popular film events to great response, the Baltimore-born beauty admits lacking zeal to create new material. Her focus turned to feature film-making, culminating in the $1-million All About Evil in 2010.
However, jumping to The Castro provided a spark. In May, when 1,000 people flooded Ultimate Mommie Dearest -- including Christ's wildly popular Trannie Dearest preshow costarring Trannyshack icon Heklina -- her waning theatrical creativity reignited full-force.
"Until then, we'd done things like Sing-Along Purple Rain, which focused on contests and audience participation, but I wasn't sure The Castro would work for a theatrical production," Christ confesses, "I didn't know if people in the balcony would see me roll my eyes at Heklina, but it worked.
"It really opened my eyes to the possibilities," says Christ, who soon found herself dreaming of a white -- and potentially blood-soaked -- Christmas. The result -- The Torrance Family Christmas Revue -- comes to life just once this season in an 8pm show.
"This is actually a big deal for us," shares Christ, who says she hasn't produced an entirely new pre-show in years. "This is something I had to go away for a while to write, and I'm really excited."
Starring the Midnight Mass Players as Jack, Wendy and Danny Torrance and many more favorites from The Shining, the spectacular is rife with holiday-themed depravity including Peaches Claus. Set in the future, the audience follows Jack's descent into insanity via a "a mix of multimedia, horror and a good, old-fashioned drag show."
"There's lots of axes, screaming and running through the crowd," Christ assures. (Why, that certainly does sound like the holidays!)
"This show really inspires me," Christ gushes. "I'm excited -- like totally jazzed about it -- but, God, it's fucking weird!
Peaches Christ Productions Presents Heeeeeeeere's Christmas: The Shining, Sat., Dec. 17, The Castro Theatre, 429 Castro Street. 7pm Doors; 8pm show.
Tickets: $40 Overlook VIP (includes 2 cocktails & special accommodation); $20 general admission. $45/25 day of show. Advance tickets online. Day-of available exclusively at Castro Theatre box office.
REAL LIFE. REAL NEWS. REAL VOICES.
Help us tell more of the stories that matter from voices that too often remain unheard.