The book, which arrives in stores next month but is already available for purchase here, follows Peter, a peacock who is ostracized from a flock of pigeons in which he was raised because of his bright feathers and seemingly proud strut. It isn't until Peter ventures beyond the flock and is introduced to other colorful, unique birds -- including a canary, a flamingo and a cardinal -- that he learns to "love the feathers" he was born with, even if he doesn't quite fit in. 
"If anyone was raised to be masculine, it was me," the 32-year-old Texas native told The Huffington Post in an interview. Pointing to his family's passion for hunting, fishing and athletics, he said, "Some of us are just born peacocks, and it won't matter how you try to 'raise' us, because we can never change our feathers."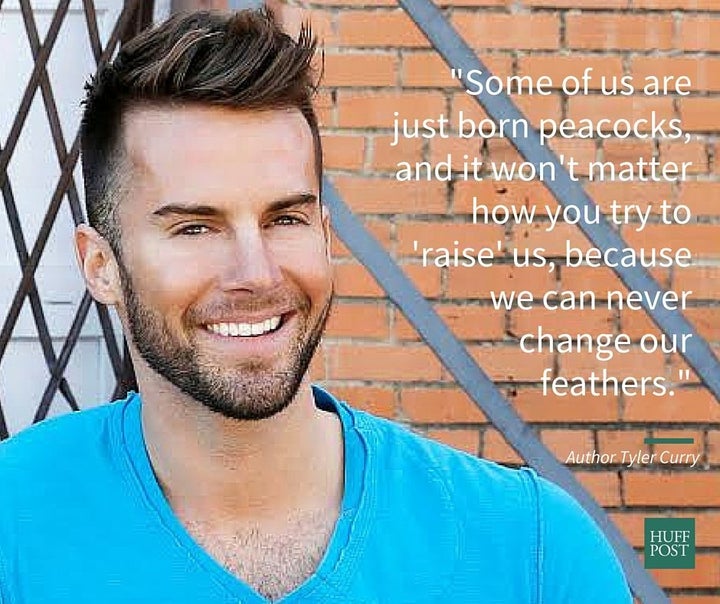 While Peter's path to avian acceptance echoes that of the titular character in Hans Christian Andersen's 1843 fairy tale, The Ugly Duckling, Curry says there's a key difference.
"The ugly duckling goes through a physical transformation and changes into a beautiful [swan]. Peter was always beautiful, he just didn't know it yet," Curry said. While his character's colorful feathers can be interpreted as a metaphor for being gay, the author chose not to include any direct references to sexuality, in hopes that A Peacock Among Pigeons will resonate with "anyone who has been made to feel different." 
"I didn't want to be literal; I didn't want to be preachy," Curry, who is currently at work on a second book, said. "I just wanted to create a new kind of character that could be universally loved and serve as a champion for children who sometimes need it the most."
PHOTO GALLERY
50 Children's Books with a Positive Message
REAL LIFE. REAL NEWS. REAL VOICES.
Help us tell more of the stories that matter from voices that too often remain unheard.