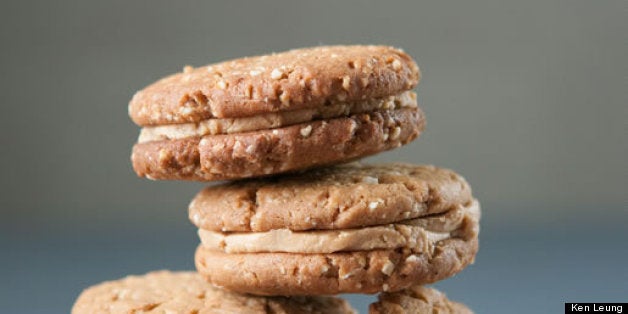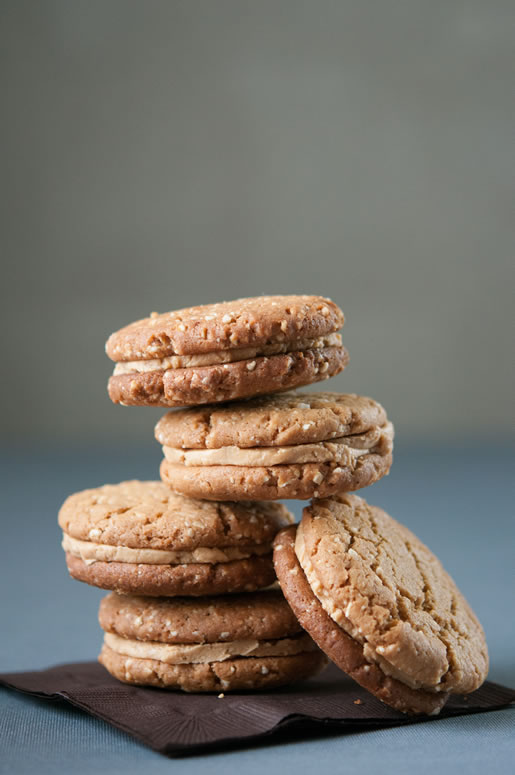 My To-Do list grows more often than it shrinks. Spice cabinets and pantry drawers need reorganizing, doors require repainting and book shelves scream for clearing. (I need to accommodate my addiction for coookbook acquisition.)
I did manage to clear out three linear feet of shelf space to organize a very small portion of my cookbook horde. Seeing this empty space gave me hope, as one small task instilled such copious comfort. I then ventured into the endless list entitled "I'll Try These Recipes Someday."
This peanut cookie has sat on the list for some time. I recently raised its priority because of my growing fondness for all things peanut butter. This one is simply two crispy cookies with a creamy peanut butter center where the saltiness and the use of brown butter brings out the nuttiness of the peanuts. The sweet duels with the savory, but in the end, sweetness wins out.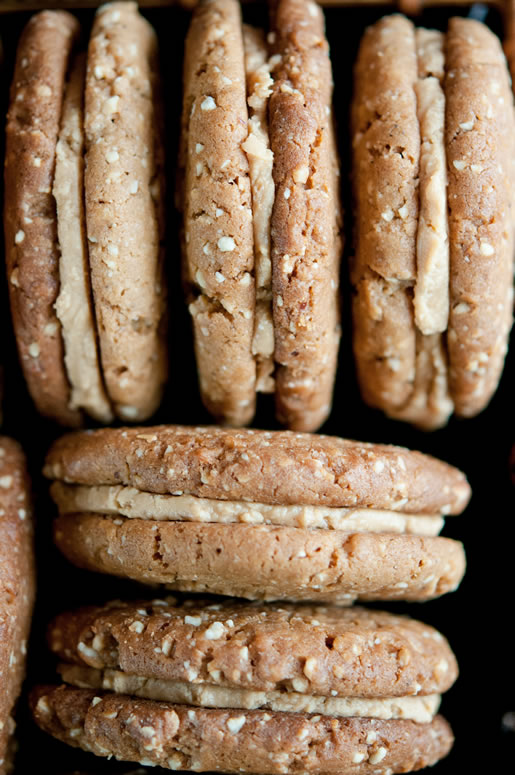 Salty Peanut Brown Butter Sandwich Cookies
Adapted from Cook's Illustrated
Yield: 22-24 cookies
Cookies
Ingredients
4 tablespoons (2 ounces) unsalted butter
1-1/4 cups (6-1/4 ounces) raw peanuts, toasted and cooled
3/4 cup (3-1/4 ounces) all-purpose flour
1 teaspoon baking soda
1/2 teaspoon fine sea salt
1/2 cup creamy peanut butter
1/2 cup (3-1/2 ounces) granulated sugar
1/2 cup packed (3-1/2 ounces) light brown sugar
3 tablespoons unsweetened coconut milk or whole milk
1 large egg
Directions
1. Heat butter in a small saucepan over medium heat until melted. Lower heat to medium-low and continue to cook, swirling pan frequently, until foaming subsides and butter is just beginning to brown, two to four minutes. Remove from heat and set aside to cool .
2. Adjust oven racks to middle position and heat oven to 350℉. Line two baking sheets with parchment paper. Pulse peanuts in food processor until finely chopped. Whisk flour, baking soda, and salt together in bowl. Whisk brown butter, peanut butter, granulated sugar, brown sugar, milk, and egg together in second bowl. Stir flour mixture into peanut butter mixture with rubber spatula until combined. Stir in peanuts until evenly distributed.
3. Place 12-tablespoon size mounds, evenly spaced, on each prepared baking sheet. Using flat bottom of a drinking glass, flatten mounds until two inches in diameter.
4. Bake, one sheet at a time, until deep golden brown and firm to touch, 15-18 minutes, rotating sheet halfway through baking. Let cookies cool on sheets for five minutes. Transfer cookies to wire rack and let cool completely, about 30 minutes. Repeat portioning and baking remaining dough.
Filling
Ingredients
3/4 cup creamy peanut butter
3 tablespoons (1-1/2 ounces) unsalted butter
1 cup (4 ounces) confectioners' sugar
Directions
1. Microwave peanut butter and butter until butter is melted and warm, about 40 seconds. Using rubber spatula, stir in confectioners' sugar until combined.
Assembly
1. Place half of the cookies upside down on work surface. Place 1 tablespoon of warm filling in center of each cookie. Place second cookie on top of filling, right side up, pressing gently until filling spreads to edges. Allow filling to set for 1 hour before serving. Assembled cookies can be stored in airtight container for up to 3 days.