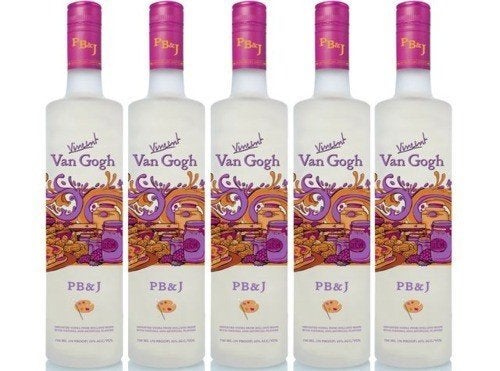 The food blogosphere exploded last week with news that there is now a peanut butter & jelly vodka (raspberry jelly, specifically). The vodka is produced by Van Gogh vodka, a relatively high-end Dutch company. Yes, it does seem a bit odd to combine a popular children's sandwich with alcohol. But the vodka deserves a fair chance.
HuffPost Food recently tasted the new creation (made with natural and artificial flavors) and responses were decently positive.
On its own: The vodka was deemed "surprisingly subtle." The vodka first "tastes like peanuts and then finishes as jelly." Not everyone was a fan though. One taster remarked that alone it tasted like "rubbing alcohol and burned peanut shells, with a strong kick of fake grape jelly that lingers long afterward." One found it "almost tasty" thanks to the "round nuttiness and a fruity berry finish that helps tone down the harshness of the alcohol."
With milk: While one blatantly "didn't like it" another thought it "tasted like a White Russian but was missing something."
With Dr. Pepper: "The Dr. Pepper somehow brings out the peanut butter flavor. The grape isn't even detectable anymore." Another remarked that the Dr. Pepper-vodka combo was "surprisingly palatable."
The verdict: Not bad, but not a slam dunk. It could work if you're looking for something different for a cocktail, but use with caution. If PBJ isn't your thing, perhaps you might enjoy some of Van Gogh's other vodka creations. Dutch caramel or dark chocolate, perhaps?