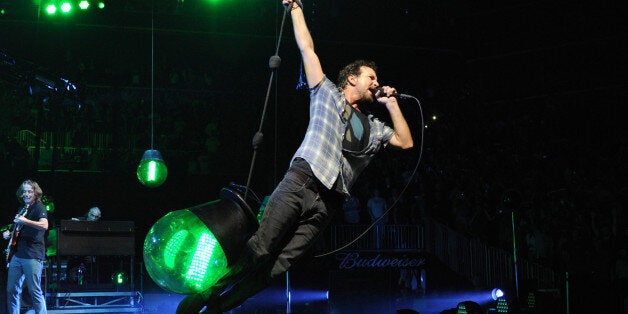 Counting an impromptu cover of Van Halen's "Eruption," which was more of an interlude than anything else, Pearl Jam played 66 songs over the group's two concerts at Brooklyn's Barclays Center on Friday and Saturday. Of those 66 songs, there were only 10 repeats from one night to the next, including concert staples "Do the Evolution," "Porch" and "Alive," and six tracks from "Lightning Bolt," the band's latest album ("Pendulum," "Lightning Bolt," "Mind Your Manners," "Sirens," "Infallible" and "Yellow Moon"). (The 10th duplicate was a slight surprise: "Given To Fly," off the album "Yield.")
It's a stat illustrates why the band is so beloved by its fan base, a slightly greying group of like-minded souls who can recall Pearl Jam's greatest shows with alarming ease: Each concert is a different experience, and the band rarely repeats itself from one night to the next. The Barclays shows also served as proof of how versatile lead singer Eddie Vedder and his cohorts (guitarists Mike McCready and Stone Gossard, bass player Jeff Ament, keyboardist Boom Gaspar and drummer Matt Cameron) have become over the last 23 years. On Saturday night, for instance, inspired by a woman in the front row wearing an "Every Mother Counts" t-shirt, Vedder decided to cover "Leaving Here," a track that wasn't on the original set list for the evening, but one that Pearl Jam has performed in the past. ("Leaving Here" was first released by Eddie Holland in 1963, but Pearl Jam takes its cue from The Who; the band covered "Leaving Here" in 1965.) After a few fiddles with his guitar to remember the opening chords, the band tore into the song as if it were one of their own juke-box hits.
Which isn't to say that Pearl Jam concerts go off without a hitch. Despite a set list that included rarities like "Oceans," "Sleight of Hand" and the Mother Love Bone cover "Chloe Dancer" (the group has only played that song, which is often followed by the slightly less rare "Crown of Thorns," five times total), the Friday concert was a hit and miss affair, marred by what seemed like a restless crowd. On Saturday night, Vedder mentioned how the Friday group "tied the record for fistfights in the audience at a Pearl Jam show" with one, and implored attendees to not get anywhere near that number.
Whether they did or not is unclear, but Vedder appeared much happier with the Saturday night results. Toward the end of the nearly three-hour show, he praised the New York crowd for letting the group leave the city with confidence. "We have some friends here tonight, people we know for many, many years, from all over," Vedder said to the audience before playing "Vitalogy" track "Whipping." "You make us look really good in front of our friends. You guys make us look so good, that if we had enemies, they couldn't be enemies anymore, because they'd want to be our friends, because they'd want to be your friends." (Vedder's friends in the crowd included Dennis Rodman, Strokes drummer Fabrizio Moretti and Vedder's daughter, Olivia, who could be seen rocking out on the side of the stage.)
As nice as it was to hear Vedder's praise, he may have been giving the crowd too much credit. The relationship between the band and its fans on Saturday night was symbiotic. With a set list that featured some of the group's most treasured rarities ("Down," "Footsteps," "Immortality," "All Those Yesterdays," "Rats," "Blood," "State of Love and Trust") and a blistering final run of songs ("Do the Evolution," "Go," "Porch," "Whipping," "Blood," "Leaving Here," "Black," "Alive," "Rockin' in the Free World" and "Yellow Ledbetter"), the Saturday show felt like an immediate classic, the type of concert that is worthy of its own standalone DVD release, a la the group's 2003 show at Madison Square Garden.
"We're fortunate to have an open field, and the reason we have it is as much because we've had support from people who have listened over the years," Vedder said in an interview with HuffPost Entertainment before the band's North American tour kicked off. "It's a really interesting, mostly positive relationship. If that continues, and we continue -- if that grows, and we grow -- at some point the healthiest thing might be to not play. Or maybe even just ... sabbatical is a great word, I think. I can't wait to use it someday." Nights like Saturday are the kind that make fans hope someday never comes.
PHOTO GALLERY
Pearl Jam Photos
An earlier version of this post failed to mention Eddie Holland's version of "Leaving Here."
REAL LIFE. REAL NEWS. REAL VOICES.
Help us tell more of the stories that matter from voices that too often remain unheard.