Pearl Jam celebrated its 20th anniversary over Labor Day weekend at Alpine Valley in East Troy, Wis., with a pair of setlists that showed how they have not only beaten the odds in the grueling music biz, but have grown to be one of the most popular bands, attracting a loyal and traveling following of "jammers" over the past two decades.
It was the kind of birthday bash that you would expect from a band known and often praised for the quality of its live shows. Fans who were lucky enough to score seats (especially covered ones) won't soon forget the weekend festivities that included impressive side stage lineups and nostalgic setlists. Pearl Jam also set up its own portable museum inside the concession area at Alpine that contained everything from the band's vinyl collection to stacks of Eddie Vedder's composition books filled with song lyrics. Diehard fans waited in line for nearly two hours to catch a glimpse of artifacts accumulated from the band's 20 years together. Those who got to the fest grounds early each day could catch a slew of daytime side-stage acts that Pearl Jam handpicked before openers Mudhoney, Queens of the Stone Age and The Strokes warmed up the mains stage. The daytime lineup included Glen Hansard (The Swell Season) who opened for Eddie Vedder's solo ukulele tour, Liam Finn and Joseph Arthur who is collaborateing with PJ band members Jeff Ament, Mike McCready and Matt Cameron on a forthcoming album.
Saturday night's setlist was anything but typical and filled with rarities like "In My Tree," while Sunday featured more mainstream hits like "Evenflow." There were certainly plenty of surprises throughout both evenings, as a rotating roster of special guests shared the stage with Eddie Vedder, Stone Gossard, Jeff Ament, Mike McCready and Matt Cameron, including The Strokes' Julian Casablancas, George Harrison's son Dhani Harrison, who also played on the side stage with his band the thenewno2, Queens of the Stone Age's Josh Homme and Finn.
A highlight of both shows came when Soundgarden's Chris Cornell appeared on stage, opening up a time capsule, paying tribute to Mother Love Bone's Andrew Wood and homage to Temple of the Dog. Fans swayed with their Miller Lite tallboys and vintage Pearl Jam T-shirts as Cornell took everyone back to the year 1990 on Saturday night with Mother Love Bone's "Stardog Champion," followed by Temple of the Dog numbers "Say Hello to Heaven," "Reach Down" and "Hunger Strike." On Sunday night, in addition to "Reach Down" and "Hunger Strike," in his signature pitch, Cornell sang his heart out on "Call Me A Dog," and "All Night Thing," which visibly stirred up emotion. When the bright white lights reached deep into the audience, if you looked closely, you could spot a few teary eyes.
Vedder repeatedly thanked the crowd both nights and even briefly praised himself for never giving up on his dream of wanting to make music, especially when the odds were stacked against him. And it was clear from the reaction of the fans, some of whom traveled from as far away as Australia, New Zealand and Japan, that they too wanted to thank Vedder and the rest of the band for 20 years of music.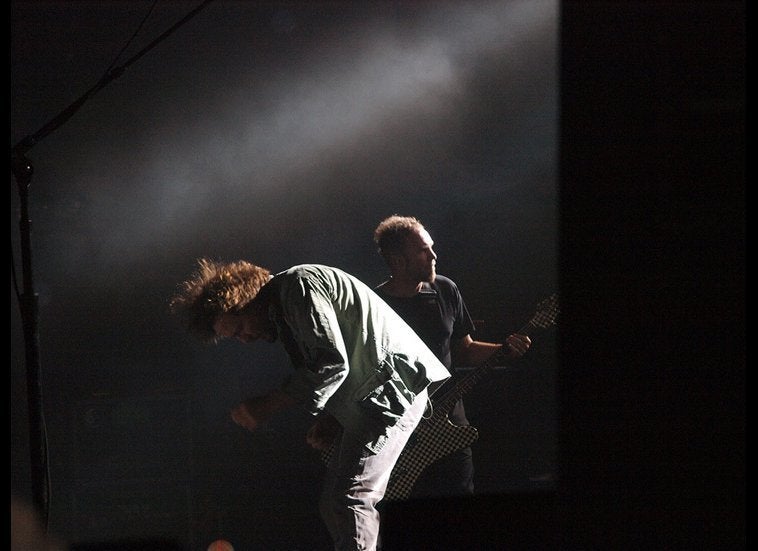 Pearl Jam 20th Anniversary
Related
Popular in the Community