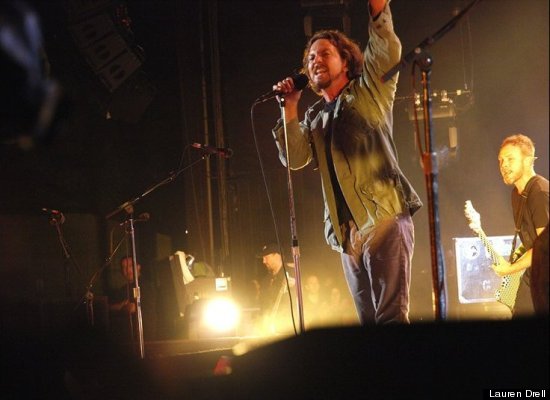 Pearl Jam at PJ20; Alpine Valley, WI in 2011.
The anticipation is growing as the merch stand opens on the corner of Addison and Sheffield, just hours ahead of one of the most anticipated concert of the summer in a city that many have already deemed the concert to go to; after all, it just seems appropriate that longtime Cubs fan Eddie Vedder would play a venue where he has also sung "Take Me Out to the Ball Game" during the seventh-inning stretch a handful of times, thrown out the first pitch and wrote a song titled, "All The Way," dedicated to the team.
Back in February when the public sale went live for what's billed as "An Evening with Pearl Jam," tickets were snapped up this quick, selling out with record speed, making it the fastest concert to sell-out in Wrigley Field history and and causing some fan-backlash against StubHub where some ticket prices climbed to a whopping $10,000.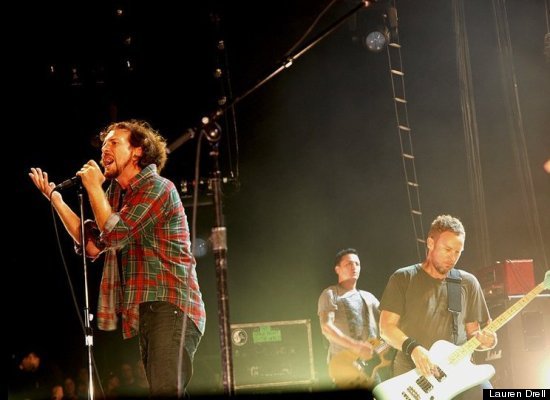 Pearl Jam at PJ20; Alpine Valley, WI in 2011.
With Pearl Jam's highly-anticipated tenth studio album Lightning Bolt set to drop on October 15 on the band's own Monkeywrench Records label, it only adds to the current frenzy circulating around the Friendly Confines during the steamiest days yet this summer. Lightning Bolt will be the band's first studio album since Backspacer, which was released nearly four years ago in September of 2009.
Pearl Jam's first single, "Mind Your Manners," off new album Lightning Bolt was released last week.
The sold-out show in London, Ontario, that took place on July 16 (boasting an epic setlist!), and Chicago's own sold-out concert on Friday, help kick off Pearl Jam's two-leg, 24-date North American tour, where tickets will go on-sale to the public at 10 a.m. local time on Saturday, July 27. The first leg kicks off in Pittsburgh on October 11 and wraps in New Orleans with the band's headlining performance at Voodoo Music + Arts Experience during the weekend of November 1. The second leg of the tour begins in Dallas on November 15 and winds down in the band's hometown of Seattle on December 6.
"Mind Your Manners" from London, Ontario, live at Budweiser Gardens; 7/16/2013
Related
Popular in the Community