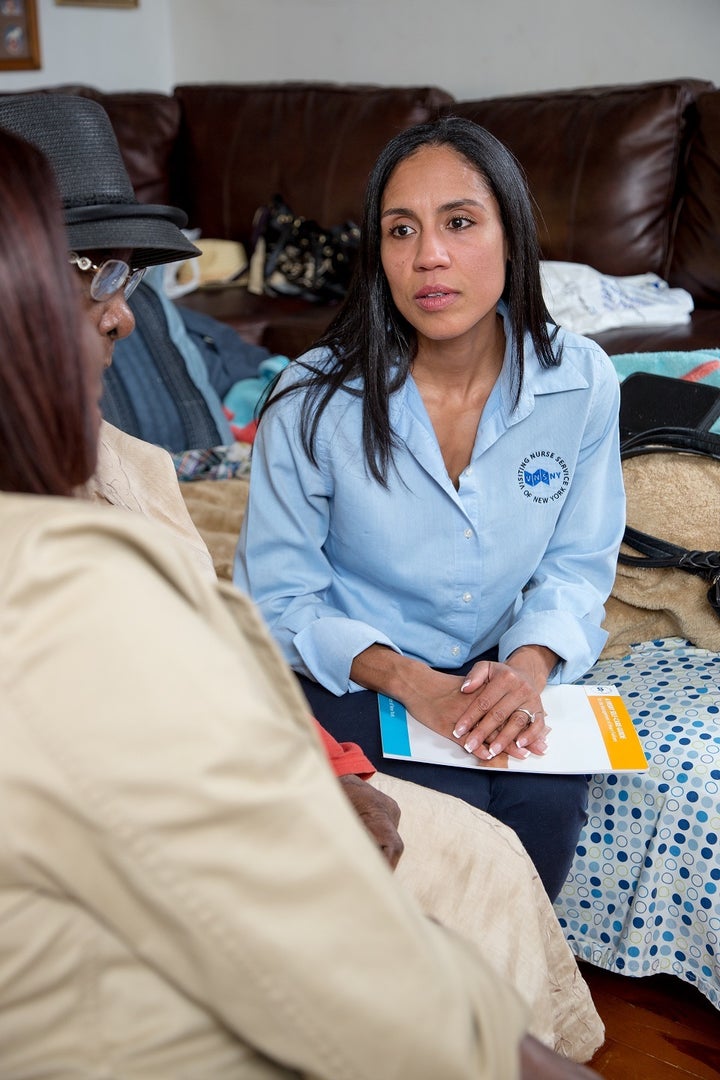 For 83-year-old Mr. Taunton*, isolated in his fourth-floor walk-up as he recovered from invasive heart surgery, life had gotten so lonely and bleak that he drove to a bridge near his Queens home, pulled over and considered jumping.
Fortunately, he didn't. Instead, he called his daughter in Florida, who quickly made a series of phone calls. One of those calls was to his cardiologist, who eventually connected her father to PEARLS, a new in-home treatment program for senior citizens in New York City with depression. That program, which is offered in the NYC area by a select group of mental health agencies, and the Visiting Nurse Service of New York, the only home health agency offering the training, would help Mr. Taunton turn his life around: Several months later, he now has a much fuller life, attending church every Sunday, taking weekly walks through his Queens neighborhood, calling old friends regularly, and even getting together now and then for visits and pondering a move to Florida.
Depression is all too common among older Americans. The National Alliance on Mental Illness (NAMI) estimates that nearly 20% of the 65+ population suffers from some form of depression. Many in this age group have battled depression for a long time, but for others, the condition can be prompted or aggravated by the losses that come with age, including loss of mobility, vision and hearing, as well as loss of a partner and diminishment of a social and support network. Chronic physical illnesses, and their medications, can exacerbate depression. Depression, in turn, can lead to physical and cognitive decline.
"Losses can impact how you feel emotionally, and it begins a cycle," says Deirdré DeLeo, who is program manager for the Visiting Nurse Service of New York's (VNSNY) Mobile Crisis Management Services in Queens and who worked with Mr. Taunton (a pseudonym to protect his privacy) to overcome his depression. "When you're feeling down, you start to do less. When you do less, you feel lousy." Deirdré emphasizes that this downward spiral is difficult to break on your own, and that intractability is one of the hallmarks of depression.
With the right kind of help, however, the cycle can be broken and elders can reclaim a sense of emotional well-being that might have once seemed lost forever. The PEARLS program, a national evidence-based treatment for elders suffering from depression that VNSNY is implementing in New York City, has had remarkable success reversing the downward cycle by helping seniors. The program accomplishes this by breaking down what is often an overwhelming sense of helplessness and hopelessness into a series of manageable problems with realistic goals. At the same time, counselors work with elders to include both physical activity and a pleasant activity in their lives, mindful of physical limitations but also asking the seniors to select, commit to and actually schedule how they are going to complete these two activities on a regular basis.
Regaining Lives, One Step at a Time
Depression in the elderly is too often viewed as a "normal" or unavoidable condition of aging—which it is not. Many Americans age 65 or older grew up at a time when suffering from or seeking treatment for depression were stigmatized. When they go to a doctor, they are conditioned to talk about aches and pains but not about mental or emotional health. To discuss such things, many believe, would indicate weakness of character. Doctors, too, often listen for and address physical and urgent systemic symptoms—checking the leg, the lung, the heart—rather than digging deeper to assess an elderly patient's emotional and mental well-being.
Signs that someone, especially an older person, may be depressed include visible changes in sleeping habits (too much or too little), changes in weight and appetite (again, too much or too little), lack of attention to physical appearance or surroundings, and expressing thoughts of emptiness or worthlessness. Deirdré recommends that caregivers or loved ones suspecting depression begin not by talking with them about depression per se but asking whether they might be feeling "blue" or "blah," if they have lost energy, or there might be something bothering them.
VNSNY works with partners in the community—such as senior centers, Meals on Wheels and NORCs (Naturally Occurring Retirement Communities)—to identify seniors suffering from or at risk of depression. We then screen these at-risk seniors using a nationally recognized questionnaire known as PHQ-9. For those whose scores indicate depression, we provide six in-home behavioral health visits through PEARLS program, at no cost to the elder.
The first thing we ask the client to do is write out a list of concrete problems. Mr. Taunton enumerated that he was having difficulty walking and seeing at night, felt acutely lonely, missed going to church, suffered panic attacks, and wanted to move to Florida with his daughter but didn't know how to begin planning for such a move. Next, we ask the senior to select one problem and brainstorm possible solutions. Together, we help them commit to one solution and identify the steps it will take to put that solution in place. All along the way, counselors work with the senior to ensure the list is manageable, discuss the pros and cons of identified solutions, set appropriate and achievable goals, and identify the resources necessary to implementing solutions.
Once solutions are broken down into concrete steps, the challenges—while they are still there—begin to feel less monolithic and insurmountable. For his part, Mr. Taunton found the challenge of moving to Florida too overwhelming to start with, so he began with the challenge of combatting loneliness. His solutions included calling an old friend on the telephone. PEARLS counselors helped him play out possibilities to the smallest detail (including what to talk about and what to do if his friend was not home) so he would not be daunted. Later in his treatment, Mr. Taunton identified a solution for going church (he would drive himself) and for managing panic attacks (putting self-affirming quotes throughout his home).
In conjunction with problem-solving, the program's three-pronged approach also calls for seniors to build more physical activity into their day, and to identify and implement at least one activity that brings them pleasure. Mr. Taunton committed to taking a daily walk around the neighborhood, harkening back to the days before his surgery when he enjoyed strolling the block. This brought him pleasure and also got him moving, both of which are critical to reversing the downward spiral.
Pretty soon, step by step, the downward spiral can turn into an upward spiral, as it did for Mr. Taunton. "By doing something you enjoy, your mood gets a little better," says Deirdré. "The same thing with physical activity. One day you walk from the chair to the bed, but how about the next day walking from the bed to the living room? When you are more engaged and more active, it empowers you to continue to do more—and to feel better."
Indeed, it takes a village to look out for our elders. VNSNY is looking to expand our PEARLS partnerships to area churches, synagogues and fraternal organizations. "Everyone knows someone they're worried about," says Deirdré. "Everyone knows someone who used to come to church regularly but is no longer coming. If you're worried about them, let's follow up to find out why they're not coming, and see if we can help them get there."
That intervention has made all the difference in the world for Mr. Taunton. Clinically speaking, his PHQ score went from 12 (of 27), indicating "moderate depression," to 3, indicating no depression. Even more to the point, he enjoys life again, is connecting with old friends over the phone and at church, and smiles at neighbors as he walks through the streets.
His next challenge: he has met a woman whose company he enjoys, and he wants to ask her out on a date.
*Name changed to protect privacy
Popular in the Community