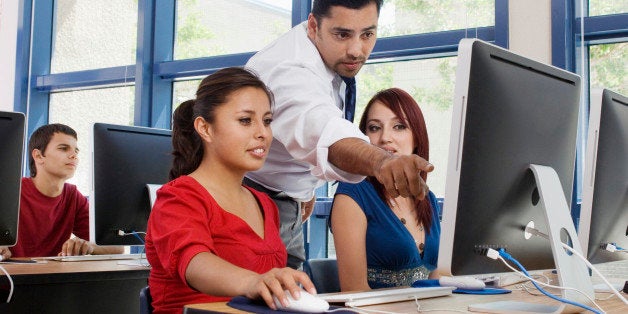 New York State, in partnership with Pearson Education, is making it increasingly harder and more expensive to become a teacher without evidence that their demands and tests will improve education in the state. Last April Governor Cuomo smuggled a requirement into the state budget without discussion or input from professional educators arbitrarily mandating that students admitted to Schools of Education have a minimum 3.0 undergraduate grade point average and take a nationally normed test. No one demonstrated that a 3.1 GPA makes you a better teacher than someone with a 2.9 GPA or how the tests align with performance as a teacher.
In addition, New York State requires that certification candidates complete four other exams either created or administered by Pearson. Three are written exams and one involves a complex portfolio submission. New York State has already been cited twice by a federal court for racial bias in its teacher certification requirements because of the "unlawful disparate impact" of its teacher certification exams.
The portfolio part of the teacher certification requirement is known as the edTPA. edTPA was created at Stanford University by a sub-division called SCALE and is administered and graded by Pearson. Essentially SCALE, Pearson, and New York State decided to replace student teacher evaluations by university field supervisors and cooperating teachers with an electronic portfolio, supposedly to ensure higher standards. The SCALE/Pearson edTPA electronic portfolio includes lesson planning, a discussion of student teaching placement sites, videos of candidates interacting with K-12 students, their personal assessment of the lesson, and documentation of student learning. While each piece by itself makes sense, the package, which focuses on just three lessons and can be sixty pages long, takes so much time to complete that it detracts from the ability of student teachers to learn what they are supposed to learn, which is how to be effective beginning teachers who connect with students and help students achieve.
New York State United University Professions, the union that represents faculty at the State University of New York, has been trying to understand the reasoning behind these exams. They submitted a Freedom of Information Law request to the State Education Department so they could evaluate the state's teaching certification exam contract with Pearson. The original response from the state was a useless document, heavily redacted. It was nearly 75% blacked-out including 25 entire pages. UUP appealed and finally received a copy of the Pearson contract with most of the information visible.
Now we know what New York State and Pearson were trying to hide.
New York does not pay Pearson to develop and administer the teacher certification exams. Pearson's profits are all from student exam fees, which means Pearson makes its money when students fail. According to UUP Vice President for Academics Jamie Dangler "This means Pearson has little incentive to fix flawed exams, since they profit when students take and retake them. With four new teacher certification exams in New York State administered by Pearson, students can spend up to $1,000 or more to take and retake tests."
UUP wants to stop Pearson and other for-profit testing companies from making money off of students by charging and recharging to take mandatory exams. Instead, the State Education Department should pay companies to develop tests and collect the administration fees from students.
Judge Kimba Wood of the Federal District Court in Manhattan through out earlier New York State teacher certification exams developed by a Pearson subsidy as "racially discriminatory." I do not know the legal grounds she can use, but teachers and students need her to act again. Pearson! Pearson! Pearson! Pearson! Why does anybody have anything to do with this company?
I thank Diane Ravitch for bring this to my attention. Anyone ambitious enough can read the actual New York State Pearson contract. I am sending this post to Pearson officials. Let's see if they respond.
Calling all HuffPost superfans!
Sign up for membership to become a founding member and help shape HuffPost's next chapter