This October, the Panjshir Tour rolls into several cities - grassroots, community bike rides that support Mountain2Mountain's work with women and children in conflict zones. This is the second year of the Tour, based off my experiences mountain biking in Panjshir province of Afghanistan. Yup, Afghanistan.
Countries like Afghanistan don't culturally allow women on bikes right now, and while our project focus is targeted towards women and girls, its not about getting them on bikes, Rather, its about using the bike as a vehicle for social justice and change for women's rights. It's a subtle difference, but a powerful one. Mountain2Mountain's work is advocacy, education, training, and cultural outreach. We aren't trying to rashly push on cultural boundaries unnecessarily over there, but we can use the bike back here as a tool to affect change in increments that are sustainable.
Thus the Panjshir Tour was born when I rode across the Panjshir Valley last October, and riders in eight communities rode with me in solidarity for women's rights, using their sweat equity to help raise awareness and funds for our projects. Rides like the one in Saratoga Springs, New York which was spearheaded by 11-year-old Reese Arthur around her neighborhood with her fellow students, or the one in Washington DC that started at ended at previously designated women's prisons during the suffrage movement. The deaf university, Gallaudet University in Washington DC hosted a campus ride knowing it would benefit our work with the Afghan National Association for the deaf as we work to build a school, and cruiser bikes hit the beach path in LA in an impromptu ride.
Countries like Afghanistan don't culturally allow women on bikes right now, yet my experience riding across the Panjshir Valley, as a foreign woman, on a bike was met with friendly curiosity and often incredulity, but never animosity. The interactions created by their curiosity led to endless conversations and questions about my purpose there and my work in the area, and often concluded with requests to visit their village, or offers to join their family for dinner. The gracious tradition of Muslim hospitality to travelers firmly in place even in a country enduring nearly forty years of conflict.
It was my goal to challenge perceptions and invite conversation on both sides of the equation. Challenging the stereotypes of women and Americans in Afghanistan, while challenging parallel stereotypes of Afghans as a people and as a nation in the United States. Bridging cultures and communities on two wheels.
Women that I know that lived and worked in Afghanistan in the 60's as part of the Peace Corps rode their bikes daily to and from work - a far cry from the security lockdowns and convoys required today. Women like Dervla Murphy pedaled solo across the entire region prior to the Soviet's invasion. We all know the power of the pedal. Connecting communities, reducing our carbon footprint, improving our health, exploring new cultures, and in third world countries the list grows to social issues like increasing access to education and healthcare, and decreasing violence against women. Pedal power indeed.
It is this pedal power that sparked the Panjshir Tour in cities like Los Angeles, Denver, Minneapolis, Saratoga Springs, Santa Rosa, Portland, and Washington DC.
Actor and bike advocate Matthew Modine expressed his support of the Panjshir Tour as honorary co-chair of this year's event stating, "The women and girls of Afghanistan deserve our attention and support. This is not a women's issue or an Afghanistan issue. Its a human rights issue. I want to encourage everyone with a bike to use it as a vehicle for social change by coming out and riding with us and showing your support for gender equity and opportunity for women and girls all over the world"
By coming together with our bikes, we can fight for justice, we can battle for change, and we can do it one pedal stroke at a time.
Come join us this October, or start your own grassroots ride in your community. Get pedaling and get involved!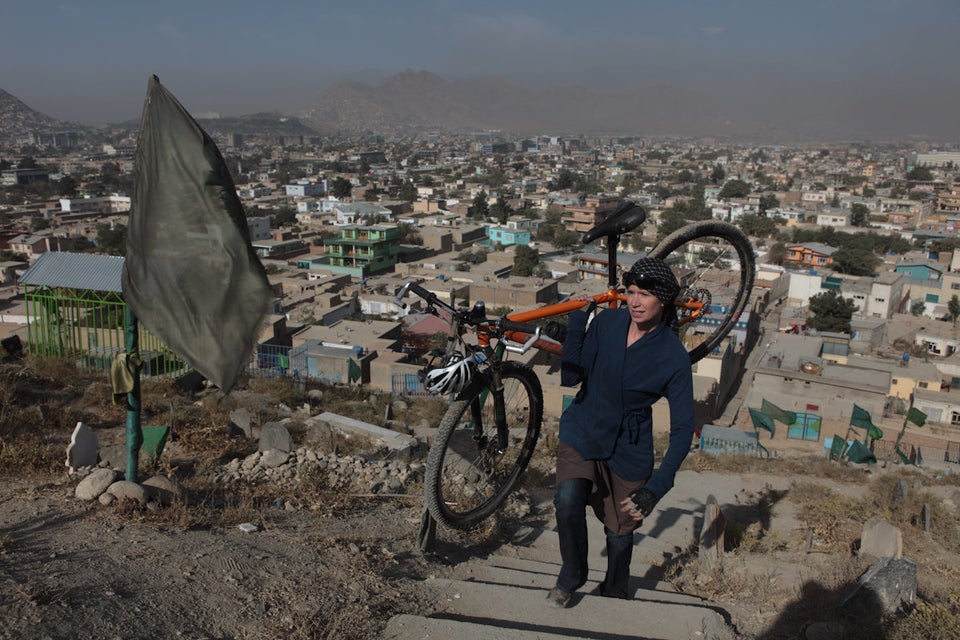 Panjshir Tour
Related
Popular in the Community