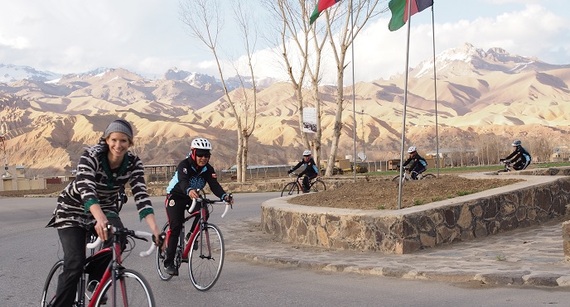 "It's time to stop referring to Afghan women as weak, as helpless. It's time to refer to Afghan women as strong, catalysts for change. How can we expect Afghan women to fight if we continue to label them as victims?" I said these words at my first TED talk in Denver, three years ago, nine months before I met the first generation of Afghan women that now ride on the Afghan National Women's Cycling Team. I had been working in Afghanistan for five years by then, and was enraged by the way we continued to look at Afghan women, and women like them around the world, as helpless victims in need of the West's support. They are not victims, although they may be victimized. They are women of strength and resiliency that simply need tools, opportunities, and encouragement to use their voice.
Why do I feel qualified to discuss victimhood and perceptions of Afghan women, when I am a white American woman from North Dakota? Because when I was 19, I was violently raped and nearly killed in downtown Minneapolis. Because when I was 30, my only sister was raped on her college campus in southern Colorado. Neither me nor my sister act like victims: we are both strong, independent, driven women.
Three years later after that TED talk, the young women I now work for in Afghanistan show me every day they are brave, strong, and fearless, anything but helpless. They simply need tools. Or in this case, bikes.
The young women of the Afghan National Cycling Team, and the young women around Afghanistan learning to ride bikes for the first time in their country's history, did not grow up under a burqa. Many grew up in Pakistan and Iran as refugees. They matured in the post-Taliban decade under a constitution that included roles for women in the government. They have taken advantage of opportunities in the arts, sports, politics and education. Many were refugees in Iran and Pakistan and returned to Afghanistan in 2002 and 2003 with their families. Some stayed and endured the Taliban's regime and ongoing violence. Most are now in their final years of high school or early years of university, a couple are married. But all are embracing the feeling of freedom that comes on two wheels.
These women are among a generation of Afghan women embracing new experiences and opportunities, without the specific intent of being revolutionary. They know what they are doing is controversial, but believe it is their right, that they deserve the same access and opportunities as men, and that riding a bike should not be forbidden because of their gender. I believe sports are a natural gateway to social change. As these women race and bring national pride to their families, and to Afghanistan, they are opening the door for girls to ride bikes socially, as transportation. By doing so, they increase their access to school and work, protect their safety, and improve their health, creating social justice and gender equality on two wheels.
For over three years I have been training, supporting and riding with these women. Last year, I spent a morning at the old bazaar buying bikes for each of the girls to keep at home. Their first ever bike. Do you remember your first bike? The joy and the freedom you felt riding it? Young women are now teaching other young women to ride, and several ride their bikes as transportation in Kabul. The first generation of Afghan women to ever do so. Crossing the bridge from sport to social independence.
In countries around the world, the bike is a vehicle for social justice. The bike creates access to education, tools for rural healthcare, and a means to prevent gender violence. Bikes are affordable and environmentally friendly. Bikes are everywhere in Afghanistan, in the capital of Kabul bikes weave in and out of the congested traffic and in rural areas they are often the only transportation available. Buts it's only men and boys you see riding bikes. Girls have never been allowed to ride, unless it's sidesaddle behind a boy. The girls that now ride as part of the Afghan National Cycling Team challenge that gender barrier every time they ride. It is my hope the sport of cycling will normalize the idea of women and girls riding bikes in Afghanistan and allow them independent mobility and freedom on two wheels.
Every day I worry about these young women. Not just on the bike, but off. They are using the bike to take back the streets and their rights. They refuse to be bullied, threatened, or dissuaded from following their dreams. They are on the front line in a gender and cultural war and yet, if they are willing to ride, to go to school, to engage in politics, and to believe in a brighter future, we must do everything we can to support them. On and off the bike.
These young women are changing the future of their country one pedal stroke at a time. And I believe social change can occur one pedal stroke at a time. I know these young women, and other young women like them, are the future and their fearlessness needs our support.

Shannon Galpin is the author of Mountain to Mountain: A Journey of Adventure and Activism for the Women of Afghanistan, available now from St. Martin's Press.
Support HuffPost
The Stakes Have Never Been Higher
Related
Popular in the Community