Denver is celebrating Earth Day with the kickoff of Denver B-cycle, the country's first citywide bike-sharing program. Similar to car sharing, bike-sharing offers an alternative to using cars and cabs for short commutes and errands. And bike-sharing isn't just good for the environment; it's good for your health, too.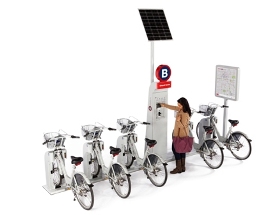 Already, bike-sharing is common abroad in major cities such as Barcelona, Beijing, Mexico City, Montreal and Paris. Critics claim the program is too costly and can't work here. But we examined the pitfalls and successes of the other cities and have addressed these concerns for the American market:
Bike-sharing systems are too expensive for cash-strapped cities.
Bike-sharing doesn't require public funding. A combination of philanthropic donations, paid advertising and user fees can make bike-sharing feasible without taxpayer support.
Bikes will be destroyed by vandalism and theft.
Bikes are no more vulnerable to thieves than rental cars. Modern systems incorporate GPS trackers to monitor the location of each bike; users are required to provide a credit card before renting a bike; and bikes are equipped with special locks to provide security at stops along the way. Montreal has successfully used such tools to protect its system.

Suburban sprawl and time-crunched lifestyles make bike-sharing impossible in America.
Bike-sharing won't replace cars altogether, but it can succeed if appropriately clustered in downtown centers, universities and corporate campuses. As to their busy lives, Americans' renewed love for gardening and canning show they are willing to make time for activities that provide a break from their hectic days and improve their health. Bike-sharing does just that.
Why does one of the country's largest health insurers want to get more people on bikes? Because just three hours of pedaling a week can reduce the risk of heart disease and stroke by 50 percent, contends the League of American Bicyclists. In addition, no health insurer can afford to ignore obesity or healthful ways to promote well-being. Encouraging healthier lifestyles is so important to us that we have an internal think tank focused on finding ways to improve Americans' well-being.
Inspired by successful initiatives in Europe, Humana introduced bike-sharing at our Louisville, Ky., headquarters in 2007 to give our 10,000 associates a healthful transportation alternative. The project proved so popular, we teamed up with Denver Mayor John Hickenlooper and the nonprofit advocacy group Bikes Belong to bring bike-sharing to the national political conventions in Denver and Minneapolis-St. Paul in 2008. We certainly got their attention: Minneapolis follows Denver with the launch of its own system, Nice Ride Minnesota, in June.
Dissatisfied with just temporary programs, we partnered with Trek Bicycle and advertising agency Crispin Porter + Bogusky to create B-cycle. The partnership reflects the shared belief that integrating bikes into America's transportation infrastructure delivers positive health-and-environmental change.
While a single solution can't solve America's obesity and environmental problems, bike-sharing tackles both issues and makes it easier for people to lead healthier, greener lives.
Join the bike-sharing movement here and show your support for bringing bike-sharing to your hometown.
Calling all HuffPost superfans!
Sign up for membership to become a founding member and help shape HuffPost's next chapter