Multiple cars and people were trapped under a newly constructed bridge at Miami's Florida International University when it collapsed Thursday.

Officials said there are at least six fatalities, including one student. They don't expect to find any more survivors amid the rubble. Ten victims were taken to Kendall Regional Medical Center.

The Miami-Dade homicide bureau is leading an investigation into the collapse.

Gov. Rick Scott said investigations are proceeding at the local, state and federal levels. He promised to hold anyone accountable if there is evidence of wrongdoing.
Rescuers in Miami worked through the night into Friday, combing through rubble from a newly erected pedestrian bridge at Florida International University that had collapsed across a multi-lane road the day before, trapping cars underneath and killing at least six people.
Juan Perez, director of the Miami-Dade Police Department, said Friday that officials expected to find more bodies amid the wreckage, although they had determined there were no more survivors to be rescued.
One of the fatalities was an FIU student identified by her father as Alexa Duran, 18. A friend in the passenger seat of Duran's Toyota SUV was able to escape. Another victim was identified as Navaro Brown, 37, who had been working on the bridge.
The 100-plus rescuers on the scene have shifted their focus from search and rescue to recovery, excavating remains and trapped cars.
"That whole structure is considered unsafe right now," MDPD spokesman Lee Cowart said. Officials explained that the bridge would have to be removed piece by piece because of its instability.
"This is going to be a long, long process because to get through that rubble and the pieces of concrete laying there is not going to be an easy task," Perez said. He noted that the police department's homicide bureau would take the lead on the investigation, with the local state attorney's office "on standby."
The 950-ton bridge, built to provide a safer crossing for FIU students over the busy road, collapsed at about 1:30 p.m. Thursday.
"We have located victims, but we're unable to identify them or have any confirmation," Fire Chief Dave Downey of Miami-Dade Fire Rescue said in the hours afterward.
But by Friday morning, the police department had confirmed six fatalities.
Ten people, ranging in age from 20 to 50 years old, were hospitalized at the city's Kendall Regional Medical Center. Two arrived in critical condition. Police spokesman Alvaro Zabaleta said one of the injured died overnight.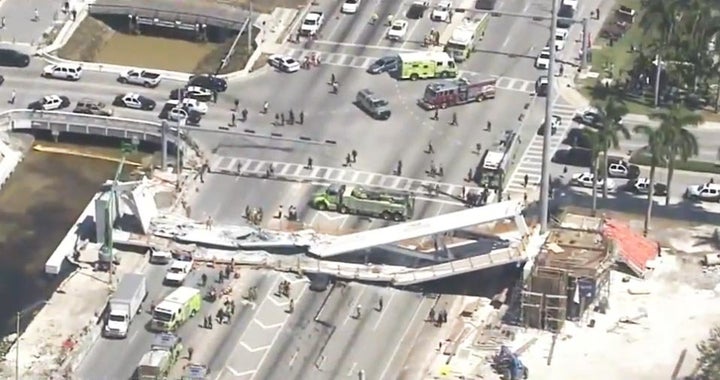 The bridge stretched along FIU's campus, across Southwest Eighth Street, and had not yet opened to pedestrians. It was lifted into place on Saturday and was still under construction, with completion expected by early 2019, according to the school. A support beam and a series of support cables had yet to be constructed.
Florida Gov. Rick Scott (R) noted Thursday that the bridge project was initiated by FIU and not the Florida Department of Transportation. Investigations into the bridge and its collapse are being conducted at the local, state and federal levels, Scott added.
"There clearly will be an investigation to find out exactly what happened and why this happened," the governor said. "We will hold anybody accountable if anybody has done anything wrong."
The National Transportation Safety Board announced Thursday that it was sending a team of 15 experts to the scene to look into the collapse and examine why central supports were absent. The investigating team specializes in civil engineering, material science and survival factors, according to NTSB Chairman Robert Sumwalt.
At the scene on Thursday, Miami's WSVN interviewed an emotionally distressed Mario Valdez, a local who said he'd heard his friend was walking beneath the bridge when it abruptly collapsed.
"He was crossing the street at the moment that the bridge was coming down," Valdez told the station. "He was rushed to the hospital. I don't know. I'm just so worried." Valdez declined to identify his friend because the friend's mother was out of town.
Surveillance footage obtained by the Miami Herald shows the bridge crumbling to the ground in almost an instant:
Twitter user Damani Reed, who told HuffPost that he heard the bridge collapse from a nearby apartment building, snapped a photo that showed the destruction spread across the multiple-lane road.
"It wasn't too loud. It sounded like two metal walls fell over," Reed told HuffPost.
FIU President Mark Rosenberg initially offered few details on the tests that Munilla Construction Management, which built the bridge, may have run on the structure earlier Thursday. In a tweet, Sen. Marco Rubio (R-Fla.) said that at the time the structure collapsed, workers were tightening cables that had become loose.
Miami-Dade Mayor Carlos Gimenez later revealed that before the disaster, workers were running a "stress test" that involved tightening cables on the bridge.
The university had previously boasted that the bridge was designed to withstand a Category 5 hurricane and last for at least 100 years. It was built using a method known as accelerated bridge construction, in which most of the structure was built off-site and then moved into place. The university called it "the largest pedestrian bridge move in U.S. history."
Soon after the collapse, FIU released a statement saying it was "shocked and saddened about the tragic events unfolding."
Barnhart Crane and Rigging, the company contracted to move the bridge into place last weekend, told HuffPost that it was not involved with the structure's design or construction.
"Our scope of work was completed without incident and according to all technical requirements," the company's statement read. "Barnhart crews and equipment were not on site at the time of the incident. We will fully cooperate with authorities as they investigate the cause of the collapse."
Munilla Construction Management also released a statement over Facebook describing its staff as "devastated" by the catastrophe. The Miami company vowed a full investigation.
"Our family's thoughts and prayers go out to everyone affected by this terrible tragedy. The new UniversityCity Bridge, which was under construction, experienced a catastrophic collapse causing injuries and loss of life," the statement read.
Munilla Construction was awarded the $9.3 million bridge project in partnership with FIGG Bridge Group. It was designed to connect the university's Modesto A. Maidique Campus with the city of Sweetwater, according to the school's website.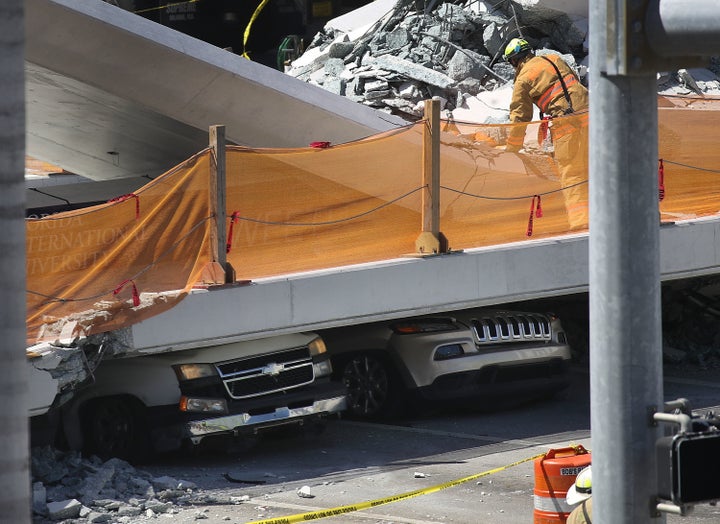 The construction company has been cited in the past for unsafe practices that led to employee injuries, the Miami New Times reported. It is currently facing a lawsuit from a Transportation Security Administration employee who says a temporary walkway that the company built at Fort Lauderdale-Hollywood International Airport in 2016 collapsed underneath him, sending him crashing to the ground and causing him multiple injuries.
FIGG Bridge Group, the designer behind the FIU span, was fined $28,000 after another bridge in Virginia collapsed mid-construction and left four workers with minor injuries, the Miami New Times also reported. The company had violated several safety rules, the state found, and was lucky that no one died in the accident.
President Donald Trump was briefed about the situation, White House press secretary Sarah Huckabee Sanders told reporters on Thursday. Trump later tweeted his condolences and thanked first responders for their work.
This article has been updated with comments from police, emergency responders and the university's president.
Willa Frej contributed reporting.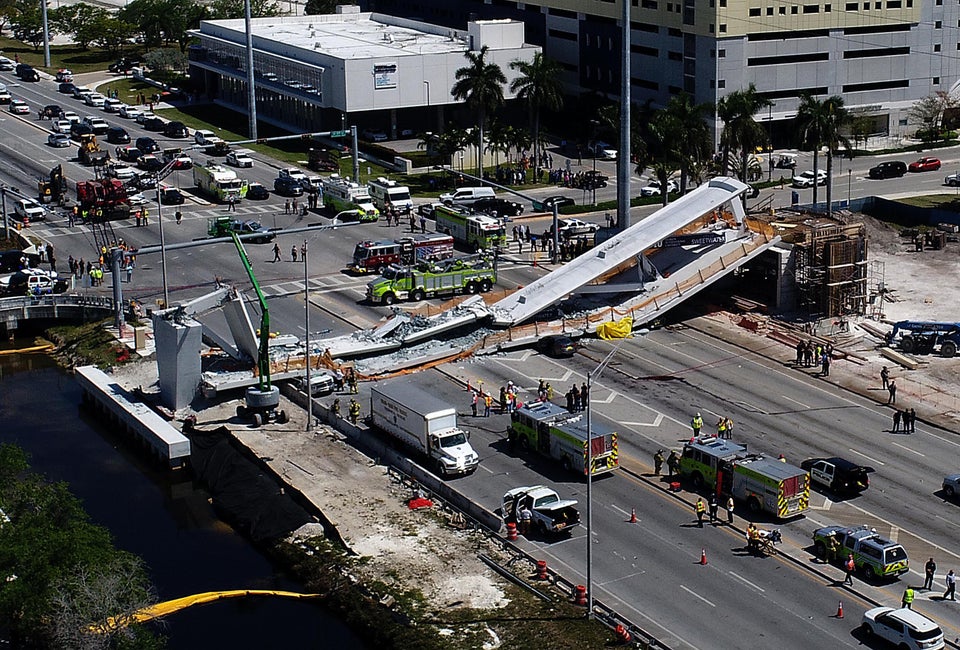 Miami Herald via Getty Images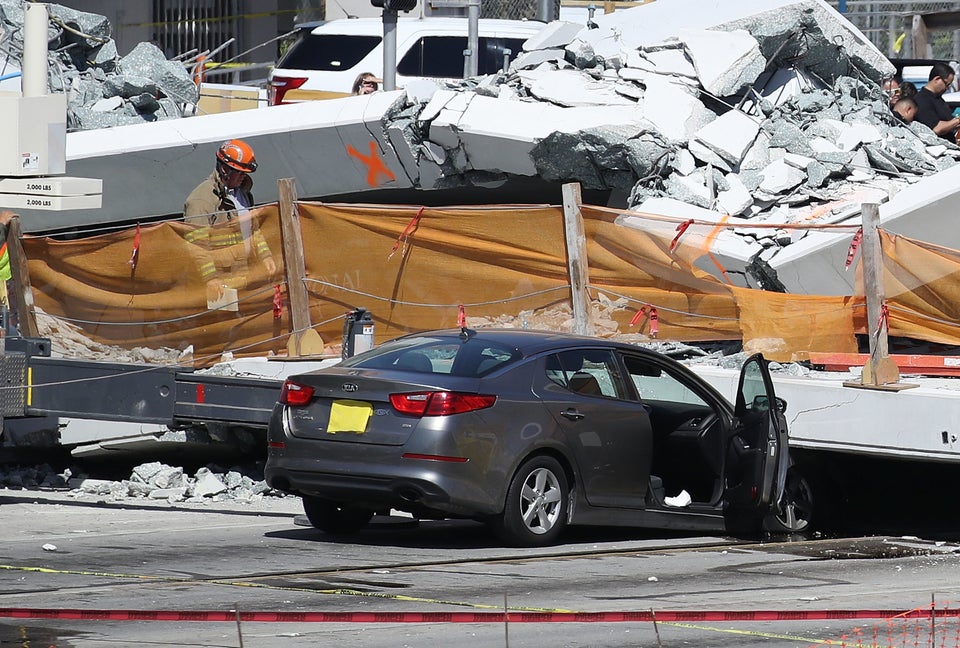 Joe Raedle via Getty Images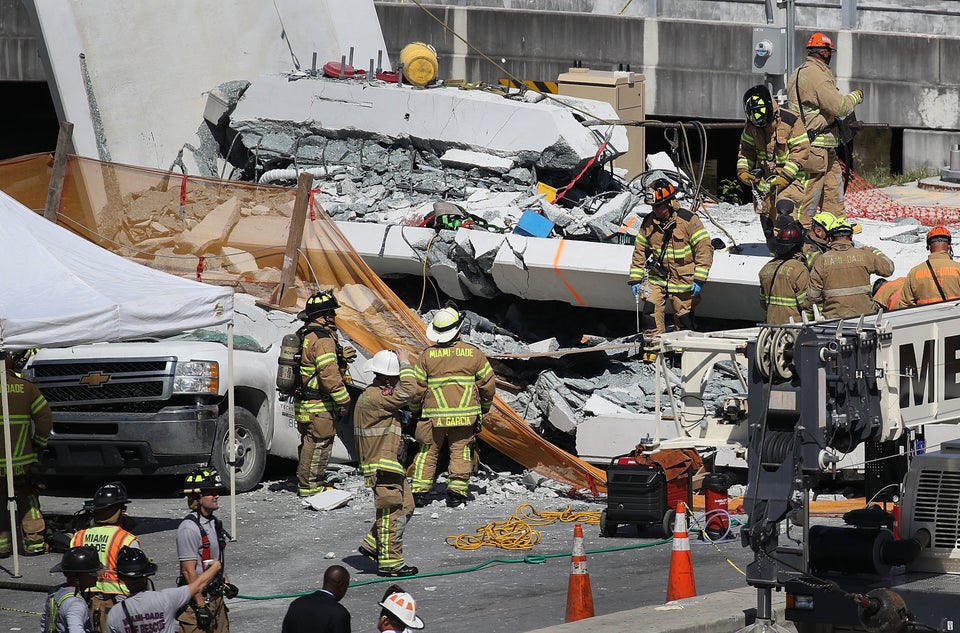 Joe Raedle via Getty Images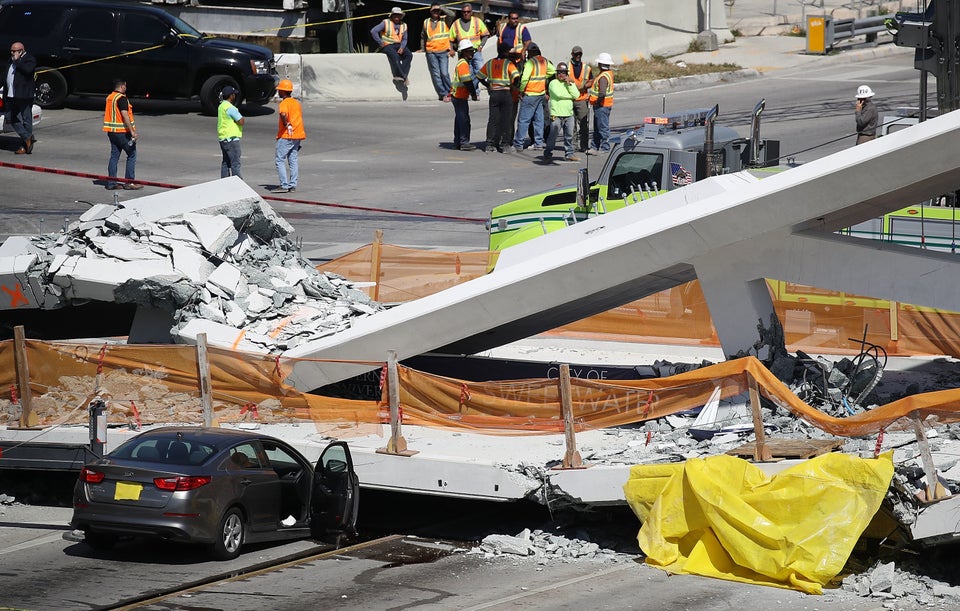 Joe Raedle via Getty Images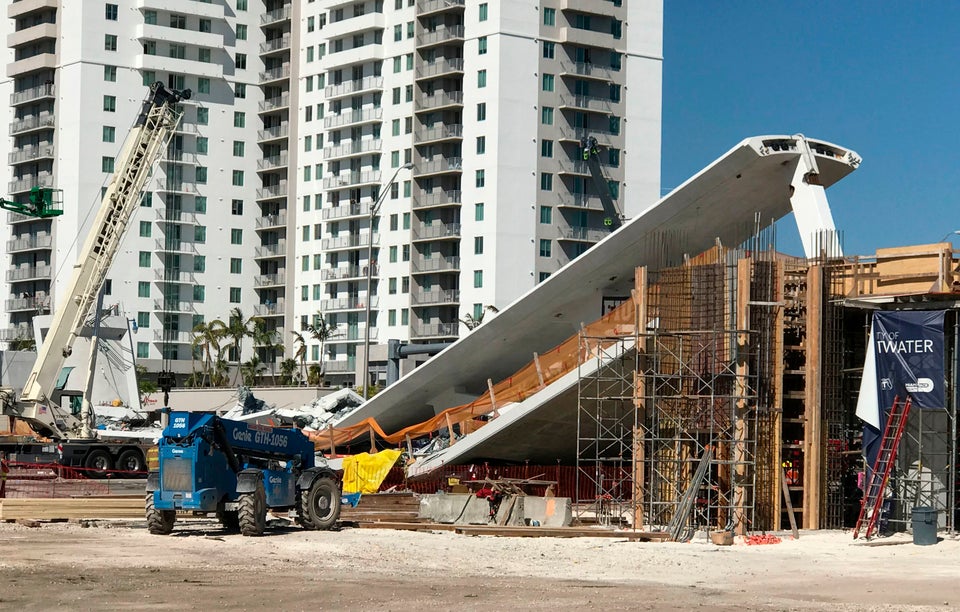 ANTONI BELCHI via Getty Images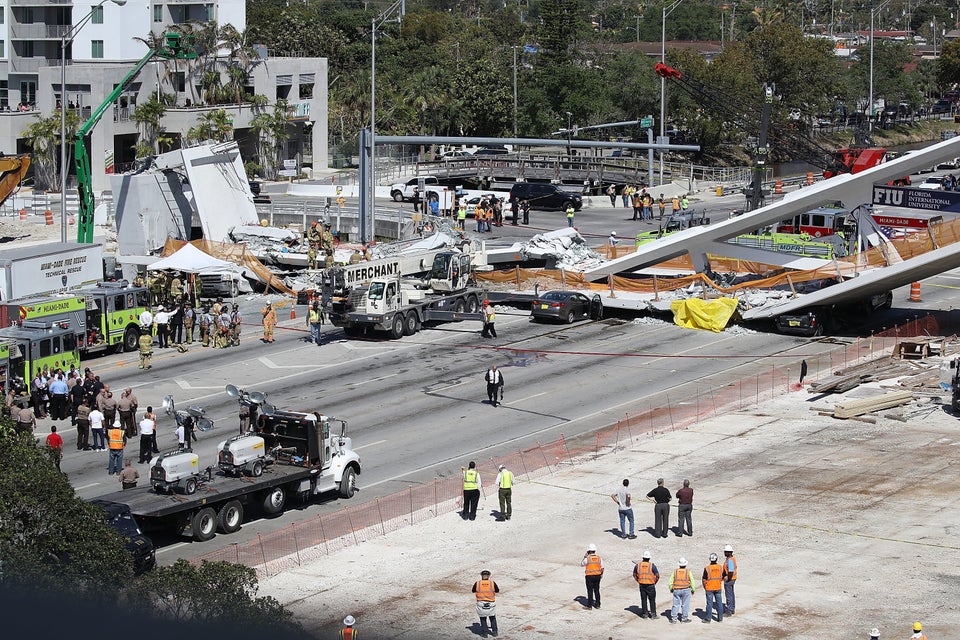 Joe Raedle via Getty Images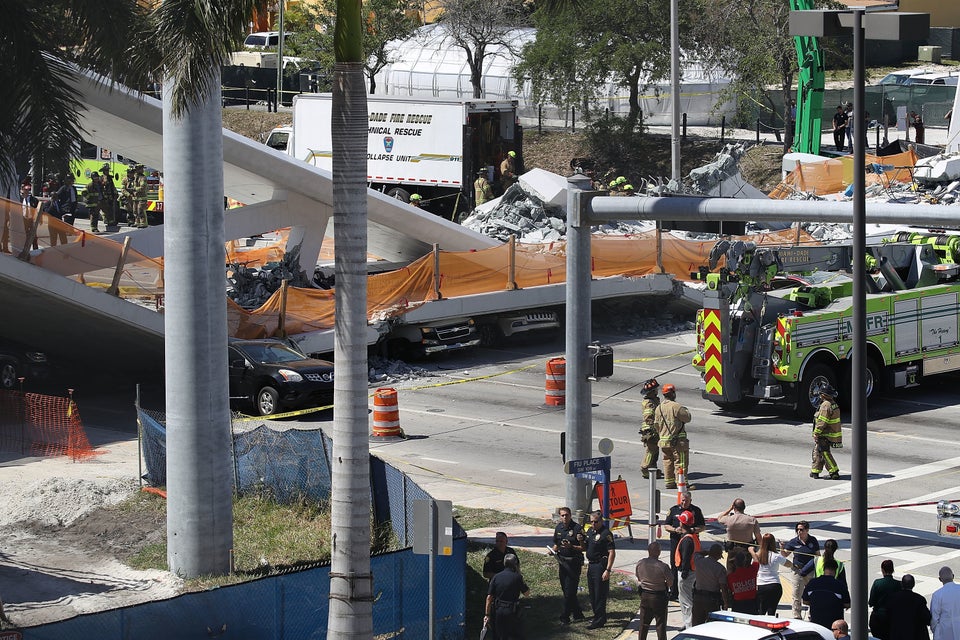 Joe Raedle via Getty Images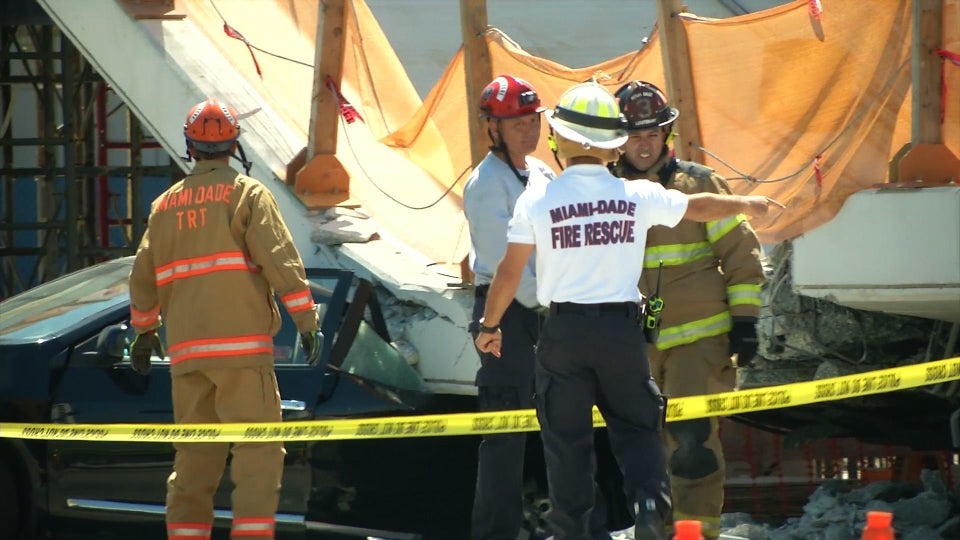 MIGUEL GUTIERREZ via Getty Images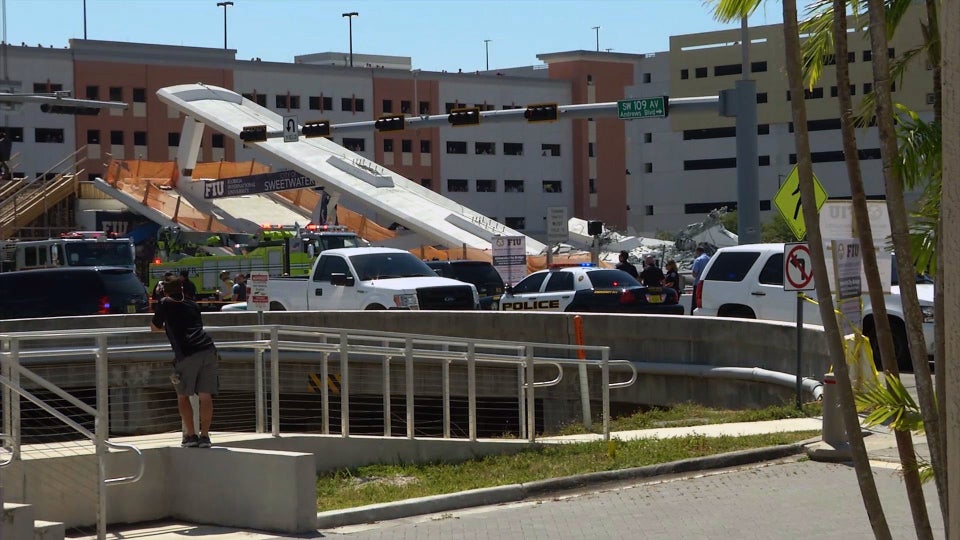 MIGUEL GUTIERREZ via Getty Images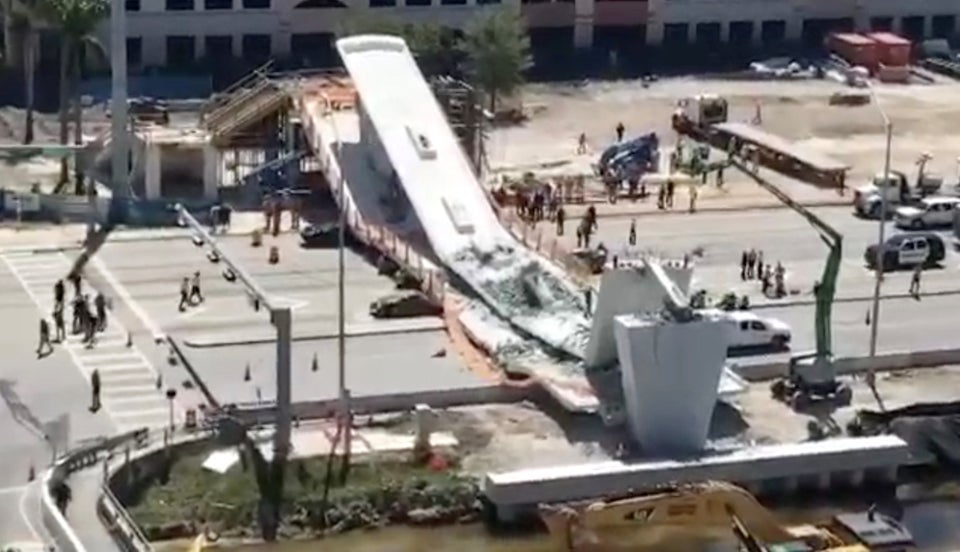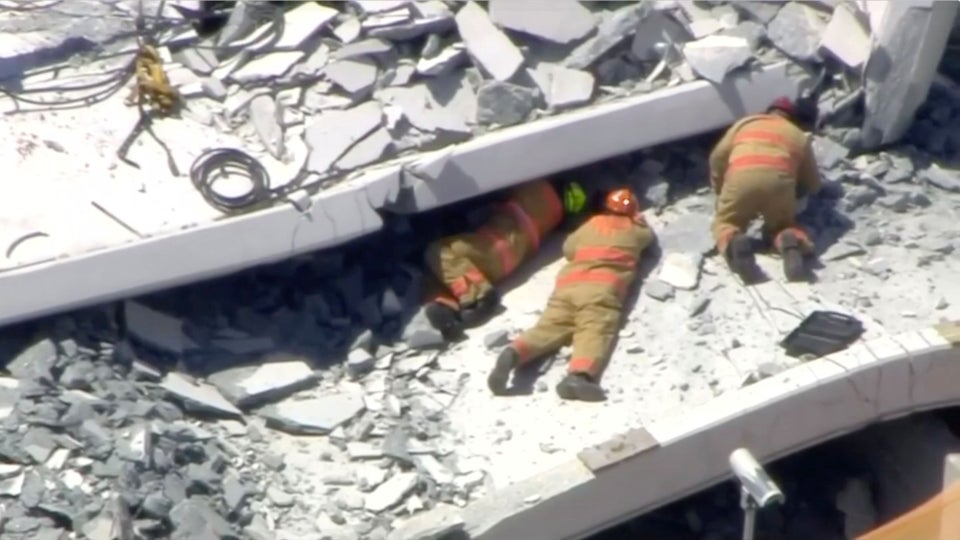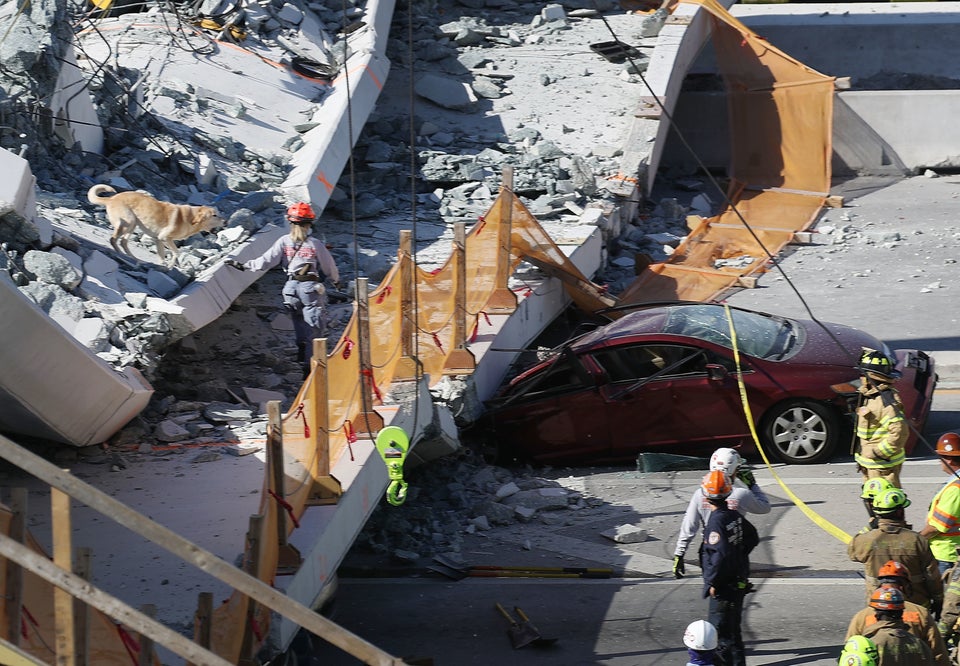 Joe Raedle via Getty Images
Popular in the Community