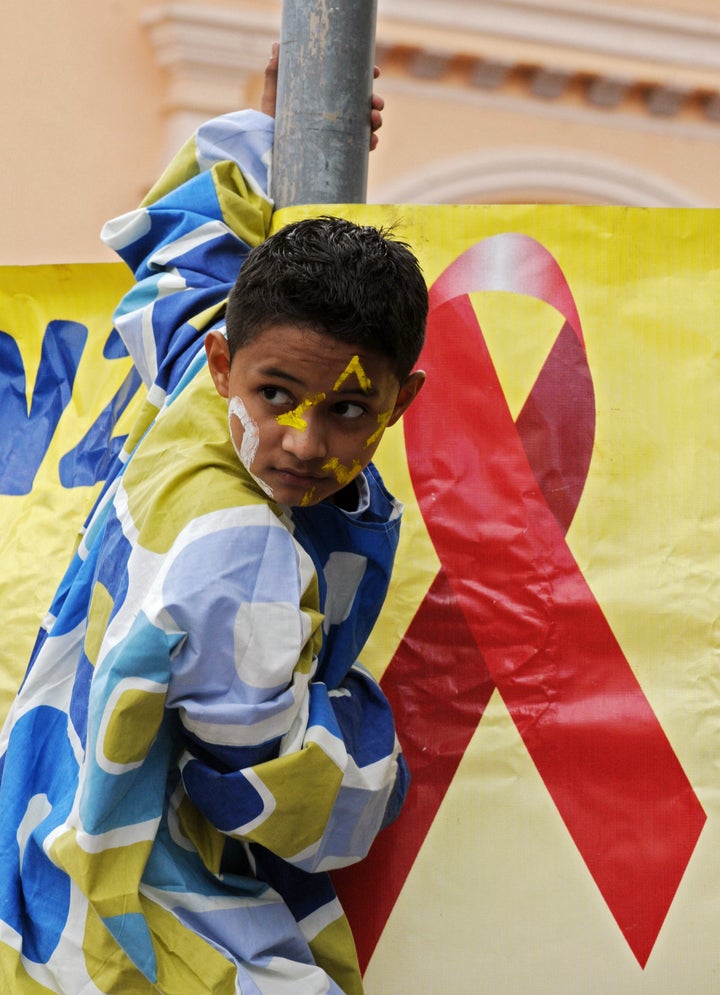 Thirty years ago, doctors in the U.S. identified the first case of what would soon come to be known as Acquired Immune Deficiency Syndrome, or AIDS. In 1981, we hadn't yet identified the human immunodeficiency virus that causes the disease. Today we hold the real prospect of eliminating HIV in one entire segment of the world's population: infants and young children.
As some of the top HIV/AIDS scientists gather in Boston for the 18th Conference on Retroviruses and Opportunistic Infections, we must remind ourselves how far we have come, and recommit to the aggressive research that is still necessary to eliminate pediatric AIDS worldwide.
In 1993-1994, cutting-edge research first showed that we could prevent mother-to-child transmission of HIV. The U.S. National Institutes of Health (NIH) AIDS Clinical Trial Group demonstrated that it was possible to reduce the risk of HIV transmission nearly 70 percent by administering antiretroviral drugs (ARVs) to both the mother and her baby. The results of subsequent studies indicated that we could reduce this even further, eventually cutting the transmission risk to less than 2 percent.
This research had swift, real-world results here in the United States and the developed world. In just a matter of years, services to prevent mother-to-child HIV transmission (PMTCT) were rolled out. The number of new infant HIV infections slowed to a trickle, and we have now virtually eliminated pediatric AIDS cases in the West.
In 1999, the same principles were applied to resource-poor settings when another NIH sponsored trial in Uganda demonstrated how to achieve significant reductions in infant infections with a single dose of the antiretroviral drug nevirapine administered to mother and baby. These results provided the impetus for the rapid roll-out of PMTCT services in countries at the epicenter of the pandemic -- sub-Saharan Africa -- where 90 percent of all cases of mother-to-child transmission occur.
Subsequent studies in resource-poor settings have revealed that more complex drug regimens can reduce infant HIV infections even further -- to nearly the same levels as now seen in the developed world.

In the past few years, we've been able to dramatically scale up these effective, low-cost services to protect mothers and children from HIV. Now more than half of HIV-positive women have access to PMTCT services -- up from only 10 percent in 2005. But there is still so much work to do, with more than 1,000 infants and young children needlessly infected with HIV around the world every day.
Even now research continues to be critical to improving our efforts to prevent these new infections. The latest studies show a dramatic increase in HIV-free survival for babies, particularly if treatment-eligible mothers are started on combination antiretroviral therapy before or during pregnancy, and ARVs are given to mothers or infants through the breastfeeding period.
This research informed the World Health Organization's revisions of its PMTCT guidelines for low- and middle-income countries last year, which established a realistic framework for global elimination of pediatric HIV/AIDS. Implementers like our organization, the Elizabeth Glaser Pediatric AIDS Foundation, and others are working closely with national governments and partners to swiftly roll out these guidelines.
But even the best clinical research must also be paired with strategic operations research on how to effectively and efficiently scale up HIV services on the ground. We must constantly seek innovations in how we deliver these services, to ensure that all children, women, and families have access, and can adhere to, PMTCT services and HIV interventions.
In South Africa, for example, implementation of the new WHO guidelines will create operational challenges by doubling the number of HIV-positive women eligible for antiretroviral therapy. A South African doctor, Dr. Landon Myer, who was selected this week as the newest recipient of the Foundation's International Leadership Award, will use his award funding to conduct research on how to address this challenge. His results could allow us to reach more pregnant women in South Africa with life-saving antiretroviral therapy, thereby protecting even more children from HIV.
Ever since our foundation was created by mother and activist Elizabeth Glaser in 1988, we have recognized the importance of groundbreaking research in the field of pediatric HIV/AIDS to end this devastating pandemic. Combined with the generosity of our donors -- such as the Stavros Niarchos Foundation, which funded this year's ILA award -- we have committed more than $70 million over the years to advancing the HIV research agenda for children and mothers.
The economic climate is now particularly difficult for sustaining this research, either with public or private resources. The NIH, which was at the forefront of early pediatric AIDS research, was even marked for significant funding cuts in the budget legislation recently passed by the U.S. House of Representatives.
We urge governments, private donors, and the global health community to commit the leadership and financial resources needed to help finish the job of eliminating pediatric AIDS. Only by supporting a robust research agenda focusing on children will we reach the day when we have a worldwide generation born free of HIV.
Nicholas Hellmann, M.D., is the Executive Vice President of Medical and Scientific Affairs of the Elizabeth Glaser Pediatric AIDS Foundation and Richard Marlink, M.D., is the Foundation's Senior Adviser for Medical and Scientific Affairs, as well as a professor at the Harvard School of Public Health.

Popular in the Community