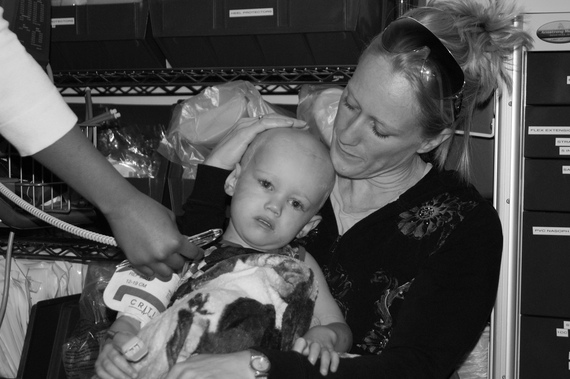 Five years ago, when my son was being treated for Ewing's Sarcoma, I spent a considerable amount of time in hospital rooms. My family was offered occasional privacy, but most of the time we lived in a fish bowl. As much as I wanted to, it wasn't always possible for me to hide my emotions from the nurses and staff.
Whenever someone saw my tears, it was only a matter of time before the hospital chaplain would come knocking on the door. He seemed to be everywhere. He would say, "Hello there. Do you mind if I come in?" Or something like that. And I would say, "Sure." I always let him in, even when I was rolling my mind's eye, or feeling inwardly amused that hospital staff wanted to cure my sadness, ASAP. I always imagined them yelling down the hall, "Code Tears in room 11!"
At first I was cynical and guarded, and expected him to be defensive and preachy. I expected to be scolded and told that I was wrong to feel the way I did. Because I did not intend to say all the right things. I did not have the energy to fake my way through with good, positive, God-has-this-under-control, non-angry words to make him comfortable. If the conversation was going to be worth the intrusion, and my time, I intended to be honestly bitter. I didn't know if he could take it, and if he couldn't, and never came back, I would be happy to be left alone.
But, it turned out, he could handle my anger. He was kind and calm, and didn't seem disturbed by my bitterness. When appropriate, he related stories of his own agonizing life moments. And he had an Irish accent.... So when he dropped by, I let him in. I shared my upsets and frustrations of the moment. He seemed to listen, and ended each meeting with a prayer for Andrew, and for our family.
And it reminded me -- each time -- that if a human could handle my doubts and my rage, and understood that they came from a place of pain, then, of course, so could God. Why pretend to be faithful when I felt hateful? God knew the truth. And that was how I prayed for a long, long time...with rage, and hate, and frustration, and disgust and tears.
Looking back now, I can see that God held me while I raged. My feelings were so intense I didn't know what to do with them. Prayer provided me with a needed release for my honest, angry thoughts and my anguished tears without fear of retaliation or scolding.
My son has been in remission for five years, but every once in a while a hospital memory will pop into my head. Now I am thankful that the nurses noticed my tears, and that the chaplain showed up.