 In the global health and development field, no one can dispute the importance of mothers.
For the success of our programs, we often depend on the crucial role that mothers play in their families and in their communities. And when it comes to fighting HIV/AIDS in children, mothers are absolutely essential.
The vast majority of new pediatric HIV infections occur when a mother unknowingly passes the virus to her baby during pregnancy, labor, or breastfeeding. The tragedy is that when HIV tests and medicines are available, almost 100 percent of these infections are preventable.
One of the most important jobs we can do is to help protect the health of mothers living with HIV, and empower them to protect their children and families as well.
Mothers are not just our clients and our patients. They are full partners in our efforts to end pediatric AIDS -- particularly in sub-Saharan Africa, where more than 90 percent of new pediatric infections occur.
Through our work, we've had the opportunity to meet many amazing mothers who have fought not only for their own children and families, but for children and families around the world.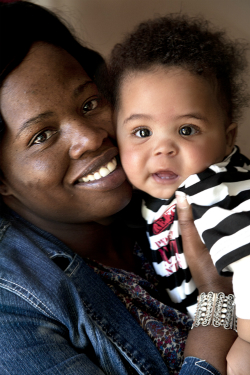 There is Florence Ngobeni-Allen in South Africa, who lost her first daughter to AIDS in 1997. At the time, there were no treatment options available to most children and adults in South Africa, and no access to services to prevent mother-to-child transmission of HIV (PMTCT).
Florence became a counselor committed to helping other mothers with their grief, and later an ambassador for the Elizabeth Glaser Pediatric AIDS Foundation. She fought for access to treatment and PMTCT for mothers and children living throughout Africa, and has lived to see the results.
Today, she is healthy and the proud mother of two energetic, HIV-negative sons.
Tlalane Phafoli is a mother living in the mountainous kingdom of Lesotho, where the terrain and the HIV rate are among the world's highest. Tlalane was able to give birth to an HIV-negative daughter because of her access to HIV services, even in a hard-to-reach region. But there are still significant gaps in outreach and education for women like her, and stigma remains a barrier for many mothers who come for HIV testing and PMTCT services.
To help change this, Tlalane became a mentor mother through mothers2mothers, educating and supporting similarly affected pregnant women and new mothers going through PMTCT. She is now the person that health workers call when a mother is struggling to come to terms with her diagnosis, or with adhering to her medications and PMTCT regimens.
More than a decade ago, a coalition including the U.S. government, non-profit organizations, and the private sector recognized that mothers like these were key to achieving an HIV-free generation. The U.S. President's Emergency Plan for AIDS Relief (PEPFAR), Members of Congress, implementers like the Elizabeth Glaser Pediatric AIDS Foundation and mothers2mothers, and corporate leaders like Johnson & Johnson prioritized PMTCT and the health of mothers, with extraordinary results.
Still, with potential funding cuts and increased competition for resources, there is a danger of being stuck at the half-way mark. We shouldn't be satisfied with incremental progress -- not when we know that we have it in our power to reach all mothers and children with HIV services, and to relegate pediatric AIDS to the history books.
This week, leaders of the Congressional HIV/AIDS caucus introduced a resolution reaffirming U.S. commitment to ending AIDS in children, and the power of mothers to make it happen.
As the resolution states, "every mother should have the opportunity to fight for the life of her child."
The tenacity of mothers is critical to ensuring that babies are born free of HIV, and that children are tested and receive lifesaving treatment.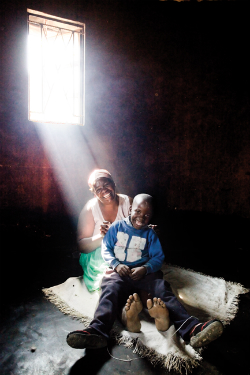 Without early identification and treatment, 80 percent of children living with HIV will die by the age of five. With treatment, a mother can be assured that she will celebrate her child's 5th birthday, with the promise of many more to come.
One young, HIV-positive girl from Tanzania receiving treatment at a PEPFAR-supported clinic -- nine-year-old Janeth -- recently wrote in a thank you letter to her mother: "I thank my Mama for taking good care of me... she always reminds me about taking up my medicine every day."
And Josphat, a six-year-old boy from Zimbabwe, wrote to his mother: "I want to thank my mum for joining PMTCT program... I was born HIV negative... thank you, thank you mum."
So as we commemorate Mother's Day and the fight against pediatric AIDS, we have women like Janeth's mother, Josphat's mother, Florence, and Tlalane -- and countless others mothers around the world -- to thank for the progress we've made so far.
And when we reach our goal of an AIDS-free generation, we will have mothers to thank for carrying us across the finish line.
Read our mothers2mothers blog post here.
Photos by James Pursey for the Elizabeth Glaser Pediatric AIDS Foundation
Calling all HuffPost superfans!
Sign up for membership to become a founding member and help shape HuffPost's next chapter