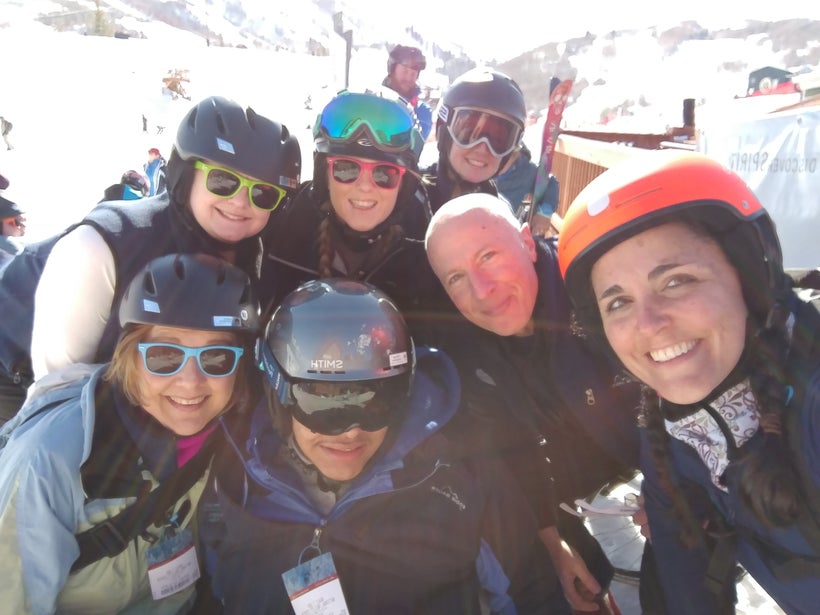 As soon as you walk into Baltimore's Mt. Washington Pediatric Hospital (MWPH), you can tell that it is unique. The building is full of an energy and a vibrancy that feels both welcoming and comforting.
Here you will find patients giggling in the hallways while doing rehab exercises with their therapists, allowing them to interact with staff and other patients that wander by. When asked what makes MWPH different, Chief Medical Officer, Dr. Richard Katz said, "The whole focus is towards the kids. There is no research or students, and the sole focus is on the care of these children. My favorite part of working here is the spirit of the employees; it's hard work but it's fun to come here."
Mt. Washington is a rehab specialty hospital that's a "step down" from acute, post trauma, surgery or illness, and where the patients are now being prepared to return to their home life. They have 102 patient beds and and admit 700–800 patients each year, with 40% of in-patient admissions for children with brain injury (traumatic, non-traumatic, and multi trauma) in FY2017.
The focus of my visit is to meet the staff and learn about their "Abilities Adventures" trip to Utah, which provides the youth patients in their brain injury rehabilitation program to go on a 10-day adventure of a lifetime. The staff was preparing to leave on their second trip in just a few weeks, and the excitement was buzzing.
Susan Dubroff runs the rehab program and is proud of their program because they follow their patients for five years past their exit from the hospital. "Rehab doesn't stop when you leave the hospital, it continues and evolves. This trip helps provide these patients with experiences—some have never been on a plane, and some have never been outside of Baltimore. By taking them to the National Abilities Center in Park City, Utah, they have access to the types of equipment they may need in order to participate in activities they never thought they could do," said Dubroff.
The whole concept of Abilities Adventures is to give patients life experiences and socialization, and help prove to them that they have the skills to do things which can change their lives. It also helps them understand that there's more out there in the world, and gives them hope and a purpose.
Dubroff continued, "It's our responsibility to fully integrate someone back into their community. We help the patients understand that they have the ability to do things they didn't think they would be able to do. We can give these kids exposure to things that help them build interests, strengths, and abilities."
Abilities Adventures is led by Lindie McDonough, who also specializes in helping patients reintegrate back into school. When she originally brought the idea of the trip to the board, she received some pushback due to safety concerns. They asked why not just do something locally, and she replied, "There are few resources for anyone with a brain trauma in the area, most of the adaptive sports cater to other disabilities. Additionally, the cost of doing a two-day, two-night trip locally costs as much as taking them for a full week to the National Abilities Center." The trip was funded by a grant from the Mt. Washington Pediatric Foundation Board, as well as supplemental funding from the National Abilities Center.
Dubroff added, "One of our strengths is dealing with brain injury. Our employees have an understanding of brain injury and have become involved with the local associations and pay attention to trends of how patients are getting their brain injuries."
Lindie expressed that seeing the kids learn how to advocate for themselves was amazing. Quite a few were in denial about their experiences of what happened to them or weren't comfortable asserting themselves in a way that they need to. For instance, one girl was shivering because she was cold. When asked if she was cold she simply responded, "yes." They had to prod her further to see if she needed a blanket, the heat turned up, or something else. By the end of the trip she was speaking up, saying things like "May I please have another blanket."
The kids, as well as the parents, were quite nervous. Most of the kids had never flown, and were all at different stages of their recovery, but were ready to spread their wings and take some risks, even if they didn't know it yet.
Each evening, Lindie would email the parents with an update on what the kids did that day, including photos and videos. She also included some of her favorite quotes that she overheard throughout the day from the kids—which showed how much fun they were having.
I had the opportunity to meet one of the participants, fourteen-year-old Ava, and her mother Ann. When I met Ava, I was greeted by her outgoing, sassy spirited personality, which I would learn was the result of going on the trip.
Ann told me that Ava was zero percent nervous about going, while as her mom, she was 100% nervous. Ava had never been away from home since she first became sick in third grade. "They had all the parents and all the kids get together before the trip. Nothing is ever easy for these kids or for us, it was scary sending her so far away, but seeing her come back so confident was worth it!" The mom also said that getting the emails at the end of each day was crazy—"I can't believe she's doing that!" was her typical response each night.
When I asked Ava why she wanted to go on this trip, she looked at me with a huge grin. "I was excited to get away from my parents and siblings!" She is hoping to become a peer mentor at the hospital and her advice to any kids considering going on the trip was, "Just put your heart out there and not be scared to leave your parents."
Hearing Ava giggle and talk about the boys in her school leaves me completely awestruck that she was shy and introverted before the trip. The transformation in her confidence and personality is phenomenal, and is a typical transformation of the kids who go on these adventures.
Pediatric Neuropsychologist, Dr. Joseph Cleary, feels that these trips are great at helping inspire these kids. "They may not be able to do what they did before their brain injury, but the trip helps them find a sense of joy and belonging."
Dr. Cleary believes that it's all about creating the life that you want, and figuring out a plan to get you there. "I have worked at a lot of places, and this is the smallest place I have ever worked, but has the biggest hearts. They really care, and you feel like you connect with patients. We give kids feedback on what they're really good at, because they're nervous about things they're not good at. We don't focus on the negatives, but, instead, use their strengths to help the child feel successful."
Amy Zellmer is an award-winning author, speaker, and advocate of traumatic brain injury (TBI). She is a frequent contributor to the Huffington Post, and has created a privateFacebook group for survivors and also produces a  podcast series. She sits on the Brain Injury Advisory Council (BIAC) through the Brain Injury Association of America's and is involved with the Minnesota Brain Injury Alliance. She travels the country with her Yorkie, Pixxie, to help raise awareness about this silent and invisible injury that affects over 2.5 million Americans each year.
Calling all HuffPost superfans!
Sign up for membership to become a founding member and help shape HuffPost's next chapter
This post was published on the now-closed HuffPost Contributor platform. Contributors control their own work and posted freely to our site. If you need to flag this entry as abusive,
send us an email
.