 I look forward to my Saturday afternoons in the pedicure chair. However, an unforeseeable prick with cuticle clippers or bruising from a foot file can turn my relaxing moment into a beauty nightmare. And there's only so much antibiotic ointment and designer Band-Aids a girl can cover up with.
1. Tools that are open to air or used repeatedly after a prior treatment.
There are two documented cases of "death by pedicure" where young women contracted fatal flesh-eating staph infections and thousands of documented cases of bacterial and fungal infections. Contaminated instruments are the number one cause of salon infections. Molds, bacteria and viruses are more likely to come into contact with clients when instruments are shared, and that can lead to disasters. Communal instruments are also dangerous to the manicurist should they have any open cuts or abrasions. The cure: Bring in your own surgical stainless steel instruments.
2. Liquid sterilization which provides only low-level germ and virus protection.
Steam-sterilized or properly ultraviolet irradiated germiciding kills germs and offers the best protection. Don't be afraid to ask to check the bottle of the liquid being used for disinfecting words like "germicide," "disinfectant" or "concentrated." Instruments should sit in a bath for a full 10 to 15 minutes in order to be disinfected. Spa chairs should also be disinfected in between clients. It's always best to go to salons when they are slow.
3. Foot baths, just like whirlpools, are difficult to sterilize quickly.
These are a breeding ground for mycobacterium (which can produce boils), warts, MRSA (hard to cure infections), athlete's foot, toenail fungus, HPV and swine flu virus. All of those issues thrive in a warm, wet environment. Request a pipeless drainage system tub as bacteria breeds in pipes. Then make sure all water is drained, the walls are scrubbed and that the nail technician runs a cycle of disinfectant for 10 minutes between clients.
4. Untidy surroundings with too much clutter attract fungus and bacteria.
Dirt, clutter, poor evacuation piping and air filtration all breeds germs. And employees that don't wash their hands between clients or salons that don't ask clients to wash their hands are also at risk. Those piles of scrub brushes, instruments, trays and linens left open and in view, call for a change.
5. Disposable tools such as buffers, files and orange sticks should be disposed of between treatments.
If you see any disposables that have nail polish, dents or staining which suggest they were previously used, call the local Board of Health.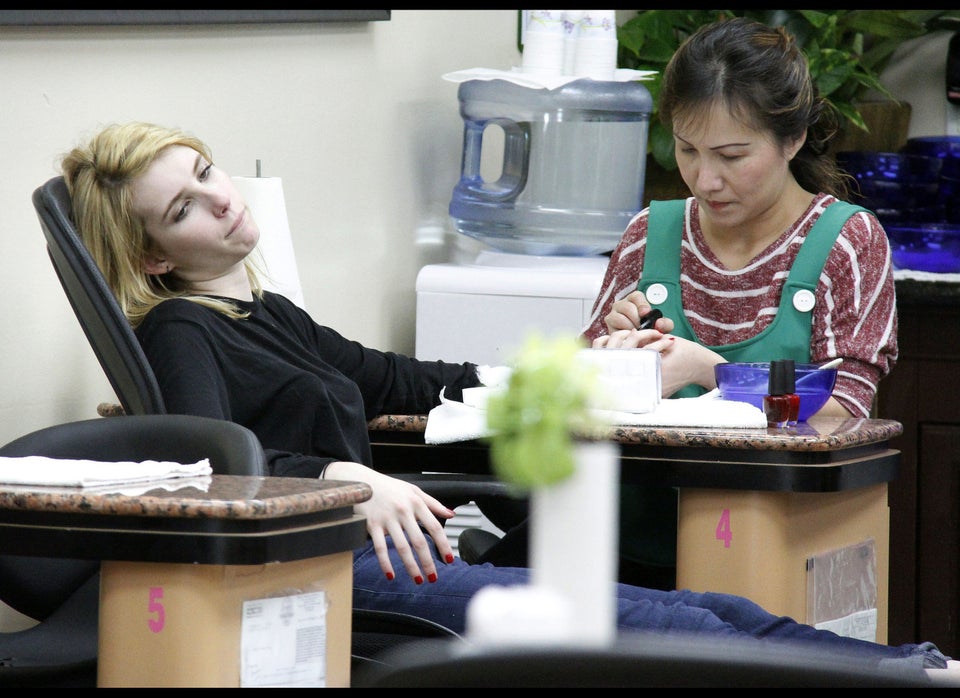 Celebrities At The Nail Salon
Support HuffPost
A No-B.S. Guide To Life
Related
Popular in the Community