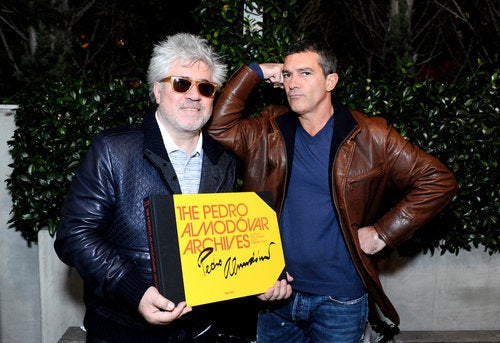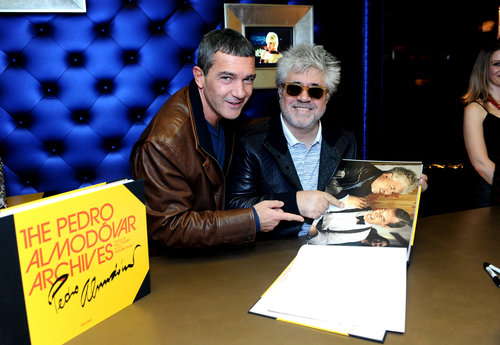 (Pedro Almodovar and his longtime muse, Antonio Banderas/Photo courtesy Stefanie Keenan)
Kitsch. Kink. Color. Pedro Almodovar has to be one of the great masters of this filmic trifecta - and has become one of the most beloved directors of this (and the last) century.
Benedikt Taschen is known for giving the public not just books of sheer beauty, but delving into the realms of shock and awe. Helmut Newton's "Sumo," "The Big Book of Breasts," "Le Petite Mort" - all titles that straddle (excuse the pun) both beauty and shock with rapturous aplomb. So when it was announced that Taschen was publishing a book around the works of Spanish director Pedro Almodovar, it sounded like a match made in heaven.
And so did a good portion of the population of Los Angeles, who happened to show up at a book signing last week, where the one and only auteur was on hand, doing a Q&A with long time collaborator and close friend, Antonio Banderas.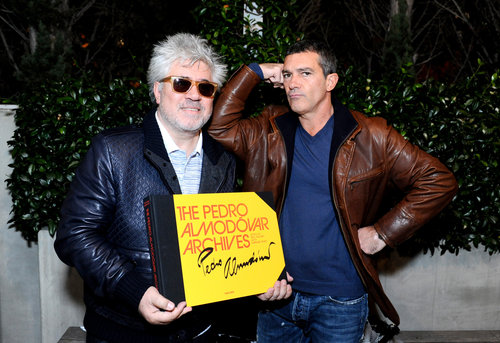 (Photo courtesy Stephanie Keenan)
The self-taught Spaniard is responsible for 33 films, including Women on the Verge of a Nervous Breakdown, All About My Mother, Volver and Talk to Her (for which he won an Academy Award for Best Original Screenplay).
Now he has a new epic to present us with - this book - which has got to weigh 20 pounds - aptly entitled, 'The Pedro Almodovar Archives.' Every movie, every chapter of Almodovar's career is in here. The book is a combination of interviews, never-before-seen photos, articles that have been written about both the director and his films, and even interviews that he calls 'self interviews' that he did with himself.
IMDB describes him as the most acclaimed director since Luis Buñuel, to which Almodovar (in a brief interview just prior to his meeting the throngs of fans waiting just outside for him) said "Oh my god, this is too much." The director is humbled by tonight's event—in a way, he reminds one of a Spanish Santa Claus in his demeanor with his rosy complexion and full cheeks—and beyond grateful. He and Buñuel worked very hard on similar subjects yet in very different circumstances.
"Buñuel and I, we have the same the genetic. We belong to the same culture even though his period was very different than mine in Spain ...he was always under a dictatorship more or less with Franco. I'm very impassioned with the way that Buñuel introduces the irrational in his films. Without any real explanation - without changing the light or changing the tone, he kept it as part of reality itself - that's always been a lesson for me. I also very much identify with his sense of humor - it can be very dark, but it's also very Spanish, and frequently, very ironic."
What does he most love about Buñuel? "Something that I admire very much [about Buñuel] is the way in which he was very courageous - tackling topics that are difficult ...and for me, that is something that comes naturally - yet still I am completely enamored that in the face of these challenges, he mastered them so magnificently. You can say that we belong to the same family, but someone I don't want to be compared to, because I will always end of losing," he says with a bit a of a giggle.
Does he have a favorite Buñuel film? "The Exterminating Angel. The Criminal Life of Archibaldo de la Cruz. Viridiana...El. I guess that's more than one."
Color and more importantly, art, is an important factor in all of Almodovar's films. So is there a particular artist he identifies with? "In my latest film, Louise Bourgeois the artist was an influence, but then songs or movies by others give me ideas to work with. From the moment I hear a song or see a film, even though they belong to other people, from the moment that I digest them, they almost become part of my own biology."
The time has now come for Almodovar to start signing books. So what does he think of the sheer girth of this amazing volume? "For good or for bad, that is my work."
REAL LIFE. REAL NEWS. REAL VOICES.
Help us tell more of the stories that matter from voices that too often remain unheard.