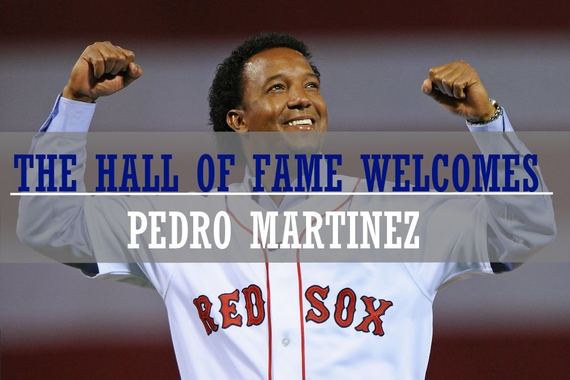 Pedro Martinez could really make his induction ceremony on July 26 historical if he would state a few words from the podium about the lack of other Latinos in the Hall of Fame.
Next Sunday, Pedro Martinez will be inducted into the greatest museum for professional baseball players. Pedro will be the second Dominican-born pitcher inducted after Juan Marichal in 1983. Thus, his induction is somewhat historical and I'm sure that every Dominican, Latino and baseball fan thrilled by Pedro's pitching will also consider his induction "historical."
That opportunity to make history at his induction was discussed last Friday on the Jordan Journals radio program on New York's, WBAI FM 99.5.
Howard Jordan introduced me as the founder of the Bronx-based marketing firm Latino Sports LLC and the Chairman of the Latino Sports Writers & Broadcasters Association (LSWBA). Howard wanted me to share our views on why we were organizing a trip from the South Bronx (Yankee territory) to Cooperstown for a Boston player?
I explained how important it is when any Latino gets inducted to the HOF. I explained from the first Latino inducted, Roberto Clemente in 1973 to the last one, Roberto Alomar in 2011, we have less than a dozen Latino players. Thus when any Latino gets inducted, it is a time for all Latinos, no matter what team they rooted for to rejoice. Howard agreed and we then spoke about another topic, the lack of other Latinos that perhaps should also be in the Hall of Fame, but were not.
We spoke about what Martinez might say to generate a significant impact in this year's induction ceremony. This is the third such Latino Sports excursion from NYC to the Cooperstown ceremony. The first was in 1999 for Orlando Cepeda; the second in 2011 for Roberto Alomar.
I mentioned how I and another good friend and sports reporter from Chicago, Bob Heur, were starting this campaign to try and ask Pedro to encourage the Hall of Fame to do more to honor overlooked Latino baseball greats. I used the radio waves to encourage anyone listening who might have a contact to Pedro, or who might know of someone who has a contact to Pedro to get a message to him. I also mentioned that I was reaching out to contacts in both, Boston and the Dominican Republic as well.
My friend Bob believes Martinez has an opportunity for a historical precedent to spark an outcome that could be remembered for decades to come.
Bob shared that in his 1966 induction speech, Ted Williams encouraged the Hall of Fame to find a way to honor Negro League greats Satchel Paige and Josh Gibson. Williams started a conversation that led to an extensive research project and, eventually, 35 Negro League players and officials being elected to the Hall.
Fifty years later, Bob Heur and I believe it's time for Cooperstown to begin a research project to uncover the Latin American baseball traditions that have made Latino players such a dominant force in the game. Starting with Cuba, countries outside of the U.S. have been shaping baseball history since the 1860s. Greater knowledge of this history could help make MLB more relevant to both Latino communities and current/future baseball fans around the globe.
Given the current growth of the Latino community and the young demographics that it represents Major League Baseball could benefit greatly recognizing many of those Latinos that have helped make baseball what it is, but who unfortunately have fallen through the cracks
Calling all HuffPost superfans!
Sign up for membership to become a founding member and help shape HuffPost's next chapter