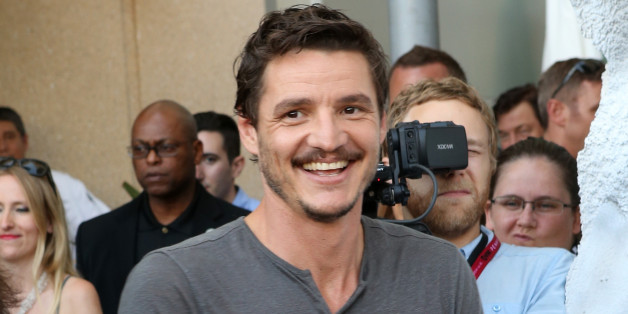 Pedro Pascal isn't that different from most "Game of Thrones" viewers -- he wishes his character, the charismatic Oberyn Martell, was still on the HBO show.
Pascal was at San Diego Comic-Con on Thursday, July 24, to launch a new "Game of Thrones" beer from Brewery Ommegang. After a packed audience watched Pascal tap the first keg of the amber-brown Valar Morghulis beer, the actor talked to HuffPost TV about missing his "Game of Thrones" role, and dealing with people who want to squeeze his head.
HuffPost TV: How many of the people who walk up to you and want to say hello also want to squeeze your head?
Pedro Pascal: Like, they want to puncture my eyeballs? A lot of them. I would say more than half of the people who want to get a picture. I always feel a little guilty when I say, "How about I just smile?" Because I don't want to have to re-create the moment over and over again.
Yeah, that's a little troubling. You don't want to have to go to that place again and again.
Yeah, I don't want to have to re-live the trauma.
Would you rather still be on "Game of Thrones," or would you rather have the impact that you had, as the character and the way he left?
I think that ultimately, selfishly, I would want to still be on "Game of Thrones," only because they are the greatest people I've ever worked with. Ninety percent of the work is taken care of by the writing -- more than that. Ninety-nine percent is taken care of by writing that is that good, and that's not something that I'm used to. On top of that, it's the best crew, the best design team and the greatest cast I've ever worked with. I had such a good time, and I've never been so challenged. Even if my part would shrink to a fraction of what it was, to get to be there and be around everybody and hang out, it's probably what I would opt for.
I think I'm just going to guilt [executive producers] David [Benioff] and Dan [Weiss]. I'm just going to describe my depression to the point that they're like, "All right! Ellaria is going to have a dream!" [laughs]
Is it your favorite role?
It's the best role I've ever played on screen, without question.
You said it was challenging -- what was the biggest challenge of playing Oberyn Martell?
I would say that the character had a confidence that was really important to portray. Any human being would have trouble feeling that level of confidence -- a dangerous sort of confidence, you know? He sort of owns his overconfidence -- with major consequences, as you could see. And then physically, it was a very challenging role.
Also, I was very aware of the series, as millions are. I was a big fan of the show, and it was the first time I was ever asked to be part of something I was so hyperaware of as an audience member. So there was a lot to battle internally there. But David and Dan made it so easy.
Even though you were aware of the show, were you prepared for the fandom and events like this and how the fans have been to you?
I think the best thing to do is to play stupid. [laughs] It's all so exciting and you always want to be careful with your expectations and whether they're negative or positive. So I just sort of played dumb and had a job to do, which was so easy to do -- they loved the character so much, and that was on my side from the beginning. The writers and the directors, they loved on the character so hard. So there was that easy focus, and then it was not up to me in terms of how it would be received.
Calling all HuffPost superfans!
Sign up for membership to become a founding member and help shape HuffPost's next chapter
BEFORE YOU GO
PHOTO GALLERY
Game of Thrones Cast, On and Off Screen