A McDonald's employee in Florida is being praised for his heroic attempt to save the life of an off-duty police officer who passed out in the drive-thru lane.
Pedro Viloria was working the drive-thru window at a Doral McDonald's early Tuesday morning. He was serving breakfast to a woman and her two kids, when he noticed something unusual.
Then the vehicle started rolling away from the window. Apparently, the driver had lost consciousness and taken her foot off the brake. 
As the car rolled away from the window, Viloria realized he had to do something.
So the 22-year-old jumped out of the drive-thru window and tried to catch up with the car.
"I ran as fast as I could, put myself in front of the car," he told NBC Miami.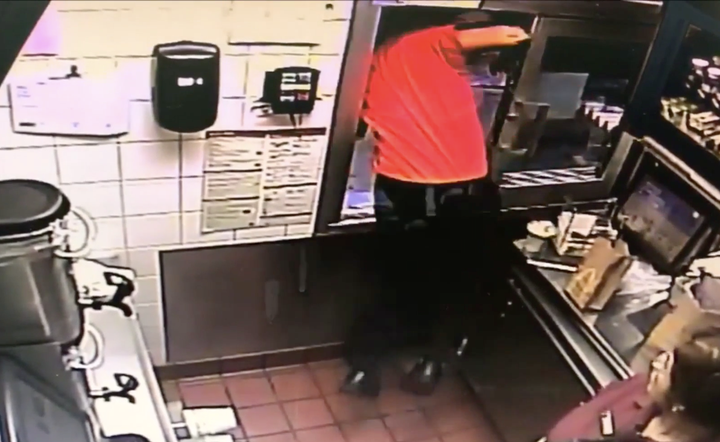 Surveillance video captured Viloria jumping into action. Luckily, the car hit a curb and stopped before it rolled into traffic.
Viloria told the kids in the car to call 911, according to CBS Miami.
Then help came in the way of other good samaritans: A drive-thru customer who was a paramedic and an off-duty Miami-Dade Fire Rescue member who walked in for breakfast.
The victim turned out to be an off-duty officer for the Miami-Dade Police Dept. Her name has not been released.
Viloria is being hailed as a hero by his boss, Alex Menendez, who owns the McDonald's franchise where the incident occurred.
He released a statement praising Viloria:
"First and foremost, our thoughts and prayers are with the officer and her family during this difficult time. I think I speak for our McDonald's family when I say how proud we are of Pedro. He is an excellent employee, so it didn't surprise me that he took immediate action and jumped through a window to help save this woman.  And he was not the only member of the team that played a pivotal role in ensuring she received the medical attention she needed. A second employee, who asked to remain unnamed, assisted with CPR. Their quick thinking and action were everything in that moment."
Viloria said he was never concerned about his own safety.
"I thought, 'If these kids lose their mother today, that's gonna be tragic,'" Viloria told WSVN TV. "It is what a hero does, if I would've needed to die to save that woman, I would've done it."
Calling all HuffPost superfans!
Sign up for membership to become a founding member and help shape HuffPost's next chapter
BEFORE YOU GO
PHOTO GALLERY
8 Amazing Videos of Everyday Folks Turned Unsung Heroes