PITTSBURGH ― The "Saturday Night Live" skit nailed it for Pittsburgh Mayor Bill Peduto.
Last October, the NBC show aired a sketch starring Tom Hanks as the lone white contestant on "Black Jeopardy." The character, wearing a red Make America Great Again hat, wows his rival players and host, all African Americans, when he answers most questions correctly. The skit's message is clear: Working-class people share many of the same struggles.
"Even though, socially, they may be different," Peduto told HuffPost, sitting back in a plush chair in his palatial City Hall office on Thursday, "the disconnect between where the economy is moving and the reality that people are living in is what unites them."
Now the mayor of the so-called City of Bridges has a plan to span the divide between the mostly white, rural Pennsylvania voters who handed the state to President Donald Trump last November, and the ethnically diverse enclave of Pittsburgh, which voted overwhelmingly for Hillary Clinton. The Democratic presidential nominee failed to captivate struggling Rust Belt voters, who flocked to a Republican promising to stand up for workers left out of the spoils of globalization and selling a narrative vilifying environmental regulations.
Like Trump, Peduto envisions restoring the industrial might of the upper Midwest and Great Lakes region. But rather than returning to coal-coughing steel mills, he pictures Appalachia as the manufacturing hub for American-made wind turbines and solar panels.
"Democrats have not given people who live 35 miles outside the city's borders much hope about how this will impact their lives," Peduto said, referring to clean energy investments. "The reason we lost Pennsylvania, Ohio and Michigan is because Democrats voted Republican."
Peduto, who began in politics as a Republican but served most of his career as a Democrat, wants to see his party once again become the vanguard of the working class, pushing for the sort of massive infrastructure spending spree the likes of which hasn't been seen since in the United States since President Franklin D. Roosevelt's New Deal. He's limited in what he can do as a mayor. But Peduto, who is running for his second term unopposed in November, has attracted national attention, though he declined to comment on his ambitions for higher office.
"The Democratic Party has to embrace an American Marshall Plan," he said, referring to the United States' $132 billion initiative to rebuild Western Europe after World War II. "An American Marshall Plan based on renewable energy production and manufacturing that is done in concentrated areas with the highest unemployment or underemployment."
Peduto emerged on the national stage in June after Trump withdrew the U.S. from the Paris climate accord, declaring in a speech he was elected to lead "Pittsburgh, not Paris." The alliteration alluded to the Steel City's manufacturing decline ― a trend Trump vowed as a candidate to reverse by undoing environmental regulations and reworking trade deals, burnishing his nationalist America First message. In response, Peduto, whose city in the past decade became home to burgeoning tech and medical industries, vowed to abide by the global deal to cut planet-warming emissions anyway. To do so, he pledged to convert Pittsburgh's electricity supply to 100 percent renewable energy by 2035. Today, Pittsburgh's grid receives on average 5 percent of its power from renewables, and offsets 35 percent of its operations with renewable energy credits.
"The initiatives they have underway are going to pay for themselves," David Hess, who served as secretary of the Pennsylvania Department of Environmental Protection under Republican Gov. Mark Schweiker, told HuffPost by phone. "Making commitments to buy renewable power will in turn fund renewable projects."
The city of about 335,000 is now looking for new ways to fund and produce locally produced renewable energy. That includes talks that began recently with state officials to change utility rules to make it cheaper to construct rooftop solar panels, collect excess heat from existing sources and develop microgrids, local electricity systems powered by small-scale renewable hardware.
In 2014, Spanish wind developer Gamesa Corp. closed down its factory in Johnstown, Pennsylvania, because the demand for turbines shifted to regions outside the state, such as the Southwest, where renewable energy investment was higher.
Pittsburgh-based Aquion Energy manufactures the world's first battery certified as cradle-to-cradle in an old Volkswagen plant in nearby Westmoreland County, though the company recently announced plans to move the factory overseas after emerging from bankruptcy in July.
But Pittsburgh's aggressive timeline for changing its energy mix is driving some manufacturing growth in neighboring counties. Green County, an area hit hard by hundreds of recent coal industry layoffs, is seeing a boom in sustainable agriculture products, according to Grant Ervin, Pittsburgh's chief resilience officer.
Still, those companies demonstrate "the kind of regional ecosystem, where you might have manufacturing on the periphery, but research and development inside the city," Ervin told HuffPost.
But the city has a long way to go to find proof of concept. For out-of-work miners in Appalachia, Trump's decision to don a hardhat and promise to bring coal roaring back ― however economically unlikely ― hit home for more people than Clinton's 30,000-word policy papers outlining plans to retrain workers for new careers. For many, especially older folks who can't imagine a future learning code or going back to school, that amounted to nothing.
"Given the option of nothing or false hope, people will always gravitate toward false hope," Peduto said. "The way we win them back is to show them that the future includes them and make sure that the investment that would come would be done in the areas that need the most help."
That means trying once again to produce wind turbines with American-made steel in counties along the Monongahela River, which stretches between West Virginia and Western Pennsylvania, or making photovoltaic cells for solar panels in the region near eastern Ohio, Peduto said.
"When we talk about building that wind turbine factory, it needs to be in the areas that have been hit the hardest," he said. "When we talk about the solar-cell company doing assembly, it has to be in the areas hit the hardest."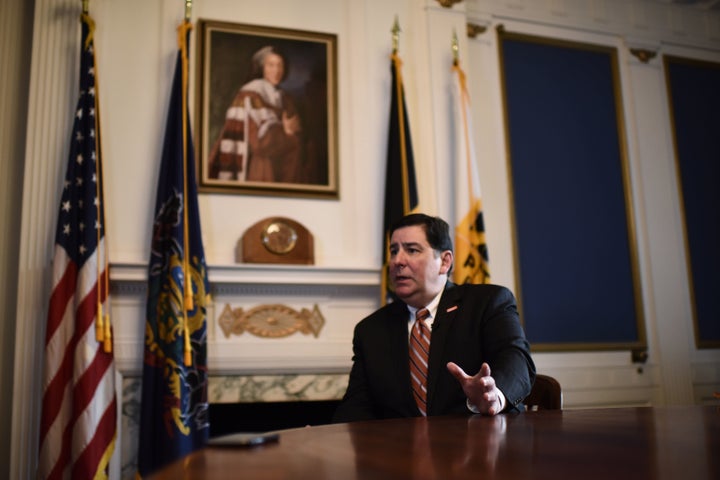 But for some on the left, Peduto's ideas sound better from a distance. New manufacturing jobs wouldn't necessarily be under a generous union contract, and Peduto can sometimes appear to focus too much on big, sexy infrastructure projects, according to a prominent labor advocate who requested anonymity because he fears alienating a mayor he's currently working with on a separate policy issue.
"Politicians hold them up as being great jobs because they're manufacturing, as if just working in a plant is good, versus working in a plant with a good union contract, high pay and benefits," he told HuffPost.
Pittsburgh's drinking water supply is tainted with lead, and the city's sewers need to be replaced to prevent runoffs from adding pollution its rivers.
"It seems like a better focus to think about how to do those in an environmentally sustainable way, rather than talking about building windmills," the labor advocate said. "It's still very far off and not going to address the quality of life issues that most Pittsburghers face."
Vast, publicly funded renewable energy projects might spur economic revival across the Rust Belt, but it wouldn't necessarily win back voters swayed by Trump's screeching dog whistles to racial resentment. Trump began his campaign calling Mexican immigrants rapists, vowing to build a wall and deport mostly Latino undocumented immigrants, and proposing to ban Muslims from the country. In August, he defended neo-Nazi marchers, then attacked athletes and newscasters of color in no uncertain terms. In some of the most concrete evidence of racist ties yet, emails published this week by BuzzFeed News revealed Steve Bannon, the former campaign chief and top White House strategist, coordinating coverage on his website Breitbart with white nationalist leaders.
In the SNL skit from last fall, Tom Hanks' character, faced with the question of "lives that matter," falls silent, squints and scowls at the game show host played by Kenan Thompson. It's difficult to imagine a new green-economy job becoming the key to opening his eyes.
This story was updated to reflect Aquion's announcement about moving jobs overseas.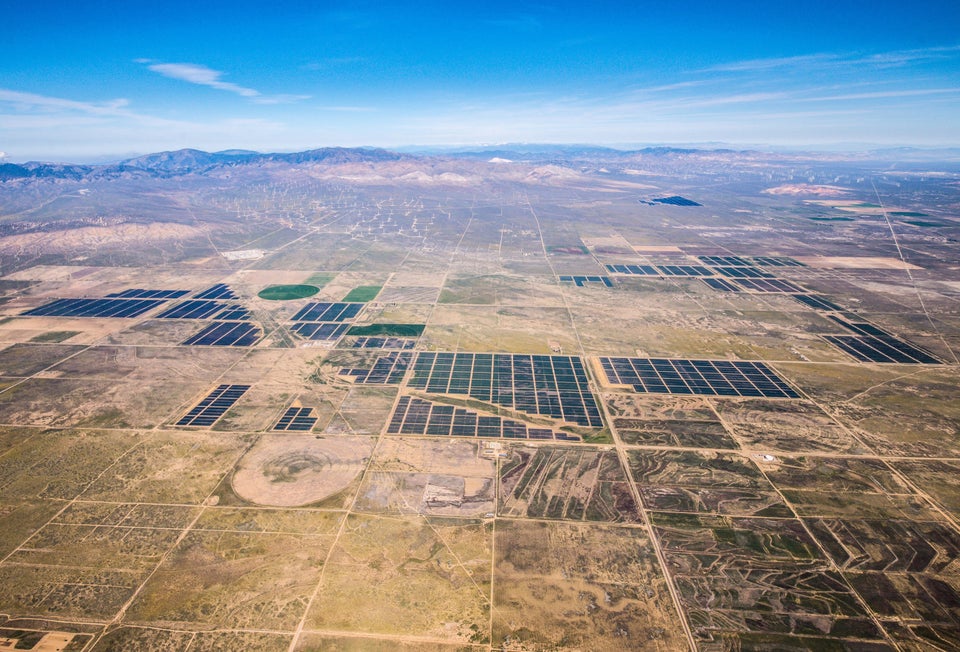 The Five Largest Solar Power Plants In The U.S.